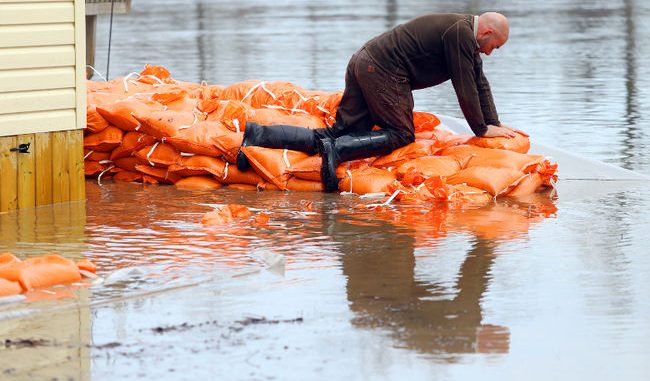 Extreme flooding in the north of The City of Belleville has prompted it to declare a state of emergency on late Thursday afternoon. General Manager of Quinte Conservation, Terry Murphy, explained that the flows in the Moira River are anticipated to rise up to six to eight inches over the next 48 hours and are most likely to cause further flooding in the Foxboro area.

However, Mayor Neil Ellis alleged that the situation is stabilized at the moment. Mr. Ellis feared that "with the potential for rain fall over the next 24 to 48 hours, we expect to need volunteers to help build sand bag barriers to help protect property and have declared a state of emergency for that purpose." The city has made sand and sand bag supplies available at the Gerry Masterson Community for residents who are recommended to take precautions against the flooding.

Water resources manager at Quinte Conservation, Bryon Keene, claims that flooding in the Moira River watershed might reach water levels last seen in the 2008 flood. Keene, along with Murphy, is hoping the situation does not escalates to the predicted level of heavy rains for Sunday and Monday. According to Keene, levels should reach their peak level by Sunday night. It was explained that "water levels should not increase by much more than a foot (30 cm) anywhere" prior to any new rainfall. City officials are describing conditions in terms of years. For example, the situation was described as a two-year flood on Wednesday but escalated up to a 10-year the day after.