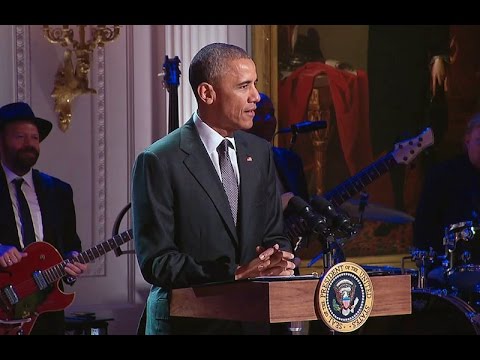 Aretha Franklin and T Bone Burnett highlight White House concert to be televised June 25th, 2015 on PBS
By Stephen Pate – African Americans created two of the most enduring musical forms – gospel and the blues – despite hundreds of years of enslavement and persecution.
US President Obama held a special White House concert on April 14, 2015 to celebrate the gospel tradition. Invited artists included Aretha Franklin, Rodney Crowell, Rhiannon Giddens, Emmylou Harris, Bishop Rance Allen, Pastor Shirley Caesar, Darlene Love, Lyle Lovett, Tamela Mann, the Morgan State University Choir, and Michelle Williams. T Bone Burnett, musical director of "Oh Brother How Art Thou" and other movies, was the musical director.
"The Gospel Tradition: In Performance at the White House" will be broadcast Friday, June 26, 2015 at 9:00 PM ET on PBS stations nationwide (check local listings). The program will also be simulcast on TV One.
From the official release – President Barack Obama and First Lady Michelle Obama invited top gospel artists to the White House as part of its "In Performance at the White House" series. CBS announced that some of the nation's well-known gospel recording artists are performing at the White House on Tuesday, April 14. The performance is to celebrate gospel music. President Barack Obama will make remarks about the importance gospel music has in American music.
"The Gospel Tradition: In Performance at the White House" was streamed live on Tuesday at 7 p.m. on the White House website. The entire performance will be broadcast on PBS on June 26.
Tuesday's performance is centered around gospel, but it is not the only music genre that is presented at the White House as part of the "In Performance at the White House" series. Music of all kind has been showcased at the White House since President Jimmy Carter's administration, and it has happened with every president since then. Tonight's event produced by WETA marks 54 years of performances since 1978.
The goal of the series is to show appreciation for all types of music at the White House. In the past, Stevie Wonder, Sir Paul McCartney, Burt Bacharach, and Hal David have displayed their musical talent. Hispanic music was showcased during Hispanic Heritage Month. Music from Motown and the blues were featured during Black History Month. Country music and jazz have not been left all. It is safe to say the White House is interested in music that includes all Americans.
The Star Tribune reported that the gospel artists scheduled to perform on Tuesday night include Aretha Franklin, Lyle Lovett, Shirley Caesar, Emmylou Harris, Michelle Williams, Darlene Love, Rhiannon Giddens, Rance Allen, Rodney Cromwell, Tamela Mann, and the Morgan State University Choir. T Bone Burnett is the executive music director and Billy Maxwell is the music director for this event. These artists will display their talent and passion for gospel music. Their performance will be a tribute to those artists who have been part of gospel music throughout music history.
It is unknown what songs tonight's musicians will perform, but they will probably be some of the best of their gospel collection. Since the performance will be streamed live from the White House, feel free to watch it. If you miss it tonight, you have a chance to see the concert of the nation's top gospel singers on PBS when it airs on June 26.
First lady Michelle Obama hosted a discussion with musicians and students on gospel music at the White House on Tuesday (April 14), praising gospel's role as "a ray of hope" in American history.
By Stephen Pate, NJN Network