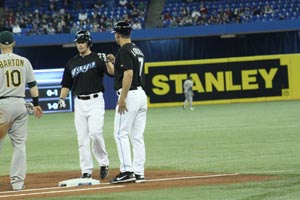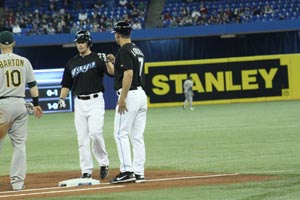 Jays second baseman Aaron Hill (centre)
celebrates a single with first base coach
Torey Lovullo (right)
Home Sweet Home – Jays Win Two Series to Start Season
Expectations and hopes are riding very high for the Toronto Blue Jays this season but it all started with a bang on April 1st.
If fans and critics had any doubts of what this team is capable of, it should have been erased after the first game when the Jays demolished the Minnesota Twins 13-3 in front of a sold-out Rogers Centre.
Now let's not get carried away, it was just one game and the season is 162 games long. However, to come out of the gate the way they did spoke volumes about the potential this team has in 2011.
And it didn't just end there either. The momentum carried through the entire six game homestand as the Jays finished up with a 4-2 record to start the season. The only two games they did lose were both one-run decisions that could have gone either way.
As the team was getting ready to leave for their ten-game road trip starting in Los Angeles tonight, the team was feeling positive and upbeat about their start to the season.

Jays pitcher Ricky Romero gets ready
to unload a pitch.
"We played great," said starting pitcher Ricky Romero after yesterday's game. "We hustled plays out, we grinded some wins out. Even the games we came up short on we played good baseball. Everyone in this clubhouse should be satisfied with the way we played, obviously we hate to lose but I know as we go into this long road trip with our heads held high and hopefully we come out on top."

With a few games under his belt as a Manager, John Farrell gave his assessment of his team's play in the first games of the season.
"We got multiple weapons to manufacture and create some scoring opportunities," said Farrell. "We've shown an increased aggressiveness on the base paths to not only take 90 feet extra than what might be given, but to continue to apply pressure in different ways."
"We saw it the other night in a little bit of a helter-skelter inning, we were able to create some of that pressure and take advantage of some miscues defensively on their (Oakland) part to the point of building a four run inning. So I would like to think we got multiple ways to attack our opposition."
As for pitching, Farrell was very positive about his staff's performance thus far.
"We've pitched very well as a whole. If you look back at six games here, we've been in every game. We've held leads, today was the exception, but it is just a week into the season. But we've gotten off to a decent start."
The fact that the Jays were able to perform well without a full lineup bodes well to say the least.
Starting pitcher Brandon Morrow and relievers Octavio Dotel and Frank Francisco were on the disabled list, although Dotel was activated following yesterday's game. As a result, Casey Janssen was optioned to Las Vegas (AAA).
The face of the franchise, Jose Bautista, was away for the entire Oakland series as he and his girlfriend welcomed a newborn baby girl into their lives. Bautista will re-join his teammates in Los Angeles today when they take on former-Jay Vernon Wells and the Angels.
In Wednesday night's game, Yunel Escobar suffered a mild concussion and is out day-to-day but is expected back in the lineup next week.
"He's a big part of, defensively and offensively, we all saw what he can do," said Romero of Escobar. "Definitely good news and hopefully we can get him back as soon as possible."
On Thursday afternoon, John McDonald filled in admirably for Escobar. He made a few great plays including a diving dig and acrobatic throw for an out at second base in the third inning of yesterday's game.
So considering the circumstances the team could have easily had a poor start with the likes of the 0-6 Boston Red Sox and Tampa Bay Rays. Instead they sit tied with the New York Yankees for the second in the American League East, just a game back of the surprising 5-1 Baltimore Orioles.

Fans show their appreciation
for their home team
"We had an opportunity to win every game and I think we'll take four out of six," said Farrell.
"Every time we toe it up our guys showed some resiliency throughout this homestand and they showed they got the ability to compete when we're not at 100%. We're looking forward to the day we have everybody back that we envisioned in the offseason when Alex (Anthopoulos) put this team together."
After their ten-day long road trip to Los Angeles, Seattle and Boston, the team will arrive back home for a two-game set against the Yankees beginning on April 19
th
followed by a three-game series with the Rays.
To follow me on twitter click
HERE
Download or stream
the 500 Level podcast with co-hosts Aman Dhanoa and Ben Trattner as they discuss news, opinions, and views on Toronto sports from the Upper Deck. Leafs, Raptors, Jays, Argos, TFC – nothing is off limits. It's good to be a fan!
Also available on iTunes
Photos below courtesy of Annandi Merhai of Devi Designs
Contact Aman Dhanoa at aman@oyetimes.com

Article viewed at: Oye! Times at www.oyetimes.com