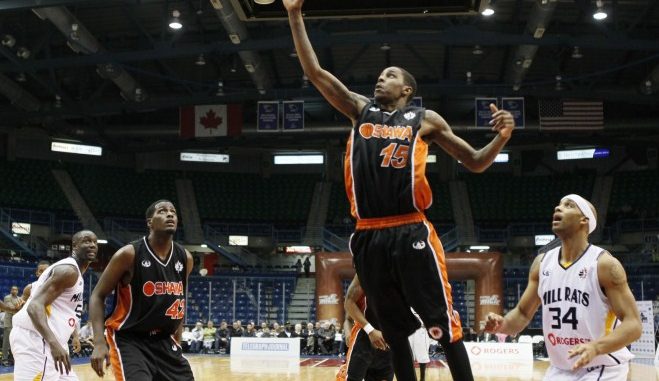 The Oshawa Power lost a crucial game Thursday night to the Saint John Mill Rats 127-115 in what was essentially a must-win game for the team.
Antonio Burks was the difference in the ball game as the Power could not recover from his blistering first half beyond the arc shooting as he nailed six threes to give the home side a 60-48 lead that they would continue to build on in the third quarter.
NBL Canada's leading scorer Brandon Robinson bettered his season average scoring 21 points while adding 4 rebounds and 6 assists. Canadian Tut Ruach poured in a team high 23 points connecting on three trifectas while dishing out 11 assists.
"I think offensively we were solid in the first half, " said York University alum Ruach. "It was our defence that let us down early. Every time we didn't have a hand up he(Burks) made a shot."
The Mill Rats were led by Anthony Anderson's double-double of 25 points and 11 assists while Burks finished with 22 points. Their magic number is now 1. So any combination of a Mill Rats win or a Power loss and the Mill Rats claim the final playoff spot. The Mill Rats play Friday Feb 24 at 6:30 p.m. ET in Halifax so the Power and their fans will be hoping for a Rainmen victory to stay alive.
There was a minor scuffle near the end of the game that saw 4 players ejected including Oshawa's Morgan Lewis and Omari Johnson as well as Darren Duncan and PJ Young from the Mill Rats.
The next Power game is March 1 against the Mill Rats in Saint John on Thursday March 1 at 6 p.m. ET.
Power Glance
Record: 14-20