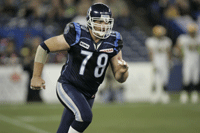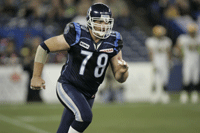 The Canadian Football League Players' Association announced that DT Adriano Belli has been named Toronto's Tom Pate Memorial Award nominee. Belli was chosen by his teammates as the player who embodies the qualities that distinguished Tom Pate himself: outstanding contributions to his community, to his teammates and to the Association.
Belli commented, "Community service, especially dealing with Sick Kids Foundation in particular, means a lot to me because as a professional athlete, I can make someone's life brighter. It takes so little and I do what I can to work with other professional athletes to both raise money and spend time with the kids, organizing events for them. Giving to others is a two-way street – I get as much if not more from these kids as I'm able to give to them."
Belli, through his Big Kiss Fund in support of Sick Kids Foundation in Toronto, has raised funds through creative events like his Valentine's Day Dinner and Auction. At the dinner, he invited the ladies of Toronto to bid on fellow football players & teammates, and popular football personalities like Matt Dunigan, Dave Randorf and even the original Bachelor, Jesse Palmer. Belli, with the help of Argos fans, also donated a sleigh full of toys and cash to SickKidsHospital last holiday season. Fans should stay tuned, because his next fundraiser is coming soon as he gets ready to release the first 'Linemen Calendar' in time for 2009 Grey Cup.
A passionate and galvanizing teammate inside the Boatmen's locker room, Belli again invited kids from the hospital, and their families, out to each Argos home game in 2009 to soak in the atmosphere of Rogers Centre. In 2008, he committed fully to his cause by singing a classic rendition of the national anthem before an Argonauts home game. Adriano is also very active in the Argos' Big Men, Big Hearts program where the largest members of the team help care for the smallest of the community through SickKidsHospital visits and participation in events.
Donations in support of the fund can be made at:
www.sickkidsfoundation.com/fundraise and clicking on Adriano's Big Kiss Fund.