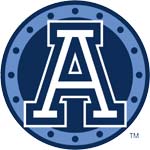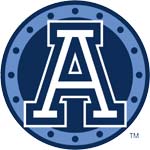 The Toronto Argonauts Football Club is pleased to announce its 2010 home schedule featuring, for the first time ever, a home game in Moncton, NB on Sunday, September 26. Presented by President's Choice Financial, the 2010 season of Argos football kicks off on Canada Day at McMahon Stadium in Calgary. In week 3, the Argos host the Calgary Stampeders for the home opener on Wednesday, July 14 at 7:30 p.m.
The schedule sees East Division rivals the Hamilton Tiger-Cats and the Montreal Alouettes each visit twice and the team brings fans four Friday Night Football games. The season closes out with an exciting home-and-home series vs. the 2009 Grey Cup Champion Montreal Alouettes which starts in Toronto on Friday, October 29.
The following is a list of 2010 Toronto Argonauts home games at Rogers Centre*:
Pre-season
Tuesday, June 15 Hamilton Tiger-Cats 7:30 p.m.
Regular Season
Wednesday, July 14 Calgary Stampeders 7:30 p.m.
Friday, July 23 B.C. Lions 7:30 p.m.
Saturday, August 14 Montreal Alouettes 7:30 p.m.
Friday, August 20 Hamilton Tiger-Cats 7:30 p.m.
Sunday, September 19 Winnipeg Blue Bombers 1:00 p.m.
Sunday, September 26 Edmonton Eskimos 1:00 p.m.*
Saturday, October 2 Saskatchewan Roughriders 3:00 p.m.
Friday, October 15 Hamilton Tiger-Cats 7:30 p.m.
Friday, October 29 Montreal Alouettes 7:00 p.m.
*Home game to be played at Universite de Moncton in Moncton, NB
*NOTE: All games and times are subject to change**
2010 Argonauts season tickets have been reduced on a per game basis. Moreover, the Rogers Centre seating map has been recoloured resulting in a further price reduction in 37% of seating at Argos games. A new and even more affordable season ticket category has also been added for 2010. Perfect for families on a budget, "Blue" season tickets are available for $161, or less than $20 per game.
The Argos and RedTag.ca have put together packages for Double Blue fans looking to travel to Moncton for the historic game. The package is priced at $949 and includes flights, hotel, game ticket, ground transportation to and from the airport, a piece of Argos merchandise and an invitation to an exclusive Argos event. For more information or to book your trip, visit http://www.argonauts.ca/article/ultimate-moncton-road-trip.
The deadline to register is Tuesday, February 17. Argos season ticket holders who would like to travel to the game on their own will have access to a special ticket pre-sale – details to come.
Fans can download the 2010 schedule directly into their electronic calendars at http://www.argonauts.ca/page/ical-outlook-calendar-download and new wallpapers of the schedule can be found at http://www.argonauts.ca/page/2010-schedule-wallpapers.