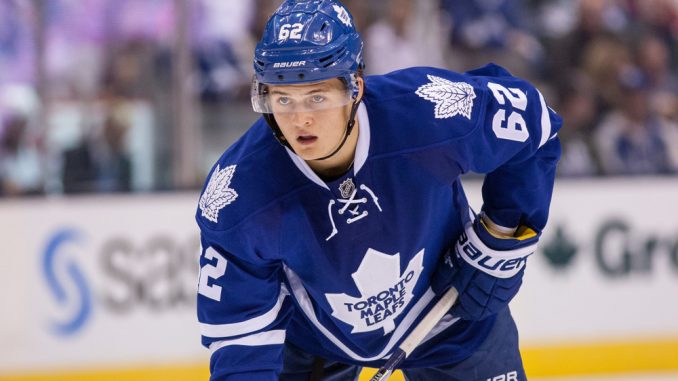 Vancouver Canucks (4-7-1) Vs. Toronto Maple Leafs (5-4-3) Saturday, November 5, 2016
| | | | | | |
| --- | --- | --- | --- | --- | --- |
| | 1 | 2 | 3 | OT | FINAL |
| VANCOUVER | 1 | 1 | 1 | 0 | 3 |
| TORONTO | 2 | 1 | 3 | 0 | 6 |
GAME SUMMARY | EVENT SUMMARY | FACEOFF SUMMARY

ON THE SCORESHEET
Nazem Kadri opened the scoring for the Maple Leafs. Kadri is now tied for the Maple Leafs lead in goals (6).
Tyler Bozak registered his fourth goal of the season for the Maple Leafs. Toronto is now 2-0-1 when Bozak scores a goal this season.
Tyler Bozak added a second goal at 15:00 of the second period. Tonight's game was Bozak's 15th career NHL multi-goal game and 57th career NHL multi-point game.
Mitch Marner recorded his fourth goal of the season in the third period. With goals in consecutive games, Marner now has the first goal streak of his NHL career.
Nikita Soshnikov scored his first goal of the season in the third period. He had 2 goals in 11 games with the Maple Leafs last season.
Jake Gardiner scored his second goal of the season at 8:21 of the third period. In 2015-16, Gardiner had 7 goals for the Maple Leafs.
Nikita Zaitsev picked up the primary assist on Kadri's goal. He has 6 assists through his first 12 NHL games.
Morgan Rielly
registered his sixth assist of the season in the first period. He is two points from reaching the 100 career NHL point milestone.
Leo Komarov picked up his third assist of the season in the first period. It's his first point registered at home in 2016-17.
Mitch Marner recorded an assist in the second period. He has points (3-1-4) in two consecutive games.
Jake Gardiner registered an assist on Bozak's second period goal. He needs 2 assists to reach 100 career NHL assists.
James van Riemsdyk recorded 3 assists in tonight's game to tie his career highs for assists in a game and points in a game (3).
Ben Smith recorded his first assist of the season on Soshnikov's third period goal.
Auston Matthews registered his fifth assist of the season on Gardiner's goal in the third period.
William Nylander also picked up an assist in the third period. He leads the Maple Leafs in assists this season (8).
SHOTS FIRED
The Maple Leafs outshot the Canucks in tonight's game by a 42-29 margin.
Toronto outshot Vancouver 17-7 in the first period, 13-12 in the second period and 12-10 in the third period.
Tyler Bozak led the Maple Leafs in shots (6).
Auston Matthews led the Maple Leafs in shot attempts (11).
HOME SWEET HOME
The Maple Leafs improve to 4-1-0 at home with tonight's win.
Toronto's record is 32-25-11-1 all-time in 69 games at home vs. Vancouver.
The Maple Leafs have won four consecutive games in Toronto vs. the Canucks.
OF NOTE…
The Maple Leafs established a new season high in goals for (6).
The Maple Leafs had 6 points (2 goals, 4 assists) registered by rookies in this game. Toronto rookies have now combined for 44 points (16 goals, 28 assists) in 12 games this season.
By going 2-for-2 on the penalty kill, the Maple Leafs have killed off their last 8 penalties.
Toronto went 1-for-5 on the power play in tonight's game.
Tyler Bozak won 72 percent of his faceoffs tonight (13 won, 5 lost).
Connor Carrick had a game-high plus-3.
Matt Martin recorded 6 hits for the Maple Leafs.
Martin Marincin was the Maple Leafs leader in TOI on the penalty kill (7:18).
Roman Polak led the Maple Leafs in blocked shots (5).
Ben Smith had a game-high 3 takeaways.
Nikita Zaitsev led the Maple Leafs in TOI (22:27) and shifts (33).
UPCOMING GAMES:
Tuesday, Nov. 8 vs. Los Angeles Kings, 7:30 p.m. (TSN 4, TSN 1050)
Friday, Nov. 11 vs. Philadelphia Flyers, 7:00 p.m. (TSN 4, FAN 590)
Saturday, Nov. 12 at Pittsburgh Penguins, 7:00 p.m. (Hockey Night in Canada, TSN 1050)
Tuesday, Nov. 15 vs. Nashville Predators, 7:30 p.m. (Sportsnet Ontario, TSN 1050)
Thursday, Nov. 17 vs. Florida Panthers, 7:30 p.m. (TSN 4, FAN 590)
POSTGAME QUOTES
MIKE BABCOCK POSTGAME: NOVEMBER 5, 2016
On tonight's game:
Well obviously they were upset with the hits by Rielly and [Kadri]. Obviously our team had lots of energy tonight and it was a good win for our team — three in a row — and we have an off-day, it's Saturday night. I haven't seen any of that rodeo stuff since junior. They got excited, we got excited, we won.
On if there is concern about the Kadri hit being reviewed:
It's reviewable but we have good people at the League and they'll look after that. It won't be a problem.
On the addition of Matt Martin this season:
I just think Marty has kept us under control the whole time. I said to Marty before he got on the ice, 'Marty, make sure there's no trouble. Just finish the game off.' It just goes to show you boys will be boys.
On Soshnikov scoring a goal:
Sosh is going. He gets limited opportunities playing with [Smith] and [Martin], but he has played really well for us. It's great to see him get rewarded.
On the team closing out the win:
I thought today it was good because [Andersen] looked after us the last two nights and then we picked up Andy tonight. It was a nice night to be a goalie. Just getting some confidence and playing, I think that takes us — what's our record at home? 4-1? So, we've only won one game on the road and we had lots of opportunity to win and should have won. Now we've get on a bit of a road run. But, obviously we're starting to make home more comfortable, which is positive.
On if this type of game can galvanize a team:
I think it's fun for them. You're young guys and you live in a great city and you never get to go out and now you've got a day off tomorrow and a practice day, looks like a dream come true to me.
FREDERIK ANDERSEN POSTGAME: NOVEMBER 5, 2016
On his involvement in a fight and ejection:
I think given the game with what's been going on before, you want to come down and defend your teammates because it was looking like they didn't want to play much. I think we tried to help each other out.
On if he has ever been in a fight:
No, not really… I wouldn't really say it was a fight.
On the team pushing for more goals with the lead:
We came out and scored instead of falling behind. I think we defended and playing offence is a good defence sometimes. We came and took it to them and got some extra goals.
TYLER BOZAK POSTGAME: NOVEMBER 5, 2016
On the physicality of the third period:
You had both teams playing hard, trying to win. Stuff like that happens. We're just happy we got the win and have a little streak going so we've got to stay positive from our point of view.
On if he thought anything in the game crossed the line:
I'm not one to judge that stuff. They'll take a look and figure it out themselves. Like I said, we're just happy with getting that win and I think we're starting something good here. We've just got to keep getting better and keep learning and stick to it.
On the play of the team:
I thought we played pretty well. [Andersen] made some big saves for us again, [Nazem Kadri] got a big goal for us early that kind of boosted us and we made some good plays. The puck was able to find the back of the net. Overall I thought we had a pretty good effort tonight.
MITCH MARNER POSTGAME: NOVEMBER 5, 2016
On the physicality of the game:
It was very fast-paced game. It's like any game, there's hits thrown and disagreements that come with it. It's just another hockey game. We're happy with how we played and we played a hard 60 [minutes], which is very important.
On the chemistry of his line:
I think we just keep getting better every game. We're getting our speed going and creating plays all over the ice and getting our cycle going, which is really important to our line and our whole team. I think we just keep getting better every game.
On continuing to push for offence with a lead:
That's our motto here. No matter what the score, just keep going hard. We want to play a hard 60 [minutes] every game and I felt like tonight we really impacted on that and everyone bought into the system.
MORGAN RIELLY POSTGAME: NOVEMBER 5, 2016
On the third period fights:
I'm not too sure. I think they may have been unhappy with a couple of plays that happened. We as a team – we just wanted to close out a win, that's all we're thinking about. We're not going out there trying to do anything to cause it, we're just playing our game and trying to win a hockey game. That's all.
On Frederik Andersen's ejection:
Freddy? I guess he just wanted to jump in on the action. Their goalie came out first so I think he was just answering the call, that's all that was. I don't think he was trying to start anything.
On his third period fight:
You've got to be ready for it, I guess, but it's not anything you put too much thought into. You just do it and carry on with your game.