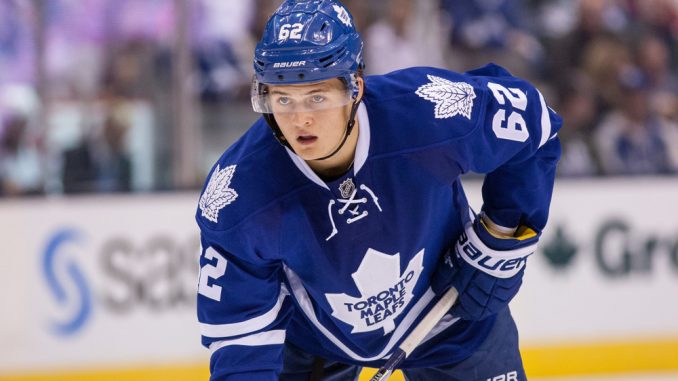 This article was last updated on April 16, 2022
Canada:

Oye! Times readers Get FREE $30 to spend on Amazon, Walmart…
USA:

Oye! Times readers Get FREE $30 to spend on Amazon, Walmart…
Toronto Maple Leafs thump Detroit Red Wings 4-0. Here is the game summary and highlights. Wednesday, January 25, 2017
| | | | | | |
| --- | --- | --- | --- | --- | --- |
| | 1 | 2 | 3 | OT | FINAL |
| TORONTO | 1 | 1 | 2 | 0 | 4 |
| DETROIT | 0 | 0 | 0 | 0 | 0 |
GAME SUMMARY | EVENT SUMMARY | FACEOFF SUMMARY

ON THE SCORESHEET
Frederik Andersen made 22 saves to earn his second consecutive shutout after defeating Calgary 4-0 on Jan. 23. The Maple Leafs are 8-5-6 this season when Andersen stops 20-29 shots.
With Frederik Andersen recording consecutive shutouts, the Maple Leafs have posted consecutive shutouts for the first time since Feb. 16 (3-0 vs. Ottawa) and Feb. 18 (3-0 at Florida), 2013 when Ben Scrivens accomplished the feat.
Auston Matthews opened the scoring for the Maple Leafs at 5:30 of the first period with an unassisted goal. Matthews' goal marked the 10th time he has scored the first goal of the game this season. The last Maple Leaf to score 10 or more game-opening goals in a season was Mats Sundin (2002-03: 12), per Elias Sports Bureau.
Roman Polak gave the Maple Leafs a 2-0 lead at 15:35 of the second period. Tonight's game was the 600th career NHL game of Polak's career.
James van Riemsdyk scored the third Toronto goal of the night at 4:19 of the third period. He has points (4-11-15) in 11 of his last 12 games.
Nikita Soshnikov made it 4-0 in favour of the Maple Leafs with his second goal of the season at 8:14 of the third period. Both of Soshnikov's goals this season have come in the third period.
Matt Hunwick registered the primary assist on Polak's second period goal. Hunwick is now one point from reaching the 100 career NHL point milestone.
Nazem Kadri also recorded an assist on Polak's goal in the second period. Kadri has 13 points (7 goals, 6 assists) over his last 10 games.
Nikita Zaitsev picked up the primary assist on van Riemsdyk's third period goal. Zaitsev leads Maple Leaf defencemen in assists (19) this season.
Martin Marincin had a secondary assist in the third period. Marincin has assists (2) in two consecutive games.
Frederik Andersen registered the primary assist on Soshnikov's third period goal. Andersen's assist is his first point as a member of the Maple Leafs.
SHOTS FIRED
The Maple Leafs outshot the Red Wings by a 28-22 margin in all situations and by a 23-21 edge in shots at 5-on-5.
Detroit had a 46-45 lead in shot attempts in all situations and a 40-38 lead in shot attempts at 5-on-5.
Auston Matthews and James van Riemsdyk led Toronto with four shots on goal and five shot attempts apiece.
ROAD SCHOLARS
The Maple Leafs are 11-6-6 on the road this season and 8-2-1 in the first leg of back-to-backs.
Toronto has registered at least one point in 11 consecutive road games.
Toronto's all-time record is 283-280-93-3 in 659 games against the Red Wings and 113-172-46-1 in games played in Detroit.
Toronto is 16-8-4 against the Eastern Conference this season and 11-4-2 against the Atlantic Division.
The Maple Leafs wrap up the back-to-back at Philadelphia tomorrow night.
MAPLE LEAFS LEADERS
| | |
| --- | --- |
| Faceoff Wins | 12 (Matthews) |
| Faceoff Win Percentage | 71% (Matthews) |
| Hits | 3 (Komarov, Martin) |
| Blocked Shots | 3 (Carrick) |
| Takeaways | 3 (Brown, Soshnikov) |
| TOI | 22:42 (Zaitsev) |
| Power Play TOI | 2:17 (Zaitsev) |
| Shorthanded TOI | 2:51 (Polak) |
| Shifts | 31 (Marincin, Zaitsev) |
| 5-on-5 Shot Attempt Percentage | 60.9% (Hyman – 14 for, 9 against) |
OF NOTE…
The Maple Leafs have scored at least one goal in eight consecutive periods.
Toronto is 19-4-5 when scoring first this season.
The Maple Leafs are now 16-1-5 when leading after one period and 18-1-6 when leading after two periods.
Toronto has an 8-9-6 record when outshooting their opponents.
Maple Leafs rookies combined for three points tonight (2 goals, 1 assist) and have amassed 178 points (66 goals, 112 assists) in 46 games this season.
Tyler Bozak won 71 percent (5 won, 2 lost) of his defensive zone faceoffs tonight.
Matt Hunwick and Roman Polak started the lowest percentage of shifts in the offensive zone (28.6%) of any Toronto skaters.
Auston Matthews won 71 percent (12 won, 5 lost) of his faceoffs tonight to led the Maple Leafs in the circle. Of the six occasions Matthews has won over 70 percent of his faceoffs this season, tonight's game is the first time he has surpassed the mark on the road.
UPCOMING GAMES:
Thursday, Jan. 26 at Philadelphia Flyers, 7:00 p.m. (Sportsnet Ontario, FAN 590)
Tuesday, Jan. 31 at Dallas Stars, 8:30 p.m. (Sportsnet Ontario, TSN 1050)
Thursday, Feb. 2 at St. Louis Blues, 8:00 p.m. (TSN 4, FAN 590)
Saturday, Feb. 4 at Boston Bruins, 7:00 p.m. (Hockey Night in Canada, FAN 590)
Monday, Feb. 6 at New York Islanders, 7:00 p.m. (Sportsnet, TSN 1050)
POSTGAME QUOTES:
HEAD COACH MIKE BABCOCK
On tonight's game:
We got to play everyone and we had a back-to-back, so it's important. We had the upper hand, we had the good schedule. I was having pizza with my girls last night watching them play on the road. By the time I got to the hotel and crawled into bed I watched the third period and I was already in bed. We've had a lot of those, as you know, back-to-backs this year and you want to take advantage of it.
On the balanced scoring:
I liked our game. I've really thought our fourth line has been excellent this last while – very physical, they know they're coming, good in the faceoff circle. It was great to see [Soshnikov] get rewarded and those guys get rewarded.
On Frederik Andersen:
I thought he was really good, especially in the third. We made some mistakes there like we've been prone to do in the third period. They got behind us on the Helm breakaway, they had a real good chance – kind of a quick-hitter in tight – and we made real good saves on those. Good for Andy and, your goalie, if you're going to be successful your goalie has to be good.
FREDERIK ANDERSEN (22 SAVES, SHUTOUT)
On picking up a shutout in consecutive games:
It's great. It's fun to have them. Today and the other night was a good team effort and when you play like this, sometimes the puck bounces your way and you have these stretches where you play good and you don't let anything in. It's been fun for the whole team.
On tonight's game:
We didn't really give up too much, especially in the first half of the game. We were able to score on some chances early and that's been huge.
On how me maintains a calm demeanour at all times:
I don't know. I think my personality kind of reflects that a little bit.
AUSTON MATTHEWS (1 GOAL, 71% FACEOFF PERCENTAGE)
On tonight's balanced scoring:
It's always a good sign when all four lines contribute so it's definitely a positive for us. I think we played a really solid game. These guys are playing back-to-back and one of our key things that I think this team is made of is speed. We definitely want to use that to our full advantage.
On the play of Andersen:
Freddie was unbelievable for us tonight. Obviously there's going to be momentum swings, but there were times when we didn't really help him out too much and he came up big for us.
On if Andersen gives them more confidence to try things and be more aggressive:
I don't know about try stuff, but he's unbelievable for us. He has been great in goal for us throughout the whole year. I think we have a lot of confidence in him that no matter what team we're going up against. Like I said, there's going to be momentum swings, the team is going to get their chances, but he has been coming up big for us.
ROMAN POLAK (1 GOAL, 600th CAREER NHL GAME)
On getting wins despite the absence of Rielly:
He's a great defenceman, we miss him back there. It's always good that the other guys can step up still and fill in the game, but we still miss him.
On Andersen:
He's very good, he's steady and he has been always good for us. All season for us, whether he got a shutout or not doesn't matter, all season he has been good for us.
On the team's recent road success:
I think we're just following the plan. We're doing a great job – the forwards are skating a lot and it just wears out the other team. That's what we do, we're just skating a lot and that's what we did tonight too against Detroit. We know they played yesterday and they had a tough match against, I think, Boston, so we knew they were going to be a little bit tired. We were talking about it before the game, we needed to take advantage of it.
You can publish this article on your website as long as you provide a link back to this page.