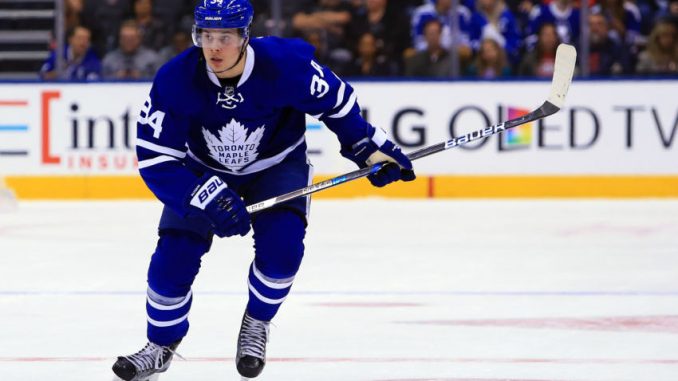 Toronto Maple Leafs blanks New York Rangers 4-0. Here is the summary of the game played on Thursday, February 1, 2018
| | | | | | |
| --- | --- | --- | --- | --- | --- |
| | 1 | 2 | 3 | OT | FINAL |
| TORONTO | 2 | 2 | 0 | – | 4 |
| NEW YORK | 0 | 0 | 0 | – | 0 |
GAME SUMMARY | EVENT SUMMARY | FACEOFF SUMMARY

ON THE SCORESHEET
Justin Holl opened the scoring for the Maple Leafs at 8:42 of the first period. Holl has goals (2) in two consecutive games to start his NHL career. He is the first Maple Leaf defenceman and the sixth defenceman in NHL history to register a goal in his first two NHL games. He is the sixth Maple Leaf and first since Jeremy Williams (April 18, 2006 vs. Pittsburgh and Feb. 26, 2007 at Montreal) to score a goal in his first two career games.
James van Riemsdyk scored the second Toronto goal of the game at 15:23 of the first period. With the goal, van Riemsdyk reached 20 goals for the season, marking the fifth time he has reached the 20-goal mark in his NHL career.
Patrick Marleau registered the third Maple Leafs goal of the night at 0:52 of the second period. Marleau has scored 15 of his 17 goals at even-strength this season and 12 of his 17 goals on the road.
Zach Hyman
scored the fourth Toronto goal of the night at 3:05 of the second period. Hyman has scored five goals in 17 games against Metropolitan Division opponents this season, which is his highest goal total against a single division.
Travis Dermott registered the lone assist on Holl's first period goal. Dermott has points (1-2-3) in two consecutive games.
Connor Brown recorded the primary assist on van Riemsdyk's first period goal. Brown has registered 12 of his 19 points on the road this season (8 goals, 4 assists).
Tyler Bozak picked up the secondary assist on van Riemsdyk's first period goal. Bozak has three assists over his last four games.
Nazem Kadri had the lone assist on Marleau's second period goal. Kadri has points (3-2-5) in four consecutive games. The Maple Leafs are 12-1-0 when Kadri registers an assist this season.
William Nylander registered the primary assist on Hyman's second period goal. Nylander has assists (4) in three consecutive games and points (1-5-6) in five consecutive games.
Auston Matthews had the secondary assist on Hyman's second period goal. Matthews has points (2-2-4) in three consecutive games.
Curtis McElhinney stopped 25 shots to earn his fifth victory and second shutout of the season. McElhinney is the only goaltender in the NHL to have appeared in less than 10 games this season (9) and record multiple shutouts (Previous: Dec. 10 vs. Edmonton; 1-0 W)
SHOTS FIRED
The Maple Leafs had a 32-25 lead in shots on goal in all situations and a 30-21 lead in shots on goal at 5-on-5.
Toronto had an 63-44 lead in shot attempts in all situations and a 58-36 lead in shot attempts at 5-on-5.
Zach Hyman and James van Riemsdyk led the Maple Leafs with four shots on goal.
Nazem Kadri registered a team-high seven shot attempts.
SHOTS ON GOAL
| | | | | | |
| --- | --- | --- | --- | --- | --- |
| | 1st | 2nd | 3rd | OT | TOTAL |
| TORONTO | 10 | 7 | 15 | – | 32 |
| NEW YORK | 5 | 7 | 13 | – | 25 |
SHOT ATTEMPTS
| | | | | | |
| --- | --- | --- | --- | --- | --- |
| | 1st | 2nd | 3rd | OT | TOTAL |
| TORONTO | 18 | 21 | 24 | – | 63 |
| NEW YORK | 11 | 14 | 19 | – | 44 |
ON THE ROAD AGAIN
The Maple Leafs are 16-10-3 on road this season.
Toronto's all-time record is 286-221-95-9 in 611 games against the Rangers and 119-127-56-5 in games played in Toronto.
Toronto is 15-10-3 against the Eastern Conference this season and 9-6-2 against the Metropolitan Division.
The Maple Leafs are 5-4-1 in the second leg of back-to-backs.
The Maple Leafs finish their two-game road swing on Saturday when they take on the Boston Bruins at 7:00 p.m.
MAPLE LEAFS LEADERS
| | |
| --- | --- |
| Faceoff Wins | 5 (Kadri) |
| Faceoff Win Percentage | 100% (Komarov – 1 won, 0 lost) |
| Hits | 2 (Borgman, Komarov) |
| Blocked Shots | 2 (Dermott) |
| Takeaways | 1 (Seven players tied) |
| TOI | 24:19 (Zaitsev) |
| Power Play TOI | 1:11 (Five players tied) |
| Shorthanded TOI | 4:28 (Dermott) |
| Shifts | 33 (Gardiner, Zaitsev) |
| 5-on-5 Shot Attempt Percentage | 75.9% (Matthews – 22 for, 7 against) |
RECORD WHEN…
The Maple Leafs were 1-for-1 on the penalty kill and 0-for-3 on the power play tonight. Toronto is 19-9-4 when not allowing a power play goal this season and 13-13-4 when not scoring a power play goal.
Toronto is 24-5-3 when scoring the first goal of the game.
The Maple Leafs are 17-3-0 when leading after one period and 18-1-2 when leading after two periods.
Toronto has a 8-8-3 record when outshooting their opponent.
The Maple Leafs are 6-3-2 in Thursday games.
OF NOTE…
The Maple Leafs shut out their opponent in consecutive games for the second time this season (Previous: Nov. 16 vs. New Jersey, Nov. 18 at Montreal).
Toronto won 62 percent of their defensive zone faceoffs (8 won, 5 lost).
Travis Dermott was on the ice for a team-high 24 Toronto shot attempts-for at 5-on-5. Dermott finished the game with a 5-on-5 shot attempt percentage of 60.0 percent (24 for, 16 against).
Travis Dermott and Justin Holl started 16.7 percent of their shifts in the offensive zone tonight, which was the lowest percentage among Toronto skaters.
UPCOMING GAMES:
Saturday, Feb. 3 at Boston Bruins, 7:00 p.m. (Hockey Night in Canada, TSN 1050)
Monday, Feb. 5 vs. Anaheim Ducks, 7:00 p.m. (TSN4, FAN 590)
Wednesday, Feb. 7 vs. Nashville Predators, 7:30 p.m. (Sportsnet, TSN 1050)
Saturday, Feb. 10 vs. Ottawa Senators, 7:00 p.m. (Hockey Night in Canada, FAN 590)
Monday, Feb. 12 vs. Tampa Bay Lightning, 7:00 p.m. (TSN4, TSN 1050)
POSTGAME QUOTES:
HEAD COACH MIKE BABCOCK
On tonight's win:
Obviously, I thought we started good tonight. We gave [McElhinney] some support early and then I thought we played good late. A big win for our team on back-to-back nights. They've had a break so we probably caught them at a time, but still good wins for our team and we had lots of contributors tonight.
On McElhinney's job as a backup goalie as a challenging job:
For sure it is, and yet it's a good job. Lots of people would love to do what he does. It's like anything, it's how you look at your lot in life. You dig in and you do the best you can with what you're given. Mac is a good pro, a real good teammate to Freddie [Andersen] – which I think is real important for your starting goalie to have a good partner – and then a real good teammate for the guys.
On if this recent stretch is the most complete style of game the team has played this season:
That's a good question. We think we're getting better, we think we have a chance to be quite a bit better. We're just a work in progress. I think early we were exciting and we scored like crazy, but we didn't know how to play without [the puck]. Then where was a while where we struggled and everyone thought we weren't very good – I actually thought we were pretty good – we didn't give up much, but we couldn't score. Now we're scoring again and guys are getting their feel back. We're deeper than we've been, we've got four lines, and, let's be honest, the kids we have brought up, all of them – I didn't know [Zaitsev] could be this good, I thought Hollsy was really good, Dermott has been good. We seem to have some good depth that you don't know until you try. That's positive.
On playing Dermott, Holl and Kapanen on the penalty kill:
They did a good job. They're all – Kappy is going to be that type of player. Obviously, they come here, you put them out there. If they can do it you do it again, if they can't do it they don't go out. The ball is in their court. They're all good players. One of the reasons you try to keep guys – I said this earlier today – down as long as you can is they get confidence down there. If you're here and you're not playing, you're in and out every second game, it's hard to gain confidence. Being a real good player in the League you're playing in before you arrive is important.
On if there are difficult decisions when Rielly and Hainsey return:
I don't know about that, they're playing if they're ready to play, let's not kid ourselves here. They're real good players. We'll sort out the rest of it after that. The good thing about it is we've got an off-day, we'll watch the game here today on the plane and figure out what we're doing from there.
On scoring at even-strength in recent games rather than the power play:
I think it's like anything – the more time you spend in the O-zone, the more power plays you're going to have. We didn't play a heavy game, we scored early and didn't have to so we weren't able to generate the power plays. To me, you've got to find ways to score and it doesn't matter whether that's on the power play or even-strength. If you can score first and get ahead, settle in, you can play everybody and you're better.
On Holl's play through two games:
Those goals, it's great and good for him. That's not what I'm looking at. Can he break the puck out? Does he know where to stand in the D-zone? Can he play the rush? He's a big guy, skates good, very intelligent, looks like a good hockey player to me. We'll just keep watching him here and figure out what we're doing.
TRAVIS DERMOTT (1 ASSIST)
On Holl scoring in his second straight game:
Yeah, we were calling him Justin Lidstrom in the room but it's crazy. I'm sure he's surprising a lot of people but I've seen in the last year-and-a-half and he's playing good hockey but just like I've seen in the past since I've been playing with him.
On Holl's long road to the NHL:
Kudos to Hollsy for digging deep and keeping going. I'm not sure how many people believed in him but I know he believed in himself and that's all that mattered. He kept checking along and look at him now.
On playing well during the Father's Trip:
Yeah, I think we're working well right now. We're starting to move our feet, which is giving us a lot of opportunities to be successful in the offensive zone and get out of our defensive zone quickly. Having the dads here to showcase for them, it's a great feeling. I know there's lots of laughs going on and everyone's having good time.
On the team's puck support in the defensive zone during tonight's shutout victory:
Yeah, [McElhinney] had to save my back a couple times but he stood on his head. Our forwards did a great job breaking out the puck. They made it easy on us. If there was a guy hard on us they'd be talking to us and staying low and not exiting the zone on us trying to get offence too early. Kudos to them and to [McElhinney] for helping us out.
JUSTIN HOLL (1 GOAL)
On scoring tonight after his dad joined the team's Father's Trip:
Obviously, he wasn't at the Leafs game yesterday so it's really nice to have him here. I'm sure he's having a lot of fun with the dads up in the box so it was nice to get him out here and it'll be good to see him right now.
On becoming the first defenceman to score in his first two NHL games in Maple Leafs history:
I mean, it's a huge honour. The goals and assists, that sort of thing kind of ebbs and flows, so you can't really read too much into it but I'm just trying to play as well as I can every night and put the team in the best position to win.
On if his main priority is feeling comfortable on the ice:
Yeah definitely, I would agree. Kind of along the lines of what I just said, just playing well objectively is probably my biggest goal and if you can produce and help the team win in that way it's definitely a good thing.
On if he had any expectations when he received word he was being called up yesterday afternoon:
No. I have no idea. I was an emergency call-up yesterday and I'll just keep playing as long as they tell me to.
PATRICK MARLEAU (1 GOAL)
On what the team is doing well during their four-game win streak:
I think for the majority of the time we're playing the right way and doing the right things and then burying our chances for the most part. I think we can get a little bit stronger in those areas for a little bit longer but right now we're doing a good job of getting our game going.
On the chemistry since Mitch Marner joined his line with Nazem Kadri:
It's been good. I think it's only going to get better but the opportunities we've been creating out there – [Marner] creates – it's fun to play with and fun to get those chances.
On Curtis McElhinney's performance:
Yeah, he was huge tonight. We did a pretty good job in the first couple of periods but in the third they came at him there and he held his ground and made those key saves all game long.
On the impact of the team's young players:
I think they're doing something right, that's for sure. The kids come in and contribute right away, the way they are, it's great to see. We're going to need that.
CURTIS McELHINNEY (25 SAVES, SHUTOUT)
On the team's performance:
I thought we did a great job in front of the net. I think the biggest thing I'll take away from the game tonight and even the last one was just the smart decisions with the pucks at the blueline and stuff. Obviously, a high F-3 was really critical. Just a good, good performance from everyone tonight.
On how the lineup feels with three rookie defencemen:
It doesn't feel any different compared to the veterans, which is very impressive to see. I think it goes a long way to say about the development of the Marlies system right now and where some of their prospects are at. It's great that those kids can jump into the lineup and have an impact right away.
On a save on Rick Nash in the first period:
It's just one of those plays. He's a big man, he comes to the net hard and he likes to take it to the far post whenever he can. Those are sometimes the key saves in the game you need to make and tonight it was there.
On how it feels to get the shutout:
Great. I think the biggest thing is you've got to give a little bit more credit to the people that are around you than anything. There's a couple of posts tonight as well so you get some lucky breaks and have some good defensive plays.
On if he's in the best rhythm he's had in recent years:
I think so. I think the biggest thing for me the last two or three years in Columbus and even transferring over to Toronto is I just think I'm getting better and better. I don't really think that's the case with a lot of guys with age. I feel certainly more comfortable about my game than I did five years ago.