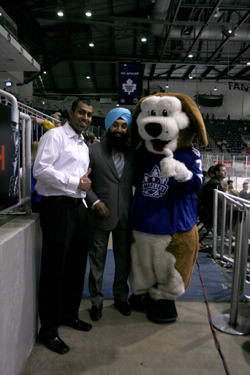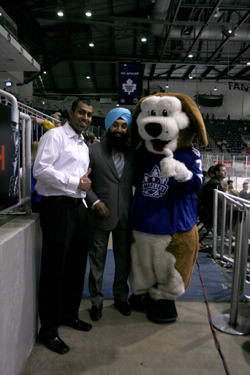 The Toronto Marlies celebrated South Asian culture as part of South Asian Cultural Day on Saturday March 6
th
as the Marlies battled the Rochester Americans at Ricoh Coliseum.
The afternoon game featured performances by South Asian singer Prita Chhabra and the percussion ensemble Dhol Circle as well as an appearance by CBC's Parminder Singh.
The purpose of the event was increase the exposure of hockey within the large South Asian community that exists in the Greater Toronto Area as well as showcase South Asian entertainment throughout the game.
Many South Asians were in attendance for the event but the biggest presence was from the Islamic School Foundation who nearly had an entire section to themselves. The school kids were very enthusiastic and certainly the loudest section in the arena as they regularly started chants of "Let's Go Marlies!".
Growing the Game
Maple Leaf Sports & Entertainment reached out last fall to many different ethnic communities in the GTA to generate interest and increase awareness of hockey programs within the city as well as promote the affordability and accessibility of the Marlies hockey. As many hockey fans are aware, it isn't exactly easy to get tickets to see the Toronto Maple Leafs in action and the tickets aren't exactly cheap either.
But the Marlies are the Leafs of tomorrow and provide an inexpensive option for families in ethnic communities to attend professional hockey games and see players who have already played or will one day play for the Leafs.
"Toronto Marlies hockey is affordable and accessible," says Jennifer Millard who is the Director, Business Operations for the Toronto Marlies Hockey Club.
"Tickets start at $10 and its professional hockey in a great atmosphere so we wanted to make sure that people in the South Asian community knew that."
Chhabra and Dhol Circle Keep Crowd Entertained
Singh took part in a ceremonial faceoff prior to the game and was interviewed live during a first period break where he was able to get the crowd all pumped up. Singh is well known and respected within the South Asian community for his work as a host of a Punjabi program on Omni called Chardi Kalaa. Recently Singh has become somewhat of a celebrity since he became a commentator for CBC's broadcasts of Hockey Night in Canada and Toronto Raptors games in Punjabi.
Montreal-born Chhabra gave solid renditions of both national anthems and performed one of her songs during the first intermission. Meanwhile, Dhol Circle delighted the crowd with their infectious drum beats as they jammed in the second intermission as well as during a break in the third period.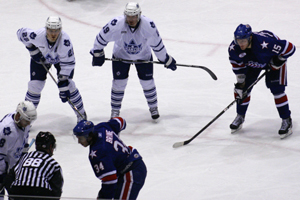 Unfortunately, aside from the entertainment, fans had very little to cheer about as the Marlies were shutout 1-0 in a tight defensive game.
Despite the outcome, Millard was very positive about the turnout and thought the event was a certainly a success.
"I think it's been a huge success. People seemed to be blown away that Prita was here because she is such a well known performer in the South Asian community, so it's been really positive, just from walking around I get the sense that people are really happy and we're happy with the attendance numbers, so that's great."