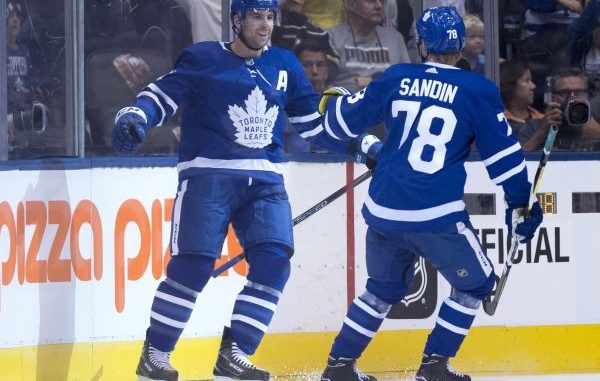 – Calle Rosen opened the scoring for the Maple Leafs with a goal at 2:17 of the second period. Rosen's goal is his first career NHL goal. In five career NHL games, Rosen has two points (1-1-2). He has registered 46 points (7 goals, 39 assists) in 54 AHL games with the Toronto Marlies this season.
– John Tavares scored Toronto's second goal of the night at 3:50 of the third period. Tavares' goal is his 87th point of the season (46 goals, 41 assists), which establishes a new single-season career-high for points. He has registered 45 points (23 goals, 22 assists) in 40 road games this season.
– Connor Brown registered the primary assist on Rosen's second period goal. Brown has points (2-2-4) in three consecutive games. He has recorded 14 (3-11-14) of his 29 points against Metropolitan Division opposition this season.
– Nazem Kadri collected the secondary assist on Rosen's second period goal. Kadri has three points (1-2-3) over his last four games. He has recorded 12 of his 26 assists against Metropolitan Division opponents, which is his highest assist total against a single division in 2018-19.
– Mitch Marner recorded the lone assist on Tavares' third period goal. Marner has assists (2) in two consecutive games and six assists over his last five games. Marner ranks third among NHLers in primary assists (51) and third among NHLers in even-strength assists (47).
– Frederik Andersen stopped 28 shots to earn his 36th win of 2018-19.
SHOTS ON GOAL (5-on-5 in brackets)
| | | | | | |
| --- | --- | --- | --- | --- | --- |
| | 1st | 2nd | 3rd | OT | TOTAL |
| | 16 (12) | 11 (8) | 11 (6) | – | 38 (26) |
| NEW YORK | 12 (10) | 9 (6) | 8 (6) | – | 29 (22) |
SHOT ATTEMPTS (5-on-5 in brackets)
| | | | | | |
| --- | --- | --- | --- | --- | --- |
| | 1st | 2nd | 3rd | OT | TOTAL |
| TORONTO | 30 (26) | 18 (15) | 17 (9) | – | 65 (50) |
| NEW YORK | 22 (20) | 17 (14) | 18 (12) | – | 57 (46) |
ON THE ROAD AGAIN
– The Maple Leafs are 23-12-5 on the road this season.
– Toronto's all-time record is 73-67-7-10 in 157 games against the Islanders and 31-37-3-6 in 77 games played in New York.
– Toronto is 28-16-5 against the Eastern Conference this season and 14-7-2 against the Metropolitan Division.
– The Maple Leafs' win is the club's 23rd road win of the season, tying the franchise record for road wins in a season set in 2003-04.
MAPLE LEAFS LEADERS
| | |
| --- | --- |
| Shots | 4 (Rielly) |
| Shot Attempts | 9 (Tavares) |
| Faceoff Wins | 14 (Tavares) |
| Faceoff Win Percentage | 100% (Marner – 1 won, 0 lost) |
| Hits | 6 (Kapanen) |
| Blocked Shots | 5 (Hainsey) |
| Takeaways | 2 (Hyman) |
| TOI | 24:18 (Rielly) |
| Power Play TOI | 2:27 (Marner, Matthews, Tavares) |
| Shorthanded TOI | 5:36 (Zaitsev) |
| Shifts | 30 (Hainsey) |
| 5-on-5 Shot Attempt Percentage | 67.9% (Rosen – 19 for, 9 against) |
| | |
RECORD WHEN…
– The Maple Leafs were 3-for-4 on the penalty kill and 0-for-2 on the power play tonight. Toronto is 19-9-3 when allowing one power play goal this season and 23-18-7 when not scoring a power play goal.
– Toronto is 31-6-3 when scoring the first goal of the game.
– The Maple Leafs are 13-10-3 when tied after one period and 36-0-1 when leading after two periods.
– Toronto is 20-13-1 when outshooting their opponent.
– The Maple Leafs are 8-3-0 in Monday games.
OF NOTE…
– With tonight's victory, the Maple Leafs clinched a postseason berth for the third consecutive season.
– The Maple Leafs have registered at least 35 shots on goal in nine of their last 10 games (40.9 shots per game average).
– Toronto won 62 percent (13 won, 8 lost) of their offensive zone faceoffs and 60 percent (12 won, 8 lost) of their defensive zone faceoffs tonight.
– Toronto's line of Tyler Ennis, Frederik Gauthier and Trevor Moore were the lone Maple Leafs to not start a 5-on-5 shift in the offensive zone.
– Travis Dermott, Kasperi Kapanen and Auston Matthews were on the ice for a team-high in Toronto shot attempts-for at 5-on-5 (20). Dermott had a 5-on-5 shot attempt percentage of 55.6 percent (20 for, 16 against) and Kapanen had a 5-on-5 shot attempt percentage of 57.1 percent (20 for,15 against), while Matthews had a 5-on-5 shot attempt percentage of 58.8 percent (20 for, 14 against).
– John Tavares won 70 percent (7 won, 3 lost) of his offensive zone faceoffs and was 7-for-10 (70%) on the draw when matched up with New York centre Casey Cizikas tonight.
UPCOMING GAMES:
– Tuesday, April 2, 7:30 p.m. vs. Carolina Hurricanes (TSN4, TSN 1050)
– Thursday, April 4, 7:00 p.m. vs. Tampa Bay Lightning (TSN4, TSN 1050)
– Saturday, April 6, 7:00 p.m. at Montreal Canadiens (Hockey Night in Canada, TSN 1050)
POSTGAME QUOTES:
HEAD COACH MIKE BABCOCK
On tonight's win and clinching a playoff berth:
Well, I mean, obviously, the first thing is making the playoffs. We've made the playoffs three years in a row. There's always expectations, but the reality is it's hard to make the playoffs in the National Hockey League. I don't know when the last time the Leafs did it three years in a row, but we've just done it, we've got a good group and we're getting better. I think what we've been through this last little bit, even though we've been playing better and better defensively, we haven't been winning every night. I think it's probably good for our group. I think our group worked real hard tonight. It's nice for John Tavares for us to come back in here for him to get the game-winner, for the way our club played and to win here tonight and clinch a spot. Now we've got to regroup and get ready for tomorrow.
On Tavares' goal lifting the team in the third period:
I just think the whole game we were prepared and competed hard right from the get-go. Then, you get the first one, you get the second one and it gives you an opportunity. We took penalties tonight for whatever reason, I don't know. You never know if they're going to get a power play or something so one more cushion ended up being needed.
On Andersen's performance tonight:
I think it's been good. He's no different than the rest of us, he's a human being and it doesn't go great all the time. Sometimes you get off-kilter and get in your own way for a bit. We thought he's been coming back and battling hard and working. We need Freddie to be great because he's a leader for us and when he feels good about himself we feel good about our team. It's important that he plays well. I thought it was an important game for him, but also for us tonight.
On Rosen's performance:
I liked Rosen. We didn't give him a lot of minutes in the D-zone, but he can really skate and pass the puck. We obviously need to figure out what our D is going to be to start the playoffs over this next little while. These are important games for all the D in that area to see who is going to play.
On playing Boston in the playoffs:
I think it's great. We're excited to have that opportunity, we're excited to be in the playoffs. Obviously, in our division, on our side, there's real good teams. That's what it's supposed to be like. You're supposed to play a real good team. I've got two kids that live in Boston, it'll be perfect.
FREDERIK ANDERSEN (28 SAVES)
On tonight's performance:
It was a really good game for us, especially the first period. We came out really good. The second period was great as well, really eliminating their chances. Obviously, we ran into some penalty trouble but I thought the PK units were working really hard. They made it a little closer at the end, but we were able to stand tall and get the win.
On how he felt in goal:
I felt good. Just trying to work on some things in practice and that sometimes allows you to reset a little bit and, like I said, just work on things. Nothing really exciting there.
On clinching a playoff spot:
Finally – we took a few tries to clinch it, but obviously, it's great to be back in the playoffs. Hopefully we can get revenge from last year. Obviously, most of the teams are there still and it should be an exciting series.
MITCH MARNER (1 ASSIST)
On clinching a playoff spot:
Yeah, it's exciting. It's been the goal from the start of the year, obviously play a lot longer than we did the past two years. It's just about making sure these last couple games we're doing everything right, we're playing the right way, getting pucks in and staying above people.
On tonight being a good step towards preparing for the playoffs:
I thought tonight we played a consistent three periods. We got into a little bit of penalty trouble and that's something we've got to try and fix going forward. I thought our team played well together, I thought we didn't make many mistakes and that's the way it's got to be in the playoffs.
CALLE ROSEN (FIRST NHL GOAL)
On scoring his first career NHL goal:
I don't know, I think it hit the stick or something and then maybe bounced on the ice or the post too. So, can't say I'm completely sure how it went in but, for sure, a good feeling.
On how being paired with his former Marlie teammate Travis Dermott:
It was fun to play with him. Just fun to be out there with all the crowd, a big game for us too and that's pretty much how I can sum up this game. It was a lot of fun.
JOHN TAVARES (1 GOAL)
On tonight's win:
We just stayed patient and we were good with the puck pretty much all game. We did a good job of just getting on top of them and causing turnovers, getting our chances when we got them. Obviously, we would have liked a few more but, overall, a good road win, playoff-type of win.
On clinching a playoff spot:
It's great, it's great to punch your ticket. You work so hard all year to give yourself a chance and to be a part of it. Every opportunity, you want to take advantage of it. It's great to be in it. We put a lot of work into it and we've got a lot of work ahead. Just want to make the most of this opportunity.
On scoring the game-winning goal:
It's nice to help contribute to a win that obviously got us officially in the playoffs. That's what matters most, I just try to bring my same game every night and be consistent. Be counted on in all areas of the ice and nice to capitalize on the opportunity.