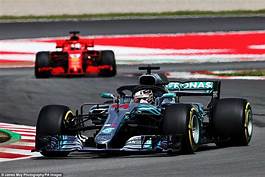 Lewis Hamilton led Valtteri Bottas to the fifth consecutive Mercedes one-two at the start of this season after dominating the Spanish Grand Prix.
The world champion, who started second, passed Bottas into the first corner and eased away to an ultimately comfortable win, despite a late safety car.
A long way behind, Ferrari used team tactics yet again but lost out to Red Bull's Max Verstappen for third.
But a disheartening performance for the Italian team on a weekend they hoped would make a step forward only emphasized the sense that Mercedes is in a league of their own this year and that the championship fight is already a private one between Hamilton and Bottas.
Hamilton, with three wins to the Finn's two and a point for the fastest lap from Spain to add to his tally, leads Bottas by seven points and their closest rival, Verstappen, is a massive 46 points behind, with Vettel a further two adrift, and Leclerc 10 behind him.
Mercedes' lead is not far off two clear wins, at 25 points for a victory, and the size of the advantage at just about the quarter-way mark of a 21-race season underlines Mercedes' superiority
Lando Norris made contact with Racing Points Canadian Lance Stroll after trying to overtake the Canadian on the outside in the corner knocking the Canadian out of the race.
2019 Spanish Grand Prix Results
1 Lewis Hamilton Mercedes
2 Valtteri Bottas Mercedes
3 Max Verstappen Red Bull
4 Sebastian Vettel Ferrari
5 Charles Leclerc Ferrari
6 Pierre Gasly Red Bull
7 Kevin Magnussen Haas
8 Carlos Sainz Jnr McLaren
9 Daniil Kvyat Toro Rosso
10 Romain Grosjean Haas
11 Alexander Albon Toro Rosso
12 Daniel Ricciardo Renault
13 Nico Hulkenberg Renault
14 Kimi Raikkonen Alfa Romeo
15 Sergio Perez Racing Point
16 Antonio Giovinazzi Alfa Romeo
17 George Russell Williams
18 Robert Kubica Williams
R Lance Stroll Racing Point Retired
R Lando Norris McLaren