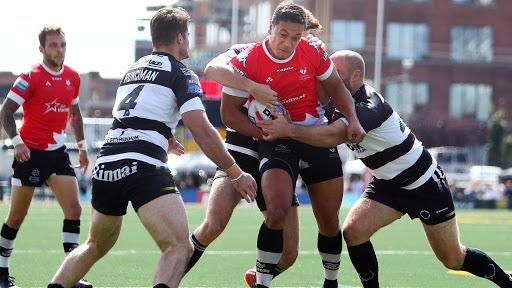 It has been a wacky race across three countries and two continents for the past six weeks in rugby league's Qualifiers.
There have been twists and turns that have left Super League clubs Leeds (last year's Grand Final winners), Hull KR and Salford Red Devils clinging on for survival in the top division, and have already condemned Widnes to relegation.
Three Championship clubs from as diverse locations as London, Toulouse and Toronto know that at least one of them, and possibly two, will be going
How it works
The Super 8 Qualifiers throw together the bottom four clubs from Super League and the top four from the Championship, after they have played a regular season in their respective leagues, to create a new mini-league.
The top three from the Qualifiers go into Super League the following year, the bottom three go into the Championship, and the teams finishing fourth and fifth play off in the "Million Pound Game" to determine the final Super League competitor.
Its complexity and volatility is one of the reasons why clubs recently voted to get rid of the Super 8s from next season. From 2019, it will be a more straight-forward "one up, one down" system.