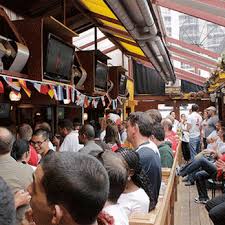 The Six Nations Championship annual rugby tournament between England, Scotland, Wales, Ireland, France and Italy kicks off Friday.
It dates back to 1871 with a single rugby game between England and Scotland. From there it has grown, with Ireland, Wales and France all added by 1910. The Five Nations endured until the end of the century, until the inclusion of Italy in 2000 saw the birth of the modern Six Nations Championship. Its one of the world's most attended sports competition.
Scallywags located in midtown Toronto, known as the home of International Sports brings in all the games live for all the rugby fans attending. Jeff May the owner states," We have big screens and its a lot of fun to have fans dressed in their nations colours.
Its a very colourful scene and lots of humour between the supporters. When Ireland plays England we always get a huge crowd attending."
For the full schedule http://www.scallywags.ca