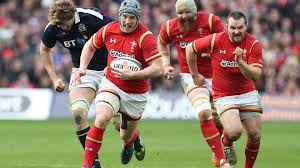 Wales stay on course for grand slam by holding off battling Scotland
Scotland 11-18 Wales
Turmoil off the field, domestic game in chaos but at international level Wales continue to break new ground. Their 13th consecutive win duly came in Edinburgh and on they march back to Cardiff, a third grand slam of the Warren Gatland era still very much on. Only Ireland stand between them and a glorious send-off for their coach.
Scotland put Wales through their paces – and what pace these Scots play at – coaxing more than 160 tackles from Wales in the second half. Adrift by nine at the break, and looking well beaten already, they spent most of the second half in Wales's half, scoring a brilliant first-phase try on the hour to set up a nail-biting final quarter, in which they continued to press.
Wales rode their luck, discipline-wise, but Scotland could not make their overwhelming share of possession and territory tell.
As preparation for the challenge Ireland will provide, this was of limited value to Wales. They won this game the modern way, powerful, tireless and precise. Ireland like to play that way too. Scotland – and this iteration in particular – play a completely different game, fast, deft and ambitious. But those relentless collisions take their toll and tend to be ridden better by the more powerful side.
England 57-14 Italy:
Ireland 26-14 France: