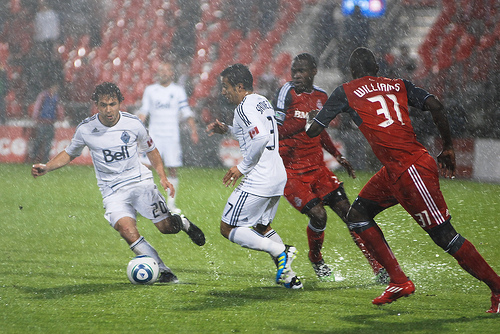 This article was last updated on April 16, 2022
Canada:

Oye! Times readers Get FREE $30 to spend on Amazon, Walmart…
USA:

Oye! Times readers Get FREE $30 to spend on Amazon, Walmart…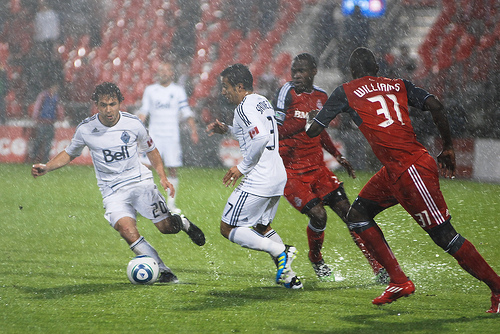 TFC and Whitecaps play through
heavy rain on a soggy BMO Field
Game Abandoned Due to Heavy Rain, Thunder and Lightning
Toronto FC have another life after the second leg of the Nutrilite Canadian Championship (NCC) was abandoned due to heavy rain, thunder and lightning on Wednesday evening at BMO Field in Toronto.
Meanwhile the Vancouver Whitecaps have once again felt luck go against them in the NCC after leading 1-0 and outplaying TFC for majority of a match that lasted just under an hour.
Due to the unsafe weather conditions, the match will have to be re-played in its entirety this morning at 11am – that is if the weather cooperates and the pitch is deemed playable. A decision will be made by the Canadian Soccer Association (CSA) at 9:30am along with team officials.
"We were in a position to try and have the match played this evening, but once we got to that position being on the field, the referee decided that the pitch was not playable and with that the match was abandoned," said CSA General Secretary Peter Montopoli. "And as such the regulations are very clear that the match will be re-played in its entirety tomorrow at 11am at BMO Field."

CSA General Secretary Peter Montopoli
The weather forecast has called for more rain overnight and all day Thursday which will not improve the condition of the pitch and will certainly hinder the chances of re-playing the match.
"All of us will determine here once again tomorrow morning. We look at the pitch and make a decision at that time. If the pitch is playable once again the referee will take a look at it. If the pitch is not playable then we will have to reschedule match at another date, to be determined."
TFC has confirmed that those in attendance at Wednesday night's match will be able to attend the match on Thursday. Fans are asked to enter through Gate 1.
Not Worth the Risk
Although the game will not count, Whitecaps designated player Eric Hassli continued his dominance against TFC. His strike in the 17th minute deflected off Julian de Guzman and changed direction just enough to get past Reds keeper Stefan Frei. It was Hassli's fourth goal against TFC in three games, including both MLS and NCC matches. Although the goal will not count, he will have another crack at the Reds today if the weather holds up.

Whitecaps celebrate goal by Eric Hassli
Match officials and the CSA decided to have a half hour delay after the first half to see if the weather would improve, but the rain continued to fall. Just before kickoff of the second half, lightning flashed in the sky but the game resumed.
TFC had a chance to equalize in the 59th minute when a Nick Soolsma cross found Joao Plata at the left post. Plata redirected the ball on goal but Vancouver keeper Jay Nolly managed to make an unbelievable save on the goal line before smothering the ball. Less than a minute later, Canadian referee David Gantar blew the whistle and ushered players from both teams off the field.
After another lengthy delay, officials from both teams inspected the pitch but it was clearly unplayable as puddles were visible all over the field. The rain continued, as did the thunder and lightning. As everyone expected the game was called off for the evening.
"There's a risk to play the game this evening because it's still raining and lightning," said TFC Head Coach and Technical Director Aron Winter. "You're speaking about people, something can happen and then nobody's going to discuss an argument anymore about rules, you have to respect the rules and I'm following the rules," said Winter.

TFC Head Coach & Technical
Director Aron Winter
Winter also made a reference to a Dutch goalkeeper of DWS in the Netherlands who was killed by lightning in a match in September 1984. Erik Jongbloed died in front of his father, the former Dutch national team goalie Jan Jongbloed.
"In the past what has happened to a Dutch goalkeeper, also with this weather, he was far away from the box but lightning came on the crossbar and he died. That's why at that moment you don't risks."
"I know it is not nice for Vancouver at the moment because if you're watching the pitch, we want to play in normal circumstances but the pitch was also unplayable. And also with the lightning, I think this was the best choice."
Whitecaps Head Coach Teitur Thordarson was not happy with the game being abandoned but considering the circumstances could understand the decision.
"Well, I'm very disappointed of course but there are reasons for it," said Thordarson. "The field was difficult and lightning of course is dangerous so there are obvious reasons for that, but we would have liked to play it as far as conditions allowed that. But that's a referee's decision and we have to respect that."

Whitecaps Head Coach Teitur Thordarson
"It's unfair, I feel it's very unfair, but that's how it is. Under these circumstances you have to start a new game, and obviously the advantage we have got from this game doesn't count, so that is obviously unfair."
Thordarson said his players were obviously disappointed as well.
"They were very disappointed because they wanted to continue playing and finish it off. That's quite obvious, we are leading 1-0 and we still have 30 minutes to go and it was quite obvious we wanted to try and finish this off," Thordarson said. "We were definitely disappointed."
Toronto is attempting to win its third straight NCC while Vancouver has never won the tournament and is looking to claim its first Voyageurs Cup. The winner will advance to the preliminary stage of the CONCACAF Champions League (CCL) and play Nicaragua's Real Estelí FC. Last year TFC defeated Honduran side Deportivo Motagua in the preliminary round before bowing out at the group stage of the CCL.

The winner of the NCC will
hoist the Voyageurs Cup
To follow me on twitter click
HERE
Download or stream
the 500 Level podcast with co-hosts Aman Dhanoa and Ben Trattner as they discuss news, opinions, and views on Toronto sports from the Upper Deck. Leafs, Raptors, Jays, Argos, TFC – nothing is off limits. It's good to be a fan!
Also available on iTunes
Photos below courtesy of Karan Vyas
Contact Aman Dhanoa at aman@oyetimes.com

Article viewed at: Oye! Times at www.oyetimes.com
You can publish this article on your website as long as you provide a link back to this page.