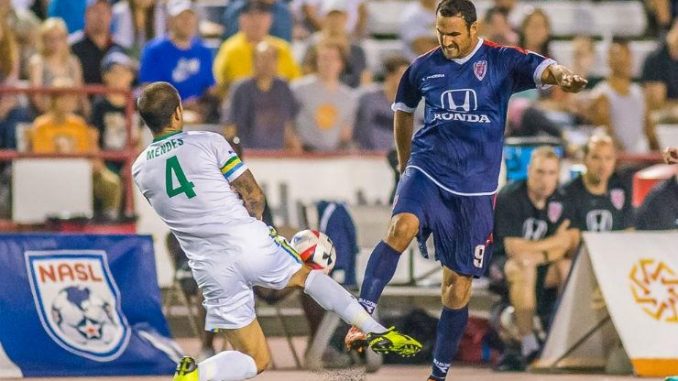 The 2016 North American Soccer League (NASL) season is headed to its conclusion with the top two sides left standing to battle for the Soccer Bowl Trophy in The Championship Final.
The New York Cosmos, who won the Fall Season and earned the No. 1 seed in The Championship, the league's postseason tournament, will face off against Indy Eleven, which won the Spring Season after an unbeaten campaign, at Belson Stadium on Sunday, Nov. 13. The Cosmos enter the matchup as the league's defending champion.
New York reached The Championship Final after a come-from-behind victory on Nov. 5 against Rayo OKC, 2-1. Venezuelan star Juan Arango, who earned the 2016 NASL Golden Ball, rose to the occasion once more for the Cosmos, scoring a goal and assisting another in the final 20 minutes of the contest. Arango headed into the postseason with 15 goals and seven assists on the year. Yohandry Orozco's strike from inside the 18-yard box took a deflection off the post and into the net for the game-winner in the 90th minute against Rayo OKC.
Indy, in the other semifinal, knocked off FC Edmonton, 1-0, at Carroll Stadium – also on Nov. 5 – with Sinisa Ubiparipovic's curling effort for his first goal for the club. With a retooled squad, under the watchful of eye of the NASL Coach of the Year Tim Hannkinson, Indy will now play in its first title game. The side is led by Eamon Zayed, who scored 15 goals and had six assists before the start of The Championship.
The Cosmos enter the matchup on Sunday with a 22-game home unbeaten streak, including postseason, dating back to Oct. 4, 2015. The Cosmos also downed Indy, 3-0, in the last meeting between the sides in New York.
The Eleven, though, head into Sunday with plenty of confidence and have had success against the Cosmos this year, albeit in Indy. Zayed scored two goals in the waning moments of a 2-1 in the Spring Season that was instrumental in the Eleven achieving the Spring Season title. After the 3-0 loss in New York, the Boys in Blue posted the same scoreline in the last contest between the top postseason seeds.
Sunday's kickoff gets underway at 7 p.m. ET and can be seen live on CBS Network.


Loading ...