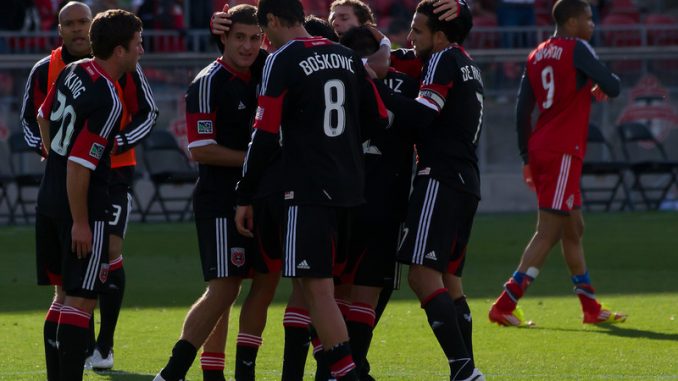 Upset Players Voice Concerns and Call for Changes

On and off the pitch frustration could be seen on the faces and body language of Toronto FC players as another game slipped from its collective grasp to suffer yet another defeat.
And it wasn't just any loss. It was the team's eighth straight and after the final whistle TFC suddenly found itself in the record books for the worst start in MLS history.
Game after game, Head Coach Aron Winter and his players have tried to offer up explanations as to what went wrong and that the team still believes that the season can be turned around.
But that all unraveled on Saturday afternoon after losing 2-0 to former captain Dwayne De Rosario and DC United on its home pitch.
"It's definitely tough to swallow," said midfielder Julian de Guzman. "It's our job now as a team to find a way to get out of the situation as soon as possible and it's also important that we stay together as a unit in moments like this.
"I don't recall going through anything like this, the closest thing is probably fighting relegation in the past but losing this many games in a row, especially in this fashion is very at some point depressing and it's very hard to live with as a player and I'm sure it is as a fan as well."
Towards the end of the match fans at BMO Field began chanting "Let's Go Blue Jays!" in mock reverence to the city's baseball team as Toronto Maple Leafs supporters had done when the playoffs were no longer a possibility. For the Reds playoffs are not impossible but it's become a long shot at best.
Despite all the losses Winter hasn't lost hope and is trying to remain positive as media grilled and questioned him about his future with the team.
"I'm not worried. I'm not thinking about the future. I'm thinking now about this moment what can we do more, what can we change to get those points," said an uncomfortable Winter after the game. "I'm also here to get results. I'm not here for fun. We're working on it and I believe in it and I think we get also confidence from the company (MLSE)."
Calling for Change

Winter is standing behind his vision and it wasn't so long ago that his team knocked off the defending MLS Cup champions LA Galaxy and challenged eventual CONCACAF Champions League winners Santos Laguna.
He admitted that he is also trying to figure out what went wrong after that success but pinpointed the loss of captain Torsten Frings as starting point of the team's misfortunes.
That cannot be used as an excuse because Frings did not play against Santos and has since returned only to be part of a losing lineup for three of the team's last eight losses.
Even though the situation looks dire he thinks that he still has the belief of the players.
"The team spirit is still good but of course they're upset. I'm also upset and disappointed that after eight games you have zero points."
"If I watch the players they're all believing it, but at a certain moment when they don't going to believe anymore and don't want to work extra hard then I think you got a bigger problem but I think that is not the situation at the moment because they all believe in it."

But after Winter's post-game press conference de Guzman and Ryan Johnson both voiced concerns and expressed the need for changes. It was a clear sign that the players are cracking and perhaps losing belief in Winter's vision.
"There are a lot of things going on that I'm not happy with," said Johnson. "I thought in the game we were too defensive, too negative. Just like the Montreal game, even though we got the clean sheet, I left that game just sick to my stomach because I didn't want to play like that ever again. And we started doing that again today."
"I just don't understand why, we're at home and we're letting teams do that to us. It's just my opinion and if any of the other guys will speak up about it then they will, hopefully they do, I don't know if they will but for me it's unbearable. It's hard to allow teams to do this to us in our own home."
"We've been allowing teams doing these things to us for too long now. I don't know what has to change but something has to."
Tale of Two Captains

The Saturday afternoon match was for the most part downright boring. The first half saw Toronto play, as Johnson put it, very defensive with five along the backline in a 1-4-5 formation.
De Guzman was fantastic in neutralizing and shadowing De Rosario, so from the defensive aspect the team did well. But that also meant very little happened offensively.
In the second half both teams made adjustments. Toronto started to look for more opportunities to attack while United moved De Rosario up front to get him away from de Guzman. United's change worked as De Rosario opened up space for his teammates although he was not a driving factor on either goal.
In the 55th minute Pontius took a pass from Brandon McDonald and rifled a shot from just outside of the box that sailed over a diving Milos Kocic into the top of the net.
McDonald set up the second goal as well 20 minutes later when his forward header was struck with an overhead volley by substitute Hamdi Salihi past Kocic.
TFC pressed forward in the latter minutes and came close to scoring on a few occasions but DC keeper Bill Hamid was able to keep the clean sheet.

Adding insult to injury, TFC lost Frings to a shoulder injury in the 67th minute when he collided with teammate Doneil Henry and he will be reevaluated in the coming days. Clearly frustrated he took off his arm band and tossed it onto the pitch before walking away into the tunnel.
Frings apologize and clarified his actions in a statement after the game.
"I did not mean anything negative when I removed the armband," said Frings. "I was in pain and had to leave the field for treatment. I have too much respect for the club, my teammates and the position for it to mean anything else."
Former captain De Rosario could have taken pleasure in seeing his old team struggle and set a record for futility, especially considering how his tenure ended. But instead he took the high road and was sympathetic towards TFC and its fans.
"I feel for the fans, most importantly, they're coming out and supporting this team. And me personally that's not an 0-8 team," said De Rosario. "I think there's quality in that team and something is wrong with them…you see Frings walk off the field and throw his armband down – I feel for them. I kind of feel what he's going through but I hope they get it together."
He also offered some helpful advice to his friend and national club teammate de Guzman.
"I told him to keep his head up because it's tough what they are going through mentally, you heard the fans are booing and it is to be expected. But they have got quality players, just told him to keep his head up , keep grinding it out because it's a long season ahead of them and if they put their head down it could be an even longer season. I feel for the guys, he's my friend and I've known him a long time and he has a lot of qualities."
TFC will now shift its focus back to the Amway Canadian Championship when the team hosts the Montreal Impact on Wednesday at 8 p.m. in the second leg. Both teams played to a scoreless draw last week at Olympic Stadium. The winner will advance to play either Vancouver Whitecaps FC or FC Edmonton in the final.

To follow me on twitter click HERE
Photos courtesy of JP Dhanoa