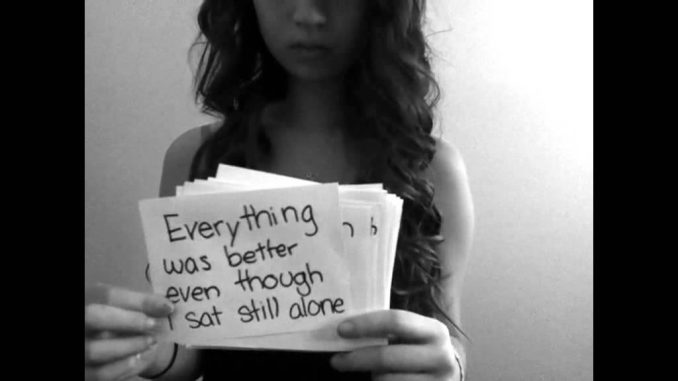 On October 7, 2012, 15 year old Amanda Michelle Todd posted a YouTube video (at end of article) in which she showed a series of flashcards describing her experiences of being the target of bullying both on-line and in real life that had been going on for years. Watching the video and reading her story is both startling and perplexing. Why would classmates and total strangers go so far in displaying such cruelty towards Amanda? On October 10, 2012, Amanda committed suicide in her home in Port Coquitlam, B.C., Canada.
According to Amanda's YouTube story, this whole mess started three years ago when she was in 7th grade. She was using video chat on the Internet to meet new friends and during one of these sessions, somebody asked her to show her breasts and she did so. A year later, an anonymous user who seemed to know everything about her including her address, her school, her relatives, and her friends began blackmailing her: give me a show or I will send the pictures of your "boobs" around. The pictures began circling on the Internet and from there everything spiralled out of control. She began to suffer depression and anxiety not just from the pictures themselves, but from being subsequently ostracized by her peers. She turned to drugs and alcohol and had self-mutilated herself. She was even physically attacked at her school.
She tried to commit suicide once by drinking bleach but was rushed to the hospital and successfully treated. Amanda moved to another city to live with her mother but the postings on the Internet only got worse telling her to try a different bleach next time and expressing hope she would kill herself. On October 10, the bullies got their wish. But it still didn't stop. Tribute sites to the girl have received hateful comments and offensive images. (National Post Oct 14/2012)
This is a sad story, a very sad story. I am sure parents, pundits, and police will be analysing this one and making recommendations left, right, and center about the dangers of the Internet, posting pictures on the Internet, and doing anything remotely sexual on the Internet but to me, the far-reaching issue is the bullying. Why would one human being bully another? Why would one human being take some sort of pleasure in seeing another human being suffer pain, feel humiliation, and even commit suicide? Why is it that a particular person, in this case Amanda, becomes the lightning rod for the anger and hate of the bully and even for those who may part of the bully's audience? It is so startling to see this group mentality that I have to ask myself with apprehension if one day the crowd may not turn and make me the target of their displeasure.
I read the Wikipedia article
Bullying
but discovered that the supposed reasons explaining such behaviour are not necessarily conclusive. Studies have shown a variety of motives for bullying: envy, resentment, self-esteem, arrogance or narcissism. Bullying can be a tool to conceal shame or anxiety or boost self-esteem and by demeaning others, the abuser can feel empowered.