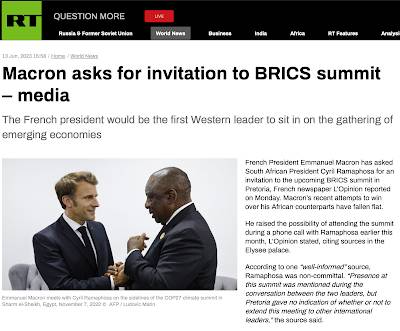 This article was last updated on June 15, 2023
Canada:

Oye! Times readers Get FREE $30 to spend on Amazon, Walmart…
USA:

Oye! Times readers Get FREE $30 to spend on Amazon, Walmart…
France and BRICS – A Trojan Horse or Growing Independence from Washington?
Not surprisingly, at least to this point in time, this story has received almost no coverage in the Western mainstream media: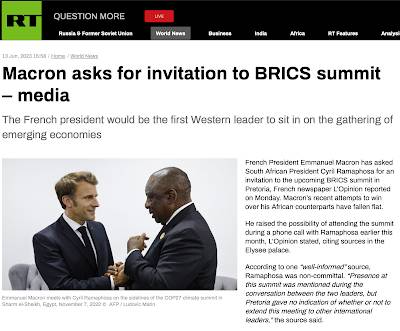 If Macron's request were fulfilled and he was allowed to attend the BRICS summit in August 2023, he would be the first leader of an advanced economy nation to do so.
Here is more coverage of the story from China's Global Times:

Here's what Russia's TASS News Agency had to say about Macron's request:

Lastly, here's what Sputnik had to say about the potential attendance of France at an assembly of the world's leading developing economies along with a quote from Russia's Foreign Ministry spokeswoman, Maria Zakharova:

"It would be nice if they [Macron's office] told why they want [to attend the summit]. Do they want to once again make some contact to show Paris' activity or is it a 'Trojan horse of some sort — so let them explain…
After all, we are talking about the organization to which they are in no way a member and toward which they have never even shown any politeness, let alone showing any good intentions or feelings."
Let's go back to the Global Times editorial which reflects the views of the leadership of the Chinese Communist Party and look at some excerpt with my bolds:
"Considering this idea as bold or even "crazy" was the initial reaction for many people when they heard the news. Exploring why this is the case is worth delving into at a deeper level. It indicates that people have subconsciously taken the division between North and South, and the split between East and West, as a normal state, to the extent that even a thought that may break these norms and mental patterns appears quite striking.
However, on the other hand, this idea seems reasonable. France is a major European country that realized early the historic changes occurring on the global landscape. Macron himself has made surprising statements on multiple occasions, demonstrating a certain level of autonomy separate from Washington. These factors make it feel like it wouldn't be particularly strange if Macron were to attend the BRICS Summit. The fact that such news are emerging in France and not in other countries itself speaks volumes…
Macron emphasized that Europe should pursue "strategic autonomy," and France also has a tradition of independent diplomacy. If France can truly act as a bridge between different camps in the world's divisions and splits, it will undoubtedly make its international status stand out and create historic achievements. Macron clearly has such ambitions and is making such attempts and efforts. We appreciate and respect this, and are willing to understand with goodwill France's release of information about Macron's desire to participate in the BRICS Summit…
One thing is certain: This matter has demonstrated the enormous influence of the BRICS cooperation mechanism. "BRICS+" adheres to the principle of multilateralism, attracting dozens of emerging economies and developing countries to participate in the cooperation process, which coincides with the new multilateralism supported by France and Europe. Can "BRICS+" open up to developed countries like France based on its huge influence in developing countries? This is an interesting question, and the BRICS organization might as well seriously consider it in light of this news."
All of that said, we must keep this in mind when it comes to Emmanuel Macron:

…as well as this:

Is this just another means for Klaus Schwab to ensure that his dystopic vision for the world comes to fruition?  Is Macron  taking his marching orders from the World Economic Forum whose mandate is to control the globe or does he truly believe that he needs to be on the right side of history when it comes to a multipolar world?
You can publish this article on your website as long as you provide a link back to this page.