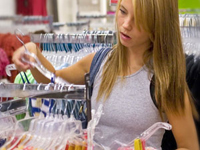 A quarter of teenagers were jobless in March, a surprising increase from February even as the unemployment rate for the rest of the population decreased. This figure may only get worse if budget-strapped states raise the minimum wage, and it could also be a sign of greater structural damage underlying our economy, analysts said.

The unemployment rate for 16- to 19-year olds jumped back up to 24.5 percent in March, up from 23.9 percent the prior month, according to the latest jobs data from the Labor Department. The total unemployment rate fell to 8.8 percent from 8.9 percent.

"Even when comprehending that teen employment is volatile in nature, the data that exists serves up some shock and awe," said Brian Sozzi, a retail research analyst with Wall Street Strategies, in a note Wednesday. "If these (wage) increases do go through, the prospect for teen employment will remain grim as employers search for workers with advanced skills to fill positions."

Twelve states including Illinois and Pennsylvania are considering a hike in the minimum wage. While this has been subject of a long-running debate, many economists and analysts say raising this pay bar may cause more teen layoffs, even as it helps those that manage to stay employed make more.

"Minimum wage increases over the past few years has definitely made it worse," said Peter Boockvar, chief equities strategist at Miller Tabak. "In fact, there should be zero minimum wage for teenagers, or at most, something much less than the current rate."

Teens typically are the first to be fired and the last to be hired back in a normal economic cycle so this rate can be considered a kind of leading indicator of employment. Consider that the teen unemployment rate surged to 19 percent in May of 2008, even as the overall unemployment rate ticked only slightly higher to 5.4 percent. If the teen rate continues to diverge from the overall rate, then it could be an early sign of stagnation in the overall economic recovery.

On a more micro level, Sozzi believes the high teen unemployment rate could hurt the youth retailers that are not market share leaders in this already-finicky market. Pacific Sun (PSUN) could be particularly vulnerable because of its lost share to Zumiez (ZUMZ) as teens save the dollars they do have to spend at their favorite places, the analyst said. The recent bankruptcy of the Sbarro pizza chain could have something to do with lost teen spending power, he said.

Still, Sozzi said these high unemployment numbers mean much bigger structural issues are at stake for our nation than just a Sbarro slice.

"There is an entire class of the population, young eager minds that ultimately will one day be looked upon as vital instruments in the workforce, resigned to not developing the necessary people and basic workplace skills needed to compete effectively."

For the best market insight, catch 'Fast Money' each night at 5pm ET and the 'Halftime Report' each afternoon at 12:30 ET on CNBC.

Ref: http://www.cnbc.com/id/42572175

John Melloy is the Executive Producer of Fast Money. Before joining CNBC, he was an editor for Bloomberg News, overseeing the U.S. Stock Market coverage team.