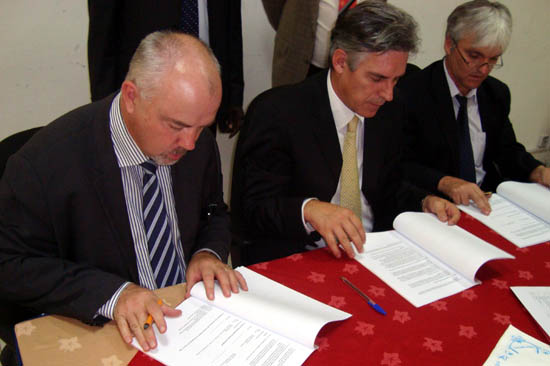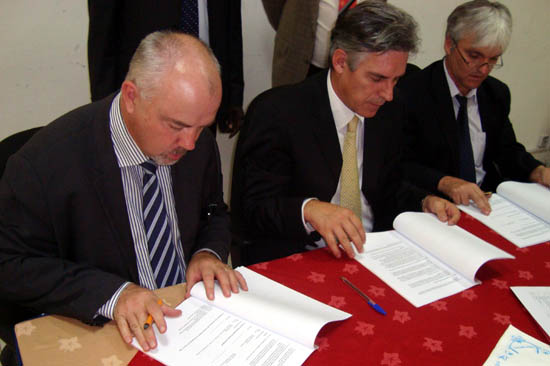 The German Development Cooperation, GIZ, and French Development Agency, FDA, have signed a 6 Million Euros contract for Water and Sanitation Program in Yei County of Central Equatoria State, to be implemented in partnership with the Ministry of Water Resources and Irrigation.
While signing the contract at Juba Grand Hotel late last week, the partners underscored that the project will aim at increasing access to safe drinking water for the population in Yei, improve their hygiene situation, and to replicate the model outcomes in other States in future.
Speaking to the media, the Consul General of France in Juba, Christian Bader said that the French Government will help South Sudan to provide safe drinking water to its people.
"In this country (After independence in July), everybody knows that two-thirds of the population does not have access to drinking water and we all have to deal with this problem. We have to make sure that the State will provide access to clean drinking water to the people of Southern Sudan," Said Christian.
Meanwhile, the German Country representative of GIZ, Manfred Van Eckert said the project is intended to support more than 20,000 people in Yei.
"The main aim of this project is to improve the livelihood of more than 20, 000 people in Yei. This is mainly for women and children and also to act as a project focus for capacity building in the Ministry of Resources and Irrigation," Said Manfred.
The Undersecretary in the Ministry of Water Resources and Irrigation, Eng. Isaac Liabwiel called upon the German and the French partners, to extend their services to other States and Counties as well.
"We want to cover all the towns of Southern Sudan in the shortest time possible, but it difficult to do that. So, we welcome your corporation starting in Yei, but in near future we will need your support by scaling up your operations to cover the whole of South Sudan," Eng. Liabwel stressed.
Liabwel added that most of the South Sudanese, who migrated during the war, were largely from a rural background, but they are now returning as an urbanized population mostly from Europe, Arab world, East Africa, America and other areas of the world. All of them expect a positive change when they return home and not to be in that same situation they were before.
Therefore, the provision of safe drinking water and the improved sanitation in urban centres is a prerequisite and a needed dividend in the new Nation to be.
The project is set to start soon.