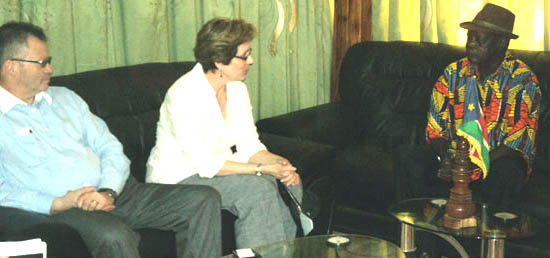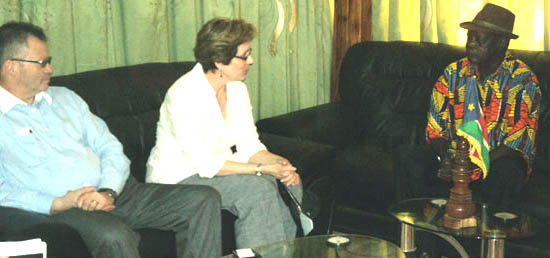 The president of the Canadian International Development Agency, CIDA Mrs. Margaret Biggs, assured the Deputy Governor of Western Bahr el Ghazal State, Efisio Kon Uguak on Friday that the Agency would support the development of the State's Education and Agricultural sectors.
The bilateral meeting was held by the delegation lead by Mrs. Margaret Biggs and Laurent Charette, head of Canadian in charge of International Development affairs in South Sudan at the WBG State Deputy Governor's office.
The CIDA is an international organization working worldwide to support the underdeveloped Countries with the aim of powering people in diverse capacity building.
While speaking to the delegation, Uguak welcomed the Agency to his State, saying that it would open new opportunities for the citizens.
"As South Sudan approaches her independence, we need our people to start depending on their own food productions and if you are interested as part of international community to help the new nation, the door is open," Uguak added.
Uguak continued that the State needed to fight hunger, poverty and establish their own economic power through Agriculture and educating South Sudanese children.
"We hope your organization (CIDA) would work on the ground just like UNICEF which has been supporting our State in Education, then we will be very grateful for your efforts," Uguak said.
Article viewed at: Oye! Times at www.oyetimes.com