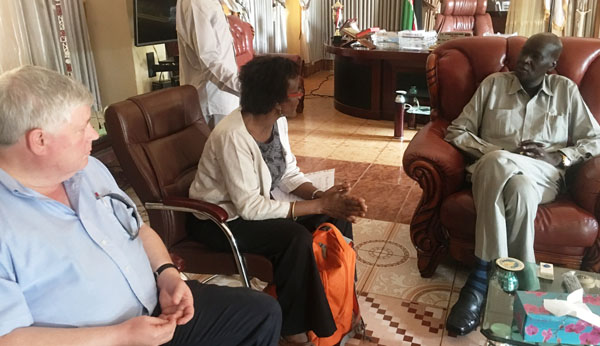 The Head of the United Nations Office for the Coordination of Humanitarian Affairs in South Sudan (UNOCHA), Mr. Ian Ridley said the organization is greatly concerned with the on-going humanitarian crisis in Wau.
Ian Ridley who is the head of the OCHA office in South Sudan was speaking to Journalists after his meeting with Wau State Governor, Andrea Mayar Acho.
"We are very concerned about the deteriorating situation in Wau. The increasing needs and of course the security for the humanitarian workers," he said.
"We have come here to discuss with the authority in Wau in order to make sure that we can have the security for our staffs and our suppliers because we need to increase the humanitarian assistance we are giving to mainly needy people in Wau," said the official.
Last year, Wau State Governor Andrea Mayar assured free movement and accessibility of the humanitarian workers in the State.
Since last week, UN agencies operating in Wau town including the World Food Programme have complained about restriction of access in Wau by authorities.
In their meeting with the Wau State Governor Ian Ridley who was accompanied by the South Sudan WFP Country's Director, Joyce Kanyangwa Luma humanitarian workers cannot be able to work while under security threat.
"We have a basic agreement with the government as UN agencies on the protection of humanitarian workers across the country, therefore, the government needs to protect the agencies staffs," said Joyce Kanyangwa.
In response the Governor said that it is the responsibility of the State government to protect aid workers.
"We in the State government are concerned about the protection of all UN staffs whether national or International staffs working in Wau," said Acho.