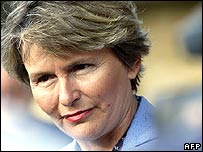 The Premier of the Western Cape Helen Zille refused to comment on the South African Human Rights Commission (SAHRC) on Friday after a bunch of youth activists lodges complaints against her on Thursday.
The complaints registered to SAHRC are regarding the offensive tweet posted by the premier calling the Eastern Cape residents "refugees" and degrading and demeaning them in public. Residents of Eastern Cape and the ANCYL protested on the indecent comments made by Zille and called in for justice accusing her of discrimination.
The tweet posted by Zille said, "While ECape education collapsed, WC built 30 schools – 22 new, 8 replacement mainly 4 ECape edu refugees. 26 MORE new schools coming. [sic]"
Vincent Moaga from SAHRC acknowledged that the commission has received two complaints. He said, "The commission will put this complaint through an assessment process. This process seeks to determine whether there's a prima facie violation of human rights."
Right after the controversy got heat, Zille made several futile attempts to clarify her from the act of discrimination and manipulate the protestors but her efforts remained in vain and formal complaints were filed.
Addressing the people in the initial phase of the controversy, she said in an interview to a radio channel "There's a fundamental difference between going around and looking for a better opportunity and being forced to find a better opportunity. The term refugee is not a pejorative term about the person. It reflects sympathy for the reason that they had to run away from a place. It reflects deep sympathy and empathy for why they are displaced. That is the issue."
Article viewed on Oye! Times at www.oyetimes.com