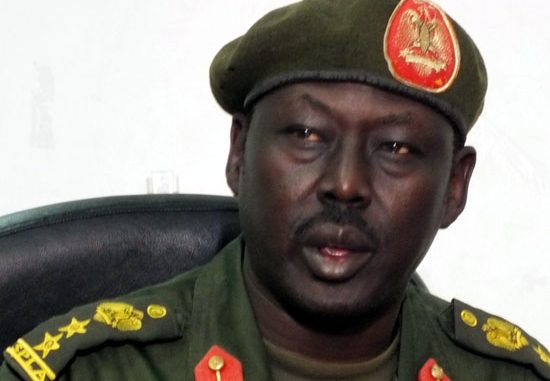 "It's true that David Yauyau has secretly left for Khartoum and we learnt that he left two weeks ago. What I know is that he is recruited by Sudan intelligence to re-join the South Sudan rebels," Col Philip Aguer told Gurtong.
Aguer accused elements in Khartoum of backing Yauyau with the intension of destabilizing South Sudan. "We know that it is the work of Khartoum to destabilize South Sudan," said Aguer.
David Yauyau, former rebel leader defected for the first time for his rebellious acts from the SPLA after he lost in the Sudan April 2010 general elections, accusing the ruling party, Sudan People's Liberation Movement, (SPLM) to have rigged the electoral results.
Yauyau who operated together with the then late South Sudan rebel leader, Col. George Athor in the Greater Upper Nile region firstly defected with at least 400 soldiers.
However, Yauyau surprised the country by voluntarily surrendering to the South Sudan government when President Salva Kiir Mayardit announced amnesty during the country's independence declaration on July 9th 2011.
His activities paralyzed farming activities carried out by the majority population in that region as he killed and displaced the population in their locality. His latest defection will mean further destabilization and instability in the country.
But Aguer said that, "actually Yauyau is not the issue; the issue is Khartoum that is trying to destabilize South Sudan. SPLA is ready for all the aggressions; it is ready to defend the territory and the people of South Sudan and SPLA will do the best to eliminate all these security threats that are facing the Republic."