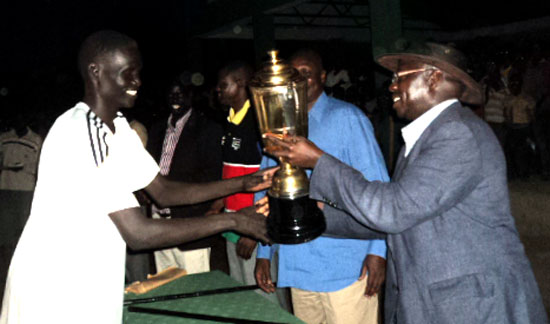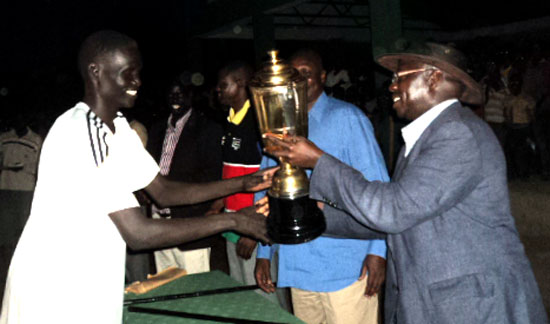 All the 16 teams are under Torit Local Football Associations' umbrella where Volcano won after beating its hard opponent Kineti Football Club 2:1 last Saturday during the long awaited finals.
The football tournament was organized by Torit Local Football Association in close collaboration with State Ministry of Culture, Social Development, Youth and Sports the acting Director General, Mr. William Okot de Toby told Gurtong media.

Attending the match was the National Minister of Youth and Sports, Dr. Cirino Hiteng who promised SSP 5,000; 3,000 and 2,000 to the winning team, second best team and 5 referees of Torit Local Football Association who facilitated the finals and the whole competition since 16th March to 7th April 2012.
The Secretary of Torit Local Football Associations, Mr. Emmanuel Paulo explained that the entire tournament which began in mid March saw Volcano beat Rainbow team 2:1 and also emerged victorious after beating Torit United 3:0 at the quarter finals and beat Imatong team 4:2 at semi-finals then proceeded to finals where they scored 2:1 against Kineti Football Club.

Kineti team also advanced to the finals after beating Jizira 1:0, Torit Youngster 2:1 and Kidepo but unfortunately lost to its valiant rival Volcano.
John Peter from Volcano scored two goals while Emmanuel Fermo from Kineti secured a single goal for their team.
Haidar Moses, one of the 5 trained referees in Eastern Equatoria State congratulated Volcano team players and urged them to prepare facing other 15 qualified teams at National level in Juba soon. 16 teams shall qualify for national competition thereafter the regional tournament competitions.
An organizing committee member, Mr. Philip Marcello who is also a key member to Torit Local Football Associations congratulated both teams for a peaceful tournament which he said they had never witnessed in South Sudan before.
He revealed that Volcano is set face 15 teams from other parts of South Sudan. The winner will represent South Suadn at large at both regional and international football Associations/Unions and Federation Cups.

The head referee Mr. Wani who handled the tournament, was congratulated for playing a neutral role which led to the peaceful soccer game without any violence acts by either sides or opponents.

The acting Director General clarified that national winners will represent South Sudan at two key regional cups; Council for East and Central Africa Football Associations (CECAFA), Central African Federation (CAF).

He further clarified that the Africa Cup of Nations will be represented by selected competent players drawn from all over the Country.

The state governor Hon. Louis Lobong Lojore who was the tournament's guest of honour that was graced by thousands of people from different backgrounds among them were businesspersons. The newly appointed EES ministers including the minister of Culture, Social Development, Youth and Sports, Hon. Patrick Lodinga Kotein; Education Minister, Hon. Michael Lopuke Lotyam; Housing Minister, Hon. Banaiah Benjamin Kitara attended the match.

The EES' minister of Culture, Social Development, Youth and Sports, Hon. Patrick Lodinga Kotein expressed gratitude to the national Ministry for supporting the just concluded initiative saying it helps to unite the youths to know the importance of national participation.

A number of awards were given to the winning team, second runners up team, referees, top scorer Mr. John Alberto, the best player Mr. Dokaro Makobe and tournament's aiders from South Sudan Red cross Society.
While addressing the tournament Dr. Cirino Hiteng disclosed that his ministry's prime objective is to take the lead in identifying talented youths to represent the country at regional and international levels in sports associations and bodies/unions.
He underscored the importance of sporting activities in uniting South Sudanese youths and to compete at the international tournaments.