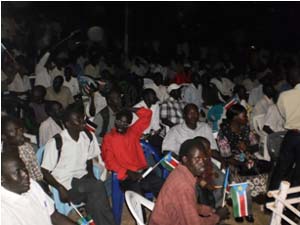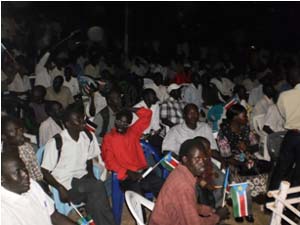 Hundreds of Southern Sudanese attentively follow proceedings on televison as the final result of the region's independence referendum were announced in Khartoum. In Juba, the South Sudan capital, emotional scenes filled the atmosphere as hundreds thronged to the John Garang mausoleum, to follow live proceedings on Southern Sudan television (SSTV) of the regions referendum results on projectors.
After decades of civil war, South Sudan's independence vote is the last major landmark in of a 2005 peace deal.
While some ecstatic members of the crowd shed tears of joy, others occasionally waved the regional flag and danced to the music being played by Southern Sudanese local artists on SSTV.
"We shall [be] party till morning. This is the day we have been waiting for. Southern Sudan oyee! SPLM [Sudan Peoples Liberations Movement] oyee! Separation oyee!" John Alier, a Juba university student chanted as he waved his flag.
Clement Aligo, who simply described himself as a "true Sudanese" wondered why the results were being announced in Khartoum, yet it was a referendum meant for the self-determination of the southern population.
"I am not happy with the whole thing. How can results for the referendum of South Sudan be announced in Khartoum of all places? Are they planning to cheat us even after we voted for separation," a seemingly disturbed Aligo, clad in an orange t-shirt told Sudan Tribune at the mausoleum.
Widespread celebrations rocked the suburbs of Juba, moments after the final results were declared by the Southern Sudan Referendum Commission Chairperson, Khalil Ibrahim. Public places including Munuki payam [district], located about 5km northwest of Juba were full of revelers, who danced and chanted freedom slogans.
Similar celebratory scenes were reported to have occurred in Gudele, Jebel Kujur and Konyo-Konyo areas, all located outside the regional capital. At the mausoleum, named after the late leader of South Sudan's former rebel movement, the SPLM, revelers vowed to party till the late hours of Tuesday morning.
Article viewed at: Oye! Times at www.oyetimes.com