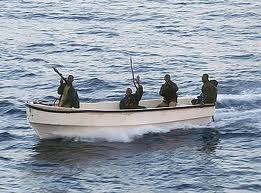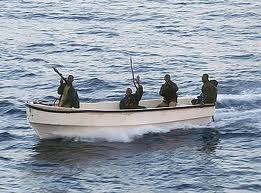 It has been reported that a Greek supertanker carrying crude oil worth $200 million off the Omani coast has been seized by suspected Somali pirates. Athens-based shipping company Enesel which owns 'Irene SL' apparently lost radio contact with the vessel early on Wednesday as it came under attack from unknown assailants. The ship was sailing from the Persian Gulf to the Gulf of Mexico. This hijacking occurred barely 24 hours after an Italian oil tanker was taken over by pirates in the Indian Ocean.
Authorities are sounding alarms about the expanding area of activity of these pirates raising global security concerns. The supertanker was 650 kilometres southeast of the Omani capital Muscat when it came under the control of an unknown group. The vessel's 25-member crew are listed as 17 Filipinos, seven Greeks and one Georgian.
According to the European Union's (EU) anti-piracy task force, EUNAVFOR, 29 ships and some 681 hostages are currently being held by various outlaw groups.
According to RTT News, the Gulf of Aden off Somalia has been ridden with pirates and the absence of a functional federal government in Somalia has contributed to the menace. Moreover, unemployed Somali youths are drawn to piracy by the lure of easy money. A recent report on sea piracy by British think-tank Chatham House found that the threat of sea piracy is costing the global economy billions of dollars annually.
On Tuesday, an Italian oil tanker, the MV Savina Caylyn was seized by five men firing rocket propelled grenades and small arms from a small skiff. There are no reports on the fate of the seven Italian and seventeen Indian, crew. The ship was approximately 670 nautical miles East of Socotra Island in the Indian Ocean.
Indian naval forces recently captured a total of forty three pirates accused of attacking various fishing vessels previously seized. It has been reported that forty-four fisherman were rescued.
Euronews – Feb 8/2011 – Pirates hijack Italian oil tanker
An Italian oil tanker has been hijacked in the Indian Ocean by pirates armed with guns and rocket propelled grenades. The attack on the Savina Caylyn, bound for Malaysia, took place some 800 miles off the coast of Somalia. No-one is reported to have been hurt. The crew is made up of 17 Indians and five Italians. The EU's anti-piracy task force said the vessel is now heading towards Somalia.
http://www.youtube.com/watch?v=ulk4-H2A5mU
Click HERE to read more from William Belle.
Article viewed at: Oye! Times at www.oyetimes.com