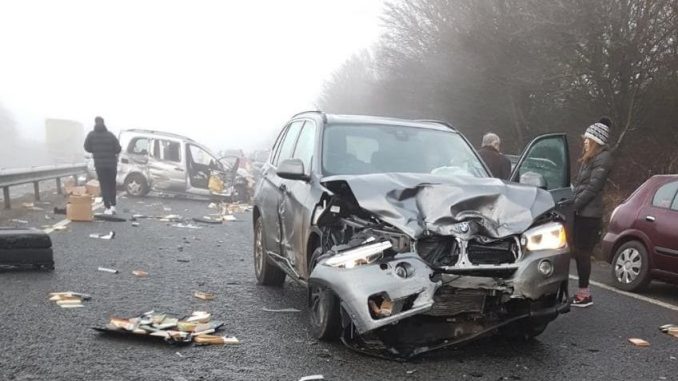 In one of its most serious cold weather alerts of the winter so far, Public Health England issued a warning for so severe conditions that they could endanger the elderly. According to the severe weather warning of the forecasters, the coming days could bring temperatures as low as -5C (23F). It is evident that heavy fog and ice will remain across much of England making dangerous driving conditions and potentially delaying flights.
A bewildering 40-car pile-up on the A40 in Oxfordshire on Wednesday morning claimed one life due to the foggy and icy conditions. One woman was declared dead at the scene as dozen others were injured, including two seriously injured personals. South Central Ambulance Service confirmed that one of the injured patients, a woman, was fighting for her life.
The witnesses described the sight a scene of "carnage" as around 20 vehicles swerved and collided in low visibility near Whitney. One witness explained that they luckily avoid the smash after seeing hazard lights while approached on a slip road. It was elucidated that "I saw cars going zooming past me and trying to swerve out the way of the stationary cars but crashing into them," adding that "I saw one car try swerve in between a Mini and another car, ending up crashing into the Mini and (flying) up in the air." Another witness pointed out that "I saw two cars swerve as they braked so hard and go flying into the barrier in the middle of the road … it was carnage."


Loading ...