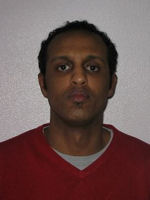 A MAN was jailed on Friday 18 June for rape, assault and sexual assault on three victims between October 2009 and January 2010.
Husni Omer, who claimed to be 18, a cleaner of Ely Court, Chichester Road, South Kilburn Estate, NW6, was given an indeterminate sentence for public protection with a minimum tariff of six years. The Somali national is required to sign the sex offenders register and has been served a notice of deportation.
He had previously pleaded guilty to the offences at a hearing at Harrow Crown Court on 7 May 2010.
DS Peter Walker of the Metropolitan Police Service Sapphire Unit said: "Assaults of this nature are rare but terrifying for the victims. I hope the sentence today goes some way towards helping these victims to overcome their trauma, but also reassures other victims of sexual assault that if they report the crime it will be investigated thoroughly.
"In court the judge determined that Omer had lied about his age and that he is in fact in his mid-20s. Officers made representation to the judge during the trial in order that Omer is sentenced as an adult and serves his time at an adult prison.
"The judge subsequently ordered that Omer be x-rayed to confirm his age before sentencing, to which he consented.
"It has now been established that he is in fact aged between 22yrs and 29yrs.
"I would like to take this opportunity to appeal to any other victims who believe they may have been a victim of Omer's to come forward. Please contact the Sapphire Unit at Kilburn Police Station on 0208 7333351. You can be assured that you will be treated sensitively and professionally by specially trained officers."
Omer targeted his victims and followed them before striking.
At approximately 0200hrs on 23 October 2009, the 44-year-old victim got off a bus in Kilburn High Road near the junction with Cambridge Avenue. She was followed by the suspect, and when she challenged him he ran off.
The victim, feeling unsafe, decided to take an alternative route home walking north along Kilburn High Road, but when she reached Mill Lane she was grabbed by the suspect, who had been following her. He placed his hand over her mouth, however she bit his hand resulting in him running off towards Kilburn High Road.
He was seen on CCTV walking south near Kilburn LT Station, having removed his stripy top in order to change his appearance.
On the same day, 23 October 2009, at approximately 0415hrs, another 41-year-old victim was followed by the same suspect in Cambridge Avenue, NW6. He followed her onto the High Road, grabbed her around the neck and dragged her down Brondesbury Villas where he raped her and warned her not to report the incident to police. He was seen on CCTV following her home.
On 23 January 2010, the 77-year-old victim was followed by the suspect to her home address, he conned his way into her home and subjected her to a sexual assault. The victim told the suspect that she had a heart condition and he fled the scene.
Omer was identified from fingerprints he left at the scene of the third assault and was arrested on 29 January for all the offences. DNA evidence was subsequently obtained linking Omer to all three incidents.