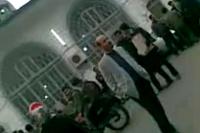 150 protesters have been arrested in the northern city of Rasht following nationwide opposition protests on Sunday.
According to Bamdad Khabar, "hundreds" of protesters took part in demonstrations yesterday despite the heavy military and security presence in the city of Rasht, capital of Gilan province.
Protests were also reported in Tehran, Kurdistan, Mahabad (West Azerbaijan), Shiraz (Fars province), Isfahan and Mashhad.
Since 2pm yesterday, police forces as well as the Basij had a visible presence in Rasht's Motahari avenue and violently beat up protesters in order to prevent the formation of large gatherings.
Eyewitnesses on Motahari avenue say that an "unprecedented" number of security forces and plain-clothed militia roamed the streets of Rasht on Sunday. Around a hundred armed forces on motorbikes were deployed so as to prevent any significant gathering to take place. Many protesters were encircled by security forces and were brutally arrested before being taken to unknown locations using special vans. The following footage shows Rasht ahead of the crackdowns on Sunday:
http://www.youtube.com/watch?v=hr_NOUblpaI
Click HERE to read more
Article viewed at: Oye! Times at www.oyetimes.com