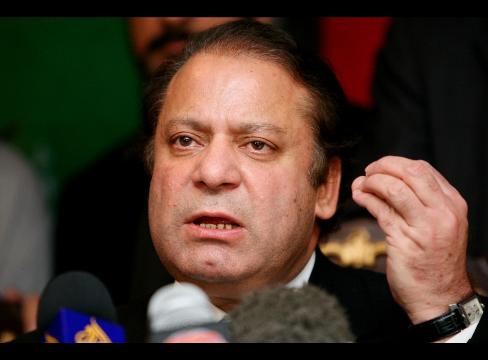 The President of Pakistan Muslim League (N) Nawaz Sharif threatened the Prime Minister of Pakistan Yousaf Raza Gillani mentioning that he will go to any extend he will have to in order to make sure that an unlawful Prime Minister is not leading the country, even if this means making a grand alliance against the current government.
Nawaz spoke to the media on Tuesday and explained that the final decision of asking the PM to resign was taken with the consent of the all senior members of the party and that PML (N) will get in touch with Jammat-e-Islami (JI), Jamiat Ulema-e-Islam (JUI), Pakistan Tehreek-e-Insaaf (PTI) and other national political parties of the country to form an alliance and make sure that the PM resigns. He sent out a warning to the government saying that he will have to initiate a national movement to bring down the convicted Prime Minister. Referring to Gillani, Nawaz said, "Obey the Supreme Court verdict. Abandon the premiership or face a protest movement. This is the decision of the people of Pakistan and I announce it as the representative of the masses."
Despite the warning, Nawaz has yet not giving out details about his mass plan to the media. He has only sent out a message to the Prime Minister while indirectly seeking support from other political parties of the country on the matter.
Article viewed on Oye! Times at www.oyetimes.com