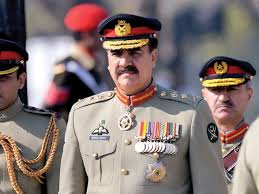 General Raheel Sharif, the Army Chief of Pakistan said that the Pakistani army is capable of encountering any threat whether it is an external threat or internal threat. After the murder of 23 FC Corps by the Taliban, the Army Chief took revenge and attacked three hideouts of the Taliban. This attack killed above forty Taliban. Recounting the successes of the security forces in operations against terrorists, he praised the efforts and determination of his troops and the law enforcement personnel who had cleared the militancy-hit areas with the help of the whole country. 'We are fully prepared to confront any challenge in future as well,' he said.

Appreciating the morale of the Pakistani troops, Sharif said that the country acknowledged the efforts made by the army and the 'national effort to eliminate the scourge of terrorism'. He also assured the troops that their sacrifices will not go to waste. The army chief's remarks came just a day after the air force carried out drone strikes on the Taliban bases in North Waziristan and the Khyber tribal regions, killing more than 40 Taliban. The air strikes were done after the government's decision to suspend the fledgling peace process with the Tehrik-e- Taliban Pakistan after killing the trained Frontier Corps of Pakistan. There is an intense speculation that the military supports the idea of a full-fledged operation against the TTP.

'Let there be no doubt that Pakistan's armed forces are battle hardened and fully capable to counter any internal or external threat posed to the integrity and sovereignty of our beloved country,' Sharif said while encouraging the army's spirit and morale.