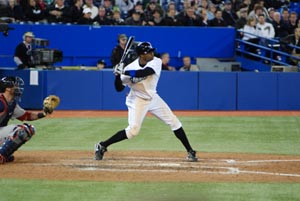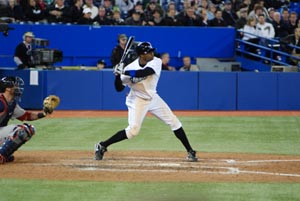 Jays centre fielder Rajai Davis
gets ready to swing
Rajai Davis & John McDonald Lead Jays to 9-3 Victory
After disappointing performances over the final three games with the Detroit Tigers, the Toronto Blue Jays rebounded in a mini two-game set to sweep the visiting Boston Red Sox.

Unlike the first game, the Jays didn't need extra innings on Wednesday night as the bullpen preserved the lead and the bats came alive to provide more than enough run support.
The Jays (17-20) put forth a complete team effort against the Red Sox (17-20), defensively and offensively, to knock off their AL East rivals 9-3. The win evened the season series at 3-3 and tied Boston for third in the American League East.
On offence, Rajai Davis shined for Toronto as he went a perfect four-for-four, scoring two runs and adding two RBI's. He was also deadly on the base paths stealing two bases in the fourth inning in almost a repeat performance of the previous night. Not to be outdone, John McDonald was very productive as well, hitting a solo homerun and a double for three RBI's.
Meanwhile, Jesse Litsch (4-2) did just enough to earn his team-leading fourth win of the season lasting 5.2 innings giving up three runs, six hits and a walk while striking out four.
Unfortunately, two of the six hits were solo homeruns in the 6th inning to Adrian Gonzalez, his sixth in the past nine games, and David Ortiz.
Red Sox pitcher John Lackey (2-5) had another tough outing as the Jays racked up nine runs, nine hits and five walks against the right-handed pitcher.
"There were a number of good things – I thought we put together a very solid game," said Farrell. "From the production of McDonald and Davis in the bottom of the order to strikeout and the throw out that J.P. (Arencibia) put together for a key double play in just a one-run game at the time."


Jays starter Jesse Litsch delivers a pitch
"I think Jesse threw a number of quality 3-2 pitches and kept the game in check. Setting aside the two balls that Gonzalez and Ortiz squared up on, I think he threw the ball very good. But I think more than anything that it was a solid game all the way around."
There were a few defensive highlights as well but as Farrell alluded to, none were bigger than an unusual double play turned by catcher Arencibia in the seventh inning. With the Jays holding onto a slim 4-3 lead, reliever Casey Janssen managed to strike out Red Sox catcher Jarrod Saltalamacchia looking. Then Arencibia threw to shortstop Yunel Escobar to nail left fielder Carl Crawford who was attempting to steal second base.
Jays Manager John Farrell took out Litsch after the Ortiz homer and the bullpen was effective shutting down the Red Sox the rest of the game. First Casey Janssen closed out the sixth and seventh innings, while Jon Rauch and Frank Francisco shutdown the eighth and ninth, respectively. The three relievers combined to only surrender one hit and two walks without giving up any runs.
"It was a great team win," said Litsch. "The bats came alive offensively. Defensively I thought we made some great plays out there and pitching. I gave the ball up to our bullpen which has been great all year."
With all the lineup changes and offensive struggles this season, Farrell has been forced to tinker with his batting order almost daily. On Wednesday, the batting order performed very well with only two Jays not registering hits – Arencibia and first baseman David Cooper. Although both contributed as well by drawing walks with Arencibia eventually scoring a run and Cooper earning an RBI when he was walked with the bases loaded.
"I think it's very important for one through nine and being able to contribute," said Davis who had his fourth multi-steal game of the season.
"We got a big hit from Johnny Mac (McDonald) with the bases loaded and we were able to pull away and take their last breath away."

Davis Steals Again

Davis easily steals 2nd base in the 4th inning
On Tuesday night, in the tenth inning, Davis stole second and third bases before scoring the winning run on a sacrifice fly. He was able to dominate the inning and almost singlehandedly generated offence by himself.
On Wednesday, he was at it again, duplicating the feat in the fourth inning after getting aboard with a single immediately following McDonald's solo homerun. Lackey did not make an attempt to hold Davis, as the speedy centre fielder easily stole second and third. Fans loved the effort and cheered loudly in appreciation. He later scored on a sacrifice fly by Escobar.
Another big inning for the Jays was the seventh, as the team scored five runs off of just three hits. Corey Patterson drew the leadoff walk before Jose Bautista singled to left field. Lackey was able to get the next two batters before walking Arencibia to load the bases. He then walked Cooper scoring Patterson. Then McDonald doubled just out of the reach of Kevin Youkilis' glove into the left field corner, scoring Bautista and Arencibia.
Red Sox manager then pulled Lackey for veteran Tim Wakefield, but he didn't fare any better. Davis was next up and he singled through the hole at shortstop scoring Cooper and McDonald to give the Jays a commanding 9-3 lead.
Farrell was more than impressed with Davis' performance and seems to be happy with him hitting in the nine spot for now despite usually being a leadoff hitter.
"The one inning where he got a hit, he basically took over the inning himself and really can create some havoc on the base paths," said Farrell. "But setting all that aside, where he's at in the lineup, he can be a force, as we've seen tonight and last night as well."
McDonald was quick to praise his teammate as well.

John McDonald trots home after his solo
homerun in the 4th inning
"When he gets on the bases it does a lot of different things," said McDonald. There's a whole other dynamic for our club when he's going, along with Corey (Patterson), those are guys that can do different things. It's a whole other element that we've been battling Tampa Bay (Rays) with for a number of years."
McDonald also commented on his team's ability to bounce back after a poor series against the Tigers.
"I think this is the way we expect ourselves to play," added McDonald. "No one in this locker room was happy with the way we played against Detroit. Our execution, obviously, wasn't where it needed to be."
"When all the assets and facets of your game aren't working it's ugly baseball. And you need to take games like that and discard them and come back like we did yesterday (Tuesday), came back and played a solid game. I think everyone had the same feeling wanted to repeat what we did yesterday and we were able to do that."
After an off-day today, the Jays will head out on the road for a brief five-day, five-game road trip starting Friday in Minnesota against the Twins. The road trip will conclude with a mini two-game set with the Detroit Tigers.

The Jays celebrate the 9-3 victory
and series sweep
To follow me on twitter click
HERE
Download or stream
the 500 Level podcast with co-hosts Aman Dhanoa and Ben Trattner as they discuss news, opinions, and views on Toronto sports from the Upper Deck. Leafs, Raptors, Jays, Argos, TFC – nothing is off limits. It's good to be a fan!
Also available on iTunes
Photos below courtesy of Karan Vyas
Contact Aman Dhanoa at aman@oyetimes.com

Article viewed at: Oye! Times at www.oyetimes.com