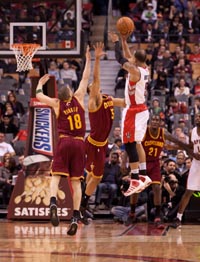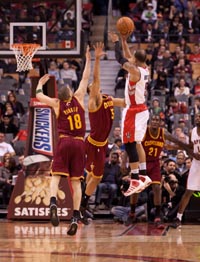 Raptors guard Jerryd Bayless
(right) shoots over former
Raptor Anthony Parker (left)
& Ryan Hollins (centre)
Baron Davis Thwarts Raptors Comeback in Fourth Quarter


After four games in five nights, the Toronto Raptors just didn't have enough in tank against the Cleveland Cavaliers on Wednesday night.
Both teams had played the night before and were missing key players but the Raptors were the team to come out of the gate flat. Like the previous night in New York, Toronto seemed be headed for a second straight blowout loss.
The Raptors shot a dismal 28.6% in the first quarter and 36.6% in the first half. With those numbers, the team was fighting an uphill battle and down 60-40 at halftime. When Toronto did make a run in the second half they played shoddy defence and Baron Davis hit huge buckets down the stretch to quash any hope of a comeback as Cleveland held on for a 104-96 win.
"When we have our two starting forwards out and our best scorer off the bench out, it's tough to manufacture points," said Triano. "Guys who have stepped up lately for us didn't score the ball well for us and we're not that hard to figure out…We just didn't have enough guys score early in the game."
Jerryd Bayless had another strong performance and tied a game-high 28 points off the bench. Amir Johnson sat out with a sore left ankle and was replaced by Reggie Evans in the starting lineup. Evans had a game-high 13 rebounds with 15 points and was the Raptors leading scorer at halftime.

Raptors forward James Johnson (left)
attempts to block a reverse layup
from Cavaliers forward J.J. Hickson (right)
No slight against Evans, but he is known for his rebounding skills not for his scoring prowess. He should not be leading the team in scoring at the half. It was a true indicator as to how bad the first half actually was for Toronto. With Andrea Bargnani, Johnson and Leandro Barbosa sitting out coupled with DeMar DeRozan, Ed Davis and Jose Calderon having tough shooting nights, there simply weren't many other options to choose from on the bench. Bayless, Sonny Weems and Alexis Ajinca were the only bench scorers on the night.
J.J. Hickson tied a game-high 28 points and added ten rebounds to lead the Cavaliers while Baron Davis added 19 points and 12 assists.

Bayless Showing Confidence
Prior to last night, Bayless had stepped up his play in the three games Jose Calderon was out of the lineup with a sore left hamstring. Calderon was back in last night and Bayless was back on the bench to start the game. With the Raptors struggling so much in the early going, Coach Jay Triano started to go to Bayless more and more as the game went on.
One thing is clear, this is not the same Bayless that struggled and looked lost on the floor for most of the season. Last night he had confidence and played with a swagger. His body language showed a player who was confident and experienced as he commanded the floor in the late going.
"He's been playing really solid, being aggressive and getting a couple of fouls but that's a good thing that he's being aggressive," said Evans. "I think he is doing a solid job just trying to run the team."

Bayless (centre) tries to get
past Cavaliers point guard
Baron Davis (left)
Bayless is making the most of his opportunity late in the season and to finish the season strong. The Raptors are sure to make a lot of changes in the offseason so it's important for Bayless to show management what he's capable of.
"The NBA is about opportunity, so right now I am getting a great opportunity and I am just trying to take advantage of it," said Bayless.
"I'm just trying to finish this season as strong as possible…I'm just trying to finish off the season positive and just play hard and have fun with it. We obviously aren't going to the playoffs so we've just got to make the most of it. We have just got to try to win games and we can't do what we did tonight."

Vintage Davis
At the other end of the floor, his counterpart, Baron Davis, from start to finish was being his vintage himself. He ran the offence in the early going to pick apart the Raptors defence and hit clutch shots down the stretch. Every time the Raptors seemed to be on the verge of cutting the lead to single digits, Davis would hit a long jumper to stop the threat. His veteran presence kept Cleveland from buckling under a Toronto surge.
"I thought he was big down the stretch," said Cavs coach Byron Scott. "In the second half, in the fourth quarter the last five or six minutes, he kind of took it up on himself to make some plays and get the lead back up to double digits. That's what great players do."
Davis has been a positive influence to a young Cavaliers team since arriving in a trade from the LA Clippers in the second half of the season.
"That's the one thing we talked about when we made the deal is the experience and his leadership," added Scott. "He's a natural born leader. He's going to get on guys, get guys where they need to be. He called a couple of huddles just to get guys straight on what we were doing on both ends of the floor and that's invaluable. Those guys respect him big time."

Davis (left) dribbles past Raptors guard
Jose Calderon (centre) only to be covered
by Reggie Evans (left)
Davis feels like he could be playing a lot better and is frustrated by injuries holding him back.
"I am limited due to injuries and just due to the way that I feel," said Davis. "There are a lot of things that I can't do out there and that's frustrating. I just have to be patient with myself, use every game as an opportunity to get better and kind of re-discover parts of my game that I haven't been able to dive into the past couple of years. I am just learning – learning this offence, learning this team. I think my best is yet to come."
The Raptors will now travel to Philadelphia to take on the 76ers on Friday night and return home on Sunday to host the New Jersey Nets at Air Canada Centre, tipoff is at 6pm.
To follow me on twitter click
HERE
Download or stream
the 500 Level podcast with co-hosts Aman Dhanoa and Ben Trattner as they discuss news, opinions, and views on Toronto sports from the Upper Deck. Leafs, Raptors, Jays, Argos, TFC – nothing is off limits. It's good to be a fan!
Also available on iTunes
Photos below courtesy of JP Dhanoa
Contact Aman Dhanoa at aman@oyetimes.com

Article viewed at: Oye! Times at www.oyetimes.com