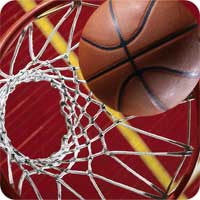 A record number of Canadians are set to tip-off Saturday April 16 at Time Warner Arena in Charlotte for the 10th Annual Jordan Brand Classic. The final major All-American game on the high school schedule, this year's event will feature Myck Kabongo (Toronto, ON), Khem Birch (Montreal, QC) and Kyle Wiltjer (Portland, OR). In addition Andrew Wiggins (Vaughan, ON) will participate in the International game while Kevin Thomas (Ajax, ON) will take part in the Regional game.
This year marks the largest contingent of players that Canada will send to the All-American game, beating last year's contingent that included Cory Joseph (Pickering, ON) and Tristan Thompson (Brampton, ON).
Kabongo, Birch and Wiltjer have all had a busy schedule the past month, as they all wrapped up their senior seasons of high school basketball and all participated at a busy week of festivities at the McDonald's All-American game two weeks ago in Chicago.
The Canadian trio all made impressions during their week as All-Americans. Kabongo finished second in the Powerade JamFest Skills competition; while Wiltjer won the 3-Point contest, in which Kabongo was also a participant. Birch made his mark during the actual game, registering a double-double with 15 points and 10 rebounds as well as an impressive six blocks. Wiltjer continued to show off his skill set by making the most of his 15 minutes by scoring 11 points. Kabongo had a game-high five assists and won the 2011 Sportsmanship Award.
All three Canadians came away with a great experience in front of a record setting crowd of almost 20,000 in attendance at the United Center in Chicago, IL.
A week later, Wiltjer traveled back home to Portland to participate in the Nike Hoop Summit alongside fellow Canadians Kevin Pangos (Holland Landing, ON) and Roy Rana (Toronto, ON), who served as the Head Coach of Wiltjer and Pangos on the World Select Team. Wiltjer scored 12 points in his final high school game at the Rose Garden, the place where he won his third consecutive Oregon state championship, just three weeks earlier.
A unique aspect of the Jordan Brand Classic weekend is that for the fourth consecutive year, it will include an International Game which will feature 16 of the top 17-and-under players from around the world. This year's Jordan Brand Classic will also include a Regional Game, showcasing the top prep school players from the state of North Carolina in an East vs. West showdown.
Last year, Canada was well represented in the international game with three National Team players in Pangos, Anthony Bennett (Brampton, ON) and Duane Notice (Woodbridge, ON). Notice put himself on the map by scoring 23 points and leading his team to victory. For his efforts, he was named the Jordan Brand International game Most Valuable Player. The trio of Canadians went on to win the bronze medal at the 2010 U17 World championship in Hamburg, Germany.
Wiggins was a teammate of last year's trio on the Cadet National Team and continues to make a name for himself, representing Canada on a number of occasions. Wiggins is regarded as one of the top prospects in the world in the 2014 class and recently wrapped up his high school basketball season on top, as he helped Vaughan Secondary School to the AAAA Ontario gold medal.
In the Jordan Brand Classic's first ever Regional game, Canada will be represented by Thomas, who is a senior at Christian Faith Center Academy in Creedmor, North Carolina. Thomas was a teammate of Kabongo, Birch and Wiltjer on Canada's Junior National Team that won bronze at the 2010 U18 FIBA Americas Championship in San Antonio, Texas. Thomas has had a very impressive senior season at Christian Faith Academy and has recently committed to join Kabongo, Joseph and Thompson at the University of Texas next fall.
The amount Canadians taking part in the Jordan Brand Classic weekend matches the largest contingent that Canada will send and second consecutive year Canada will send five players. Last year, Pangos, Bennett and Notice were joined by Joseph and Thompson in the Jordan Brand Classic festivities.
The tripleheader will begin April 16 with the International Game at 3:30 p.m. ET followed by the Regional Game at 5:30 p.m. ET, and the All-American Game at 8:00 p.m. ET. The International and regional rosters will be announced at a later date.