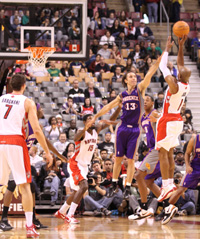 Raptors guard Jarrett Jack
(far right) shoots a jumper over
Steve Nash (centre) while players from both teams look on.
Former Raptor Hedo Turkoglu booed loudly in his return to Toronto
TORONTO – The Toronto Raptors came out of the gate slowly, but a late second half run and a huge third quarter helped the Dinos pull away in a 121-100 victory over the Phoenix Suns at the Air Canada Centre.
The Raptors (3-3) were able to put up a remarkable 121 points but it was the team's defence that turned the game around when they were down early.
"At the beginning of the game they made a bunch of shots early on, where we got a little bit discouraged, and we can't do that," said Raptors head coach Jay Triano.
"We fought through it today, which we didn't do the other night (in Boston), so I was pleased with that and I thought our energy from that point on was very good. We got down 13 at one point, and guys fought back and we did it with good defence. It had very little to do with our offence."
New Raptor, Linas Kleiza led all scorers with 23 points, shooting 9 of 15 from the floor and also added eight rebounds and four assists. However, Kleiza had plenty of help as the Raptors had a well-balanced attack with five other players reaching double figures. Amir Johnson and Jarrett Jack each scored 17 points while Sonny Weems added 16, Andrea Bargnani 15 and DeMar DeRozan 14.

Nash (right) attempts to dribble
past Raptors forward Reggie
Evans (left)
Meanwhile, Steve Nash, who lead his team in every statistical category, finished with 16 points, seven rebounds and six assists.
The Suns (1-5) are not having a great preseason but Nash stressed that it will take time build chemistry with so many new players in the lineup.
"We have a lot of new guys and trying to fit them in is going to take time. We like to play a certain way and it's an adjustment for the new guys to find that cohesion because that's the thing that makes us successful, understanding our spots and our spacing."

The Return of Hedo
It was only a preseason game but the 12,902 fans in attendance took every opportunity to boo former Raptor, Hedo Turkoglu, who returned to Toronto for the first time since he was traded in the offseason. Turkoglu was booed during the pre-game introductions and every time he touched the ball as has become tradition when former Raptor stars return with a new team.

Playing only one season in Toronto, the city isn't exactly home.

Former Raptor Hedo Turkoglu shares a laugh and a high
five with a teammate in the
pre-game warmup.
"Home? I have never seen a home like this," said Turkoglu when asked about returning to Toronto.
"Wherever you go some people like you and some people don't. I wasn't paying attention to that. I just tried to go out there and play my game and try to do my best. I didn't get much love when I was here too."
When asked about Turkoglu's reception, Nash replied, "Well, it wasn't as bad as Vancouver."
However, Turkoglu had a little fun with the situation and didn't seem bothered at all by reception he received. At one point, as he was checking into the game, realizing he would be booed when his name was announced, he turned around and yelled 'boooo' in the direction of fans and for a brief moment turned the tables against the crowd.
"I came here and wasn't paying attention or being serious but that is how I play, how I enjoy the game," said Turkoglu. "Here was just a misunderstanding. Nothing really to talk about…everybody has moved on. When I come back here they will boo again so there won't be any changes. I just have to keep my focus and enjoy the game that I love."

Explosive Third Quarter
Phoenix had a great start as they shot 60% from the floor and capitalized on six Raptor turnovers leading to 10 points. The Suns outscored the Raptors 16-2 in the paint and 11-2 on the fast-break to lead by as many as 13 points in the first quarter.
The Dinos slowly chipped into the lead in the second quarter and went on a 10-3 run in the final 2:46 to close the gap to 55-53 at halftime. Weems brought fans out of their seats with an emphatic dunk late in the half and provided a taste of what was to come in the final two quarters.
In the third quarter, Toronto exploded for 39 points, going on a 10-0 run and outscoring Phoenix 18-2 with points in the paint. The Raptors also out-rebounded the Suns 15-7, including 7-2 on the offensive glass. DeRozan poured in eight points while Kleiza and Jack each added seven as Toronto took it to another level pulling ahead 92-79 after 3 quarters.
Johnson, who finished with a double-double, made some big plays in the second half by driving to the basket and finishing timely putbacks. Late in the third, Johnson took a pass from Jack and went up hard but managed to get the ball to fall despite being fouled and knocked down to increase the lead to ten points.

Nash and Turkoglu watch the fourth quarter from the bench.
Nash and Turkoglu were both taken out of the game with 2:37 remaining in the third quarter with their team only down six points. Suns coach Alvin Gentry decided to rest his starters for the entire fourth quarter to give his bench extra playing time to work out the kinks before the season starts next week.
The Raptors rested three of their starters for the fourth quarter as well, but the supporting cast continued to add to the lead. With 3:55 left, Kleiza lead a fast-break up the floor and threw the ball up to Weems for another high-flying jam to put an exclamation point on what finished as a 21 point victory.
The last time these two teams met, although it was the first preseason game for either team, the Raptors embarrassed the Suns with a 129-78 victory in Vancouver on October 6. Toronto was able to set franchise records for most points scored (129) and largest margin of victory (51).
The Raptors will continue their preseason play as they host the Chicago Bulls on Wednesday night at the Air Canada Centre, tipoff is at 7 pm.
To follow me on twitter click
HERE