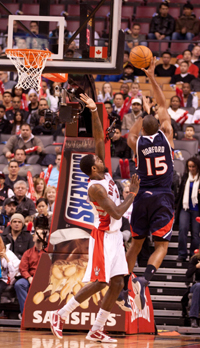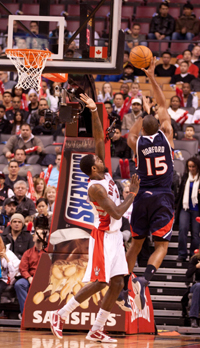 Hawks centre Al Horford (right)
lays a ball over Raptors small
forward Sonny Weems (left)
Hawks' Josh Smith records a triple double in 96-78 victory
Outplayed.

Perhaps that is the best way to describe the Toronto Raptors efforts against the Atlanta Hawks on Sunday afternoon. The Hawks (11-7), led by a balanced scoring attack, pulled away in the second half to trounce the Raptors (6-11) 96-78 at the Air Canada Centre.
Coach Jay Triano was firm in the assessment of his starting five.
"They beat us every single position, every single guy," said a frustrated Triano. "We've got to get better.
"Jose (Calderon), DeMar (DeRozan), Andrea (Bargnani), Sonny (Weems), you go through one through five, DeMar got outplayed by Joe Johnson, Jose got outplayed by Mike Bibby, Andrea got outplayed by Josh Smith, Sonny got outplayed by Marvin Williams, Joey (Dorsey) got outplayed by Al Horford. Nobody could score and we couldn't stop those guys and that is why you have a 20 point game."
It's become apparent that Toronto will need to outhustle and outwork their opponents in order to pick up wins this season. However, the Raptors just didn't have the energy game that they are capable of playing. If anything, it was expected that Atlanta would be the tired team as they had played the previous afternoon, a 99-90 victory in New York over the Knicks.

Out indefinitely, injured Raptors power forward Reggie Evans
was getting around on crutches
To be fair the Raptors were missing two key players – newly acquired Peja Stojakovic (swollen left knee) and their workhorse Reggie Evans, who fractured his right foot in Boston against the Celtics Friday night. Evans will be out indefinitely and, as was evident on Sunday, will be sorely missed by his teammates.
"Oh, we're going to miss him a lot," said Bargnani, who once again led the team in scoring, finishing with 14 points and 5 rebounds.
"He was a starter for us. He is a big part of our team and it's really too bad. He was playing great but that kind of stuff can happen. Everyone is really upset about that."
Toronto has been able to outrebound their opponents for most of the season and Evans was the main reason behind those numbers. In fact, Evans had a career high 22 rebounds on Wednesday night against the Philadelphia 76ers and was two short of tying a franchise record.
With the injuries, coach Jay Triano inserted Dorsey into the starting five, who made his first ever NBA start. With the loss of Evans, Dorsey was also able to replace some of the energy and toughness now missing in the starting lineup.
Triano opted for Dorsey instead of Amir Johnson because he didn't want to tinker with the effectiveness of his rotation and Johnson simply has a knack for picking up early fouls. Despite coming off the bench, Johnson still picked up two early fouls and, as Triano feared, he had to disrupt his rotation. Linas Kleiza was brought in at the four spot for rest of the first quarter and majority of the second.

Poor Second Half
The Raptors were able to hang around for the first two quarters and only trailed the Hawks 52-46 at halftime. However, a slow start to the second half and a porous defence allowed the Hawks to pull away and lead 77-57 after three quarters, outscoring the Dinos 25-11.
The Hawks defence kept Toronto to the outside, as the Raptors were ineffective in penetrating and getting to the rim. Poor shot selection and a dismal 3 for 17 shooting effectively put the game out of reach for Toronto.
The Hawks displayed great ball movement and it showed on the scoreboard. Five different players scored in double digits, led by Williams who scored a team-high 17 points. While fellow starters Horford and Johnson were close behind with 16 points each, while Bibby also added 9. Jamal Crawford contributed 10 off the bench and Josh Powell chipped in 9 as well.

Hawks small forward Josh Smith (right) rejects Raptors power
forward Joey Dorsey (left)
However, it was Smith who put in a complete game performance as he finished with a triple double – 12 points, 13 rebounds and ten assists as well as three steals and two blocks.
"When he plays like that we're a good team," said Hawks coach Larry Drew, complimenting his small forward.
"Just overall he was good. Offensively, he made the right plays and made the right passes…it just seemed like he was all over the floor. When he plays like that and plays like he's under control, he is such a force. His defensive game, he was all over the place, rebounding the basketball, helping defensively and talking. Just a super overall game."

Smith was more humble about his achievement.
"I just try and give a ton of energy on ever possession in every game," said Smith. "My offence really wasn't clicking today but I had an opportunity to be able to exploit and showcase my passing abilities and my defensive play."
Toronto will continue their four game homestand on Wednesday when they host the Washington Wizards. The Raptors were humiliated 109-94 by the Wizards on November 16
th
in Washington and will be looking to exact revenge on their home court; tipoff is at 7pm.
To follow me on twitter click
HERE