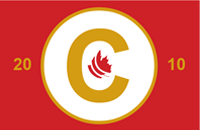 Cricket Canada and Bermuda Cricket Board have agreed to cancel the last two games of the Cricket Canada Summer Festival between Canada and Bermuda.
Bermuda will leave Toronto tomorrow morning to return home in advance of Hurricane Igor reaching the island.
Mr. Reginald Pearman, President of the BCB stated, "Due to the threat of Hurricane Igor the Bermuda Cricket Board has cancelled the remainder of the Canada tour to ensure that the squad can return to Bermuda to be with their family prior to the weekend.We are sorry to miss the games but family matters take priority when a storm of this significance and proximity threatens the island."
Cricket Canada Ranjit Saini thanked Bermuda for coming to the event calling them a true team of sportsmen and going on to say "…we were happy to have our friends from Bermuda here and assure everyone that this is the start of very close relationship between our two countries. We hope to have them back soon and look forward to touring Bermuda again soon."
When asked if other countries could be touring Canada in the coming future, Saini went on to say "…Canada are committed to assisting where we can to giving these opportunities to other countries and helping to develop cricket in the Americas…"