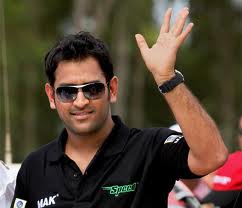 Indian Captain, Mahendra Singh Dhoni on Friday underscored the implication of commencement of the 2011 cricket World Cup on a winning reminder and insisted that their conquer by Bangladesh four years ago did not even cross their minds ahead of their match on Saturday.
He also said that on the eve of the tournament opening, the team was not even thinking about the 2007 trounce as "we don't want to repeat what happened".
When it was asked about pacer Zaheer Khan's injury, Dhoni said, "He is fit as of now, but I am yet to talk to the physio. If there is anything, we will let you know."
While recounting Bangladesh as a "good and balanced side", he said: "It will be a good contest."
"All their three spinners are good. They have got two good par timers who can bowl off-spin and leg-spin. It's a good side and a contributive side. In the sub-continent they rely a lot on their spinners and here they will get more assistance than anywhere else," said Dhoni about the Bangladesh spinners.
Reiterating the significance of part-time bowlers in his scheme of things, Dhoni said, "In every game, they will play an important role. In both the warm-up games we have seen the importance of part-time bowlers. That job more often than not is done by Yuvraj (Singh). Also, there are one or two other bowlers who can contribute if needed. The fifth bowler's role is very important."
When it was asked about the difference between his side and the 2007 team, he said: "Some of the players are the same; the only difference is we are now in a better frame of mind. Talent wise it is much the same, only this team will be playing in home conditions."
On his side's batting composition, he said, "It depends on the seven batsmen who get selected in the final eleven and whoever can perform to their potential and how well they can utilize the conditions. Most of them are floaters, and they can bat at any position".
Dhoni gave an imprecise answer when he was asked whether he would go for a single spinner or a double spin attack.
"Well that definitely is a big option. It will depend on how the wicket behaves," said Dhoni.
While asking that why India is rated as favourites, Dhoni said, "I think the last two years' performance has contributed a lot. We have missed key players in ODIs and still done well. Maybe that is the reason why we are said to be favourites. The home conditions just add on to it."