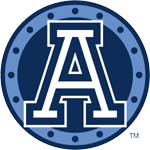 The Toronto Argonauts Football Club is pleased to announce that 2009 CFL Draft picks LB/S Tang Bacheyie, DB Brad Crawford and DB Anthony Deslauriers have all signed contracts through the 2012 season. Crawford and Deslauriers were both selected by the Argonauts in last year's draft. Bacheyie was drafted by the B.C. Lions.
Bacheyie, taken by B.C. with the 29th overall pick last year, attended Lions' training camp and was later assigned to the club's practice roster. The Argonauts acquired Bacheyie's contract just before CFL week 4 and added him to the team's 45-man active but not dressed roster for Toronto's game in Winnipeg.
Neither Crawford nor Deslauriers attended Argos' camp last season and instead returned to school to complete their degrees in History and Kinesiology respectively. Crawford was the 43rd overall pick and Deslauriers was taken with the 42nd pick overall. Brad Crawford is the younger brother of current Argonauts running back Bryan, and Anthony's father Lou played one season for the Argonauts and is a former CFL All-Star.
Tang Bacheyie
Linebacker/Safety
6'1", 215 lbs.
Kansas
Born: Windsor, Ontario
March 25, 1985
1st Year Argos/1st Year CFL
Non-Import
Acquired: Signed as a free agent with Toronto on January 12, 2010
2009: Drafted by the B.C. Lions in the fourth round, 29th overall, in the CFL Canadian Draft…Attended training camp with the Lions and added to the club's practice roster…Rights acquired by the Argonauts from the Lions' practice roster on July 23… Week 4, Added to the Argos' 45-man active roster but did not dress at Winnipeg…Released by Toronto on August 6.
College: Appeared in 42 games in four seasons (2005-08) with the Jayhawks…2008 Played one game as a senior recording one tackle…2007 Played 13 games in the defensive secondary and on special teams…Recorded 8 tackles…2006 Played in 12 games but did not record any stats…2005 Recruited as a running back but changed to safety after spring drills…Dressed in 8 games primarily on special teams.
Personal: Tang's full name is Godfrey Tang Bacheyie (pro: TUNG BA-CHAY). He was an economics major at Kansas and aspires to start a music career after football. He enjoys watching movies, listening to music and playing video games in his spare time. He has two brothers and one sister and claims to be a gourmet chef and an excellent swimmer. He attended football powerhouse SandwichSecondary School in his hometown of Windsor, Ontario and was named offensive player of the year as a junior while also participating in track & field.
Brad Crawford
Defensive Back
5'11", 191 lbs.
Guelph
Born: February 4, 1987
Hamilton, Ontario
Non-Import
Acquired: Re-signed with the Argonauts on January 12, 2010.
2009: Drafted by the Toronto Argonauts in the 6th Round (43rd Overall) of the 2009 CFL Canadian Draft…Injured his foot during off-season training and spent year rehabilitating from surgery and completing his degree at University of Guelph.
College: Played all five years (2005-09) at five different positions during his career at Guelph (RB, DB, CB, DS, LB)…2009 Returned from off-season surgery and played in final five games of season primarily at DB and safety…2008 Finished 3rd on his team with 34 tackles…2007 Switched to defence and played mainly on special teams…finished among team-leaders in ST tackles while playing every game…2006 Played four games at RB before suffering season-ending injury…2005 Rushed for 269 yards on 49 carries (5.5 average) as a freshman.
Personal: Brad is the younger brother of Argos' RB Bryan Crawford. If he were not playing football, he would like to teach English overseas. Brad graduated from the University of Guelph in 2010 with a History degree. In his spare time he enjoys reading non-fiction books and travelling. In fact, he recently returned from a backpacking trip in Costa Rica. Brad attended and played for Barton S.S. in Hamilton where he was named 2004 & 2005 Offensive & Defensive Football MVP.
Anthony Deslauriers
Defensive Back
6'0", 185 lbs.
Simon Fraser
Born: December 16, 1987
Surrey, British Columbia
Non-Import
Acquired: Signed with Toronto on January 12, 2010.
2009: Drafted by the Toronto Argonauts in the 6th Round (42nd Overall) of the 2009 CFL Canadian Draft…Did not attend training camp with the Argos and returned to SFU for his final year of eligibility.
College: Played one season at UBC (2005) before transferring to SFU where he played from 2007-09…2009 Played all regular season games for SFU…Named First-Team All-Canadian and Canada West All-Star at safety…2008 Converted to DB from WR …Played and started in all eight regular season and two post-season games for the Clan…Named First-Team Canada West All-Star…Named Second-Team All-Canadian…Finished with 20.5 regular season tackles and 11 postseason tackles…Finished with a team-high four INT and six pass breakups…2007 Played and started in eight regular season games…Registered 26 tackles on season, fifth on the team…Had a season-high six tackles against Calgary…Registered a team-high four INT on the season for 137 total return yards… 2006 Sat out of the line-up while transferring to SFU from UBC…2005 (UBC) Dressed at WR for UBC as a freshman.
Personal: Anthony converted to DB at SFU. His father, Lou, is a former CIS and CFL All-Star who played one season with the Argos. Anthony was a kinesiology major in college where he also played with his older brother Marc. He also has two younger sisters named Chantal and Katie. In his spare time, Anthony enjoys video games, especially Madden football, as well as reading Sports Illustrated.