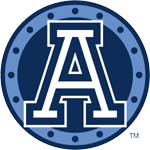 There's no place like home! It has been almost a month since the Argos have played at home and the team is looking forward to facing the Winnipeg Blue Bombers this Sunday at 1:00 p.m. in an important East Division match-up with the home crowd cheering the Boatmen to victory. With the game presented by Purolator, fans can score another victory for the Daily Bread Food Bank by supporting the Purolator Tackle Hunger food drive. Help tackle hunger in the GTA by bringing a non-perishable food item or cash donation to the Purolator and Food Bank volunteers stationed around Rogers Centre and get a photo with the Grey Cup at Gate 5.
With over 30 Argos alumni in attendance including Granville Liggins, Mike Eben and Bill Symons, defensive great Ed 'Hercules' Harrington will be named an All-Time Argo at halftime. Harrington played nine seasons in Double Blue and was named an East Division All-Star four times and a CFL All-Star on three occasions. His two career touchdowns by fumble return as an Argonaut are still tied for most in club history, and twice he led the team in fumble recoveries in 1968 and 1969. Harrington is the 21st Argonaut to be honoured as an All-Time Argo and have his name lifted to the stadium rafters. Harrington and former coach Leo Cahill will meet fans at a pre-game autograph session beginning at noon inside the stadium at Gate 9A.
Also before the game, Make it Ontario Beef will be serving up tailgate tasters outside Gate 11. The Mississauga Football League will scrimmage on the field pre-game and the anthem will be sung by the Canadian Children's Opera Company. This game also marks the final and largest Jr. Cheer of the season with a performance at halftime. The Maple Academy of Dance, Grand River Academy of Dance and In Motion Dance group will also be featured during the game.
Following the game, fans are invited to head over to the Official Post-Game Party at Jack Astor's, 144 Front Street West, to say hi to some of your favourite Argos players and the 2010 Argos Cheerleaders, presented by the Toronto Sun. The party will also feature a Budweiser special.