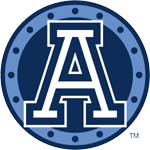 The Toronto Argonauts Football Club is thrilled to welcome back the team's 2009 Outstanding Special Teams Player, K Justin Medlock. The team has signed a contract with the California native through the 2011 season.
Medlock joined the Argonauts in spring of 2009 as a CFL rookie. By season's end, he had earned the Argos' Outstanding Special Teams Player award, was named CFL Special Teams Player of the Week (week 7 vs. B.C., 14/08/09) for tying a club record by kicking seven field goals in one game, and was named CFL Special Teams Player of the Month for August. He achieved the second-highest field goal percentage in the CFL (behind Damon Duval, 87.3%), hitting 40 of 46 attempts for an outstanding 87.0% accuracy. He was also perfect of 22 convert attempts while also handling kickoff and punting duties.
Justin Medlock remarked, "I'm excited to be back in Toronto and with the Argonauts. I consider the city to be my second home and I've missed being here. I can't wait to get re-acquainted with the great Argos fans and the team, and meet the new coaches. I look forward to doing everything that I can to help this team make a strong run to the playoffs and get back to the Grey Cup."
Medlock, who was a fifth round NFL Draft pick of the Kansas City Chiefs in 2007, exercised the option year of his contract on February 12 and joined the NFL's Washington Redskins. He was waived by Washington on June 14 and claimed a day later by the Detroit Lions. The Lions waived Medlock on June 29.
Commented Argos head coach, Jim Barker, "We feel kicker Grant Shaw has a great future in this league but as we make our push for the playoffs, we felt the opportunity to sign the premiere kicker in this league last year was too good to pass up. We will continue to groom Grant and he will help our football team in other ways."