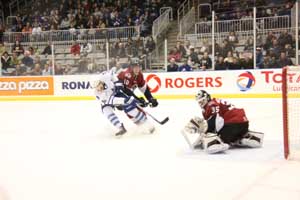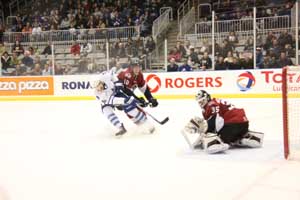 Marlies forward Tyler Brenner is stopped
by Monsters goalie Jason Bacashihua
Marlies playoff hopes hanging by a thread


The Toronto Marlies continue to struggle against the Lake Erie Monsters this season.
On Saturday evening at Ricoh Coliseum, Toronto lost another close game to Lake Erie dropping a 2-0 decision. The Marlies are now 1-5-0-1 against the Monsters this season with one game still to play next Wednesday in Cleveland.
"All the games against these guys have been so close and I think they could tip one way or the other and sometimes you end up on the wrong end of it," said Marlies coach Dallas Eakins.
"I think they play a very boring style of hockey. I think every game that they play it's literally a one goal game. They find a way to hang around in games and good on them for it. They're comfortable with that type of game, and for one reason or another they've been able to come out on top of us in these close games."
Goal scoring has been a big problem of late for the Marlies.
"We're missing a few guys that could be hurting," said Marlies defenceman Jake Gardiner, referring to Nazem Kadri and Matt Lashoff being called up to the Leafs as well as Mike Zigomanis out with an injury.
"Ziggy is a big guy for us and our powerplay isn't clicking either. We need more bodies in front of the net, goalie is seeing the puck too easily out there. Scrivey (Ben Scrivens) played well, we're good defensively as a team, but you're not going to win a game if you don't score any goals."
Forward Ben Walter scored the opening goal in the first period stuffing the puck past Marlies goalie Ben Scrivens, who made his 14th consecutive start between the pipes. David Van der Gulik scored an empty net goal with 5.5 seconds left in the game. Jason Bacashihua made 21 saves for the shutout and his 21st victory of the season.
Bacashihua didn't have to face too many difficult shots but was big when called upon. He stopped Juraj Mikus point blank midway through first period, Tyler Brenner and Fabian Brunnstrom from in close in the third period as well.
"Somehow their guy came in and crashed the crease and put it home," said Scrivens of the first Monsters goal. "It's frustrating to have an unusual goal, that's not a prototypical goal and that's the game for us."

Players from both the Marlies and Monsters
battle for the puck along the boards
"I'm looking back right now on what I could have done differently on that one goal. When you win it's easy to shrug those ones off, but when you lose, especially when you lose in a close one, those small, seemingly insignificant plays you can play over and over."
Despite the loss and frustration by Scrivens, Eakins praised his goaltender.
"Benny's been good," said Eakins. "These games are so close now, the margin of error is so small that he's been able to keep us in these games and he's played very, very well. Good on him once again, he's been up and down all year and really opened up some eyes here."
In a bizarre new crossover rule in the AHL playoff format, the Marlies are not only competing for a playoff spot with teams in their own division but the West Division too. Since the West has an extra team, their fifth place team can crossover if they have more points than the fourth place team in the North.
With the loss Toronto remains five points behind the Chicago Wolves and Peoria Rivermen of the West Division for the final playoff spot. With four games left to play, including today's 1pm matchup with the Manitoba Moose, the odds of making the postseason are slim to say the least.

Three Stars:
First Star: Ben Walter
Second Star: Jason Bacashihua
Third Star: Ben Scrivens
To follow me on twitter click
HERE
Download or stream
the 500 Level podcast with co-hosts Aman Dhanoa and Ben Trattner as they discuss news, opinions, and views on Toronto sports from the Upper Deck. Leafs, Raptors, Jays, Argos, TFC – nothing is off limits. It's good to be a fan!
Also available on iTunes
Photos below courtesy of Annandi Merhai of Devi Designs
Contact Aman Dhanoa at aman@oyetimes.com

Article viewed at: Oye! Times at www.oyetimes.com