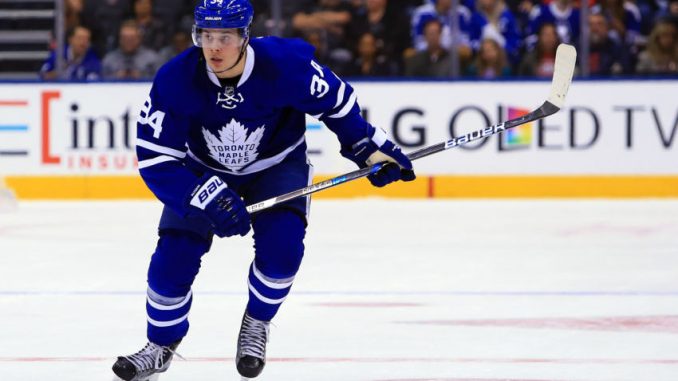 Columbus Blue Jackets score early to beat Toronto Maple Leafs 3-2. Here is the summary of the game played on Sunday, April 9, 2017
| | | | | | |
| --- | --- | --- | --- | --- | --- |
| | 1 | 2 | 3 | OT | FINAL |
| COLUMBUS | 0 | 3 | 0 | 0 | 3 |
| TORONTO | 0 | 2 | 0 | 0 | 2 |
GAME SUMMARY | EVENT SUMMARY | FACEOFF SUMMARY

ON THE SCORESHEET
James van Riemsdyk got Toronto on the board at 2:03 of the second period and scored the Maple Leafs' second goal of the game at 6:36 of the second period. With his second goal, van Riemsdyk has established a new career-high for points in a season (29-33-62), surpassing his previous high of 61 points set in 2013-14.
Roman Polak registered the lone assist on van Riemsdyk's first second period goal. Polak has recorded six of his seven assists on home ice.
Jake Gardiner picked up the only assist on van Riemsdyk's second goal in the second period. Gardiner has registered seven assists in his last seven games.
Curtis McElhinney stopped 29 shots in the loss.
SHOTS FIRED
The Maple Leafs and Blue Jackets each registered 32 shots in all situations. Columbus had a 25-23 edge in shots at 5-on-5.
Toronto had a 71-49 lead in shot attempts in all situations and a 54-39 lead in shot attempts at 5-on-5.
William Nylander led the Maple Leafs with seven shots on goal and 11 shot attempts.
HOME SWEET HOME
The Maple Leafs are 21-13-7 at home this season.
Toronto's all-time record is 10-9-1-2 in 22 games against the Blue Jackets and 4-6-1-1 in games played in Toronto.
Toronto is 30-17-7 against the Eastern Conference this season and 12-8-4 against the Metropolitan Division.
Tonight's attendance was 19,369.
MAPLE LEAFS LEADERS
| | |
| --- | --- |
| Faceoff Wins | 18 (Bozak) |
| Faceoff Win Percentage | 78% (Bozak) |
| Hits | 3 (Komarov, Martin, Polak) |
| Blocked Shots | 1 (Five players tied) |
| Takeaways | 2 (Gardiner, Nylander) |
| TOI | 28:40 (Gardiner) |
| Power Play TOI | 4:34 (Gardiner) |
| Shorthanded TOI | 3:03 (Polak) |
| Shifts | 31 (Gardiner) |
| 5-on-5 Shot Attempt Percentage | 72% (Nylander – 18 for, 7 against) |
RECORD WHEN…
The Maple Leafs were 2-for-2 on the penalty kill and 0-for-4 on the power play tonight. Toronto is 27-10-6 when not allowing a power play goal and 14-13-7 when not scoring a power play goal this season.
Toronto is 29-7-9 when scoring first this season
The Maple Leafs are 12-9-3 when tied after one period and 3-22-2 when trailing after two periods.
Toronto has a 1-1-0 record tying their opponent in shots on goal.
The Maple Leafs are 2-3-0 in Sunday games.
OF NOTE…
At 2:03 of the second period in tonight's game, Columbus requested a Coach's Challenge to review whether the Maple Leafs was off-side prior to
James van Riemsdyk
's goal. After review, the call on the ice was upheld – good goal Toronto Maple Leafs.
The Maple Leafs finish their season with 85 first period goals (1st in NHL) after scoring 48 first period goals in 2015-16 (30th in NHL).
Tyler Bozak was 18-for-23 (78%) in the faceoff circle tonight and won 8 of his 11 faceoffs (73%) against Columbus' Brandon Dubinsky.
Connor Carrick was on the ice for a team-high 26 Toronto shot attempts at 5-on-5. Carrick had a 5-on-5 shot attempt percentage of 66.7 percent (26 for, 13 against).
POSTGAME QUOTES:
HEAD COACH MIKE BABCOCK
On Nikita Zaitsev's status after tonight's game:
Upper body injury.
On if he's concerned Zaitsev will miss time:
I'm not.
On putting this season into perspective:
Really good. Obviously, we're disappointed tonight. I did my best trying to lie to you last night, I was hoping someone might listen. I thought that last night was emotional for us and I thought it was going to be – I was hoping we were going to have enough juice today to dig in and get going and I didn't think we had much juice. I thought we started okay, got a power play for four minutes and after that they kind of sucked the life out of us. Tonight was disappointing in that way. In saying all that, if you'd have told me at the start that we could be in this situation we're in right now, obviously I would have done a little jig. So, I'm thrilled with the progress of our team. In saying that, we've drawn a real good team and we're going to find out what playoff hockey is in a hurry. We're going to find out it's much different than regular season hockey. You might as well figure that out quick. I'll do my best over the next couple of days to explain what's going to happen. They're not going to believe me and then it's going to happen.
On if the staff has done much prep for Washington:
No, I mean, obviously, we've played them. I know them pretty good, I know [Barry Trotz] pretty good, I just worked with him. That won't be a problem. We'll have all that done tomorrow as a coaching staff, the players will have a day off. We'll be ready to go to present it to them and get prepared over the next few days. We'll travel – we play Thursday, Saturday in Washington, so we'll travel on Wednesday.
On the biggest difference in playoff hockey for players:
No space. Zero. You battle for every inch of ice from the opening faceoff until the end.
On if the playoffs will make them better players in the future:
One hundred percent, it's a growth opportunity just like this year was. I thought these games that we played down the stretch – I just looked at it, we went 14-5-1 to get in. To me, that's when I started marking a sheet on my desk, put everyone's up and started marking it. To go 14-5-1 in a good league is real good. A lot of those games were tight and important games for us. I thought we had some hiccups for sure and, yet, we still found ways to win games and give ourselves a chance. We're excited to say the least and I think we'll be more excited during the off-day tomorrow and get ready to go.
On the impact of Brian Boyle:
Huge. We talked about that last night. I think getting [Boyle] for us was a huge, huge deal. I'm not sure we could get in the playoffs without him. Not even the part you see when you see him in the uniform, it's the part that I see when I see him every day and I know he handles himself around the guys, what he says on the bench, the plays he makes. Just the calmness he brings. I think he's been exceptional to say the least. And yet, we didn't bring him in and suddenly give him someone's job. We brought him in and made him the fourth line centre and still continue to play our kids in the process.
On facing Washington:
Obviously, there's a whole bunch of them. They're big, they're strong, they're fast, they've been beaten a number of times in the playoffs so they're battle-tested to say the least and as hungry as any team in the National Hockey League and playing us. It should be fun.
On if a team can recover from a learning experience in game one:
Let's not do that, let's get ready for game one. This is what I'd say – we're playing a real good team, we like our team. We think we've got a good team, we think we've got good players, we have lots of kids and we've got lots of inexperienced older players as well. In saying that, if you want to tip your toe into the water, you're going to find out it's boiling – might as well jump in. Run down the dock and jump right in. Don't be putting your foot in the water, you might not get in.
BRIAN BOYLE (75% FACEOFF WIN PERCENTAGE)
On getting ready for Washington:
Any series is – they kind of write their own stories. That's a team that is probably the best team in our league with their skill level, their depth, their goaltending, the way they defend. We got a taste of it firsthand a couple of days ago so it's going to be a challenge. We're going to have to compete. There's a lot that goes into these playoff series, something about seeing a team so many times in a row. It should be a great challenge for us. It should be really exciting. You wouldn't know it now because we're disappointed with how tonight went but it's the most fun hockey there is, playoff hockey, and the first round, for whatever reason, it seems like the hardest, most intense. It's really kind of like buckle up and get ready to go because that's how it is – you hit the ground running.
CONNOR CARRICK (19:51 TOI)
On Washington:
They're a good team, they have a lot to throw at you. Strong goaltending, a lot of good mobile defencemen, good special teams and some good forwards. They sound a lot like every other playoff team.
On losing a couple of defencemen in the game:
You want to rally for them and give them something to show for the effort. We'll see how they're doing, hopefully they're alright and we're able to be healthy going forward for game one.
On the busy schedule in recent weeks:
It was a lot of hockey, a lot of important games too. You're wired up for every one. But, that's why you play. You want to play games that are fun and are high energy and mean something.
JAKE GARDINER (1 ASSIST)
On playing with multiple defencemen out of the lineup at times tonight:
We tried to take short shifts and have the forwards help us out in breaking out quickly and trying to spend more time in their zone.
On moving past tonight:
We're just getting ready for the playoffs now; we're excited for that. Just getting ready for Thursday.
On facing Alex Ovechkin:
You've definitely got to be aware, he's a weapon every time he's got the puck. It's not just him. They've got a lot of skilled forwards you've got to be worried about.
On embracing the underdog role vs. Washington:
I think so, you've got to beat the best at some point. You might as well do it in the first round.
On the run of success to secure a playoff spot:
We had some good stretches throughout the year and some bad ones. It's good to see us playing well right now and going into the playoffs it's always when you want to be playing your best.
MITCH MARNER (18:03 TOI)
On generating scoring opportunities tonight:
[James van Riemsdyk] and [Tyler Bozak] were finding me in open spots and if you get an opportunity to shoot, you've got to bear down more. I had a couple more opportunities and got it to the net.
On playing the first round of the playoffs:
It's going to be a lot of fun. This city is going to be alive, but you've just got to come in and take it game-by-game. Obviously, every game is going to be a hard one, it's going to be a battle. We've got to be ready to play here.
On the matchup with Washington:
It's going to be hard. Obviously, they've got a great team over there. They have a lot of skill but also a lot of grit. We've got to come ready to play every game, make sure we're around the net and just trying to shoot everything in.
On if the team likes the underdog role:
I don't think it really matters. Every team is going to come in and feel like they have no pressure on them. That's what we've got to do for sure – just come in and have fun and, like I said before, play our game and have fun with the puck.
JAMES van RIEMSDYK (2 GOALS)
On moving past tonight's loss:
I think we've got to move forward. We're obviously looking forward to playing in the playoffs now and we'll have a good challenge in front of us.
On excitement in making the playoffs:
Yeah, definitely. I think once you get in anything can happen. You've just got to play right and we're excited for the challenge.
On big games ahead:
This is always a fun time of year to play games in and they're always games I've enjoyed playing in. Again, it's fun to be back to playing meaningful games like this. I'm excited for the challenge coming up.
On Washington:
Everyone sees the year they've had and the different moves they made at the deadline to try to put themselves in a good position. That being said, it makes it fun, these types of games, going into hostile atmospheres and obviously, lots of guys who haven't played in the playoffs yet on our team. I'm sure they're excited for this and it should be fun.
On defencemen getting injured:
It makes it tough when you're on the second half of a back-to-back and you're down to four D back there. I thought those guys did a pretty good job, all things considered. Now we're moving on to our next challenge and we'll be ready for it.