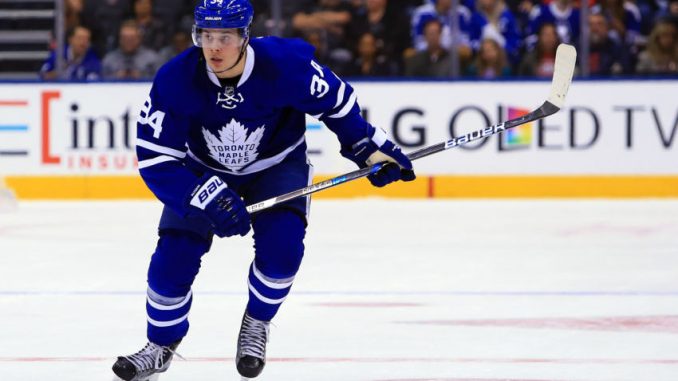 Toronto Maple Leafs stun the Washington Capitals with 4-3 win. Here is the summary of the second game of 2017 playoffs on Saturday, April 15, 2017
| | | | | | | |
| --- | --- | --- | --- | --- | --- | --- |
| | 1 | 2 | 3 | OT | 2OT | FINAL |
| TORONTO | 1 | 2 | 0 | 0 | 1 | 4 |
| WASHINGTON | 0 | 2 | 1 | 0 | 0 | 3 |
GAME SUMMARY | EVENT SUMMARY | FACEOFF SUMMARY

ON THE SCORESHEET
Kasperi Kapanen scored Toronto's second goal of the night at 14:25 of the second period and later notched Toronto's game-winning goal at 11:53 of overtime. The goals are Kapanen's first career playoff goal and first career playoff game-winning goal, respectively.
James van Riemsdyk opened the scoring for the Maple Leafs at 17:34 of the first period. The goal was his first of the playoffs and his second point in two games. He now has 14 career playoff goals in 48 career playoff games.
Morgan Rielly notched the third Maple Leafs goal of the night at 19:46 of the second period on the power play. Rielly led all Maple Leafs defencemen with 171 shots on goal during the 2016-17 regular season.
Jake Gardiner
recorded the primary assist on van Riemsdyk's first period goal. Gardiner has seven points (2 goals, 5 assists) in eight career playoff games.
Tyler Bozak also registered an assist on van Riemsdyk's first period goal. Bozak has two assists this postseason and has three assists in seven career playoff games.
Matt Martin registered the primary assist on Kapanen's second period goal and added the secondary assist on Kapanen's overtime-winning goal. Tonight's game is Martin's first career multi-point game in the playoffs.
Brian Boyle had the secondary assist on Kapanen's second period goal and had the primary assist on Kapanen's overtime-winning goal. Boyle leads the Maple Leafs with 13 career assists in the postseason.
Mitch Marner had the lone assist on Rielly's second period goal. Marner has two points (1 goal, 1 assist) in two career playoff games.
Frederik Andersen stopped 47 shots in tonight's victory. Andersen has stopped 88 of the 94 shots (.936 save percentage) he has faced through two games of the series.
SHOTS FIRED
The Maple Leafs had a 51-50 edge in shots in all situations. Washington had a 40-37 edge in shots at 5-on-5.
Washington had a 112-96 lead in shot attempts in all situations and a 91-76 lead in shot attempts at 5-on-5.
Nazem Kadri led the Maple Leafs with six shots on goal.
William Nylander led Toronto with 11 shot attempts.
OF NOTE…
The Maple Leafs are now 56-54-1 all-time in playoff overtimes and 20-22-0 in playoff overtimes on the road.
Prior to tonight, the last Maple Leafs road playoff game to go to multiple overtimes took place on April 18, 2004 at Ottawa (Ottawa 2, Toronto 1 2OT).
Heading into tonight's game, Toronto's last win in a playoff overtime game took place on April 21, 2003 vs. Philadelphia (Toronto 2, Philadelphia 1). The Maple Leafs' last overtime win on the road prior to tonight took place on April 13, 2001 at Ottawa (Toronto 1, Ottawa 0 OT).
The Maple Leafs are 16-20 all-time in best-of-seven playoff series when tied 1-1 through two games.
At 14:25 of the second period in tonight's game, Washington requested a Coach's Challenge to review whether Toronto was off-side prior to Kasperi Kapanen's goal. After review, the call on the ice was upheld – good goal Toronto Maple Leafs.
The Maple Leafs were 3-for-5 on the penalty kill and 1-for-5 on the power play in tonight's game.
Toronto blocked 35 shots in tonight's game.
The Maple Leafs won 61 percent (61 won, 39 lost) of the faceoffs tonight's.
Brian Boyle won seven of his eight defensive zone faceoffs (88%) and was 4-for-4 on defensive zone draws when matched up against Washington forward TJ Oshie.
Jake Gardiner was on the ice for a team-high 41 Toronto shot attempts at 5-on-5 in tonight's game. Gardiner had a 5-on-5 shot attempt percentage of 53.3 percent (41 for, 36 against).
MAPLE LEAFS LEADERS
| | |
| --- | --- |
| Faceoff Wins | 18 (Bozak) |
| Faceoff Win Percentage | 100% (Kapanen) |
| Hits | 10 (Martin) |
| Blocked Shots | 9 (Rielly) |
| Takeaways | 2 (Komarov, Matthews) |
| TOI | 40:42 (Gardiner) |
| Power Play TOI | 4:24 (Rielly) |
| Shorthanded TOI | 5:11 (Hyman) |
| Shifts | 58 (Rielly) |
| 5-on-5 Shot Attempt Percentage | 69.1% (Hyman – 29 for, 13 against) |
UPCOMING GAMES:
Monday, April 17 vs. Washington Capitals, 7:00 p.m. (Hockey Night in Canada, FAN 590)
Wednesday, April 19 vs. Washington Capitals, 7:00 p.m. (Hockey Night in Canada, TSN 1050)
Friday, April 21 at Washington Capitals, TBD
Sunday, April 23 vs. Washington Capitals, TBD*
Tuesday, April 25 at Washington Capitals, TBD*
*If Necessary
POSTGAME QUOTES:
HEAD COACH MIKE BABCOCK
On the overtime win:
Obviously, it's a big win for our team. You go down two and then you've got to win four out of five. This now sets us up to go home, we're going to get better and better in the series, obviously, as our confidence grows. We'll get used to it. We got on our heels right away tonight. They made a penalty call right at the start of the game and they're on the power play and I thought we were swimming for a bit. Then I thought we got playing pretty good.
On Kapanen's two-goal game:
Obviously, he's a real good skater. He won a big faceoff and made the play. Boyle's line, I thought, was good and effective all night, they're big guys and they play hard and smart. They were effective for us and we'll be able to use them at home better because we'll get the matchups we want instead of catching it on the fly all the time. That'll be better for us.
On Polak's status:
He's done for the year so it's unfortunate, obviously. Lower body injury there and it's unfortunate, it's one of those things. Orpik's a good man, plays hard, he didn't want to hurt anybody. It's just one of those things and it was unfortunate for Polak.
On handling the defence after Polak's injury:
We didn't try to play with four, we tried to play with five and we tried to get them out there. [Rielly] and [Gardiner] and [Hunwick] and [Marincin] and [Carrick] all played, I thought, really well and they moved the puck for us and skated good. [Rielly], to me, in these last couple of games has been as good as he's been all year. Jake has had a heck of a year anyway. Hunny has been solid for us, a real good second half of the season. Those other guys haven't played nearly as much or have been given the opportunity but I thought they were good tonight when they were given the opportunity.
On Hyman's performance:
He's great every night, I'm glad somebody noticed. He's the guy who makes all the passes to those guys and he made a bunch of passes – we didn't score on them – but he's got unlimited energy, he's as good a forechecker as there is in the League, he's a big man who skates and makes it hard on D. He's an effective player for us. I thought as the game went on [Matthews] and him really took over.
On if Zaitsev will replace Polak in the lineup:
I'm not 100 percent sure. Either him or [Marchenko] so, I mean, obviously if [Zaitsev] is ready to go he's going to get the opportunity. He skated today, he'll skate tomorrow and if he's ready he'll be in. If he's not, Marchy will go.
FREDERIK ANDERSEN (47 SAVES)
On staying prepared between multiple overtimes:
You just try to get hydrated, get some electrolytes in and maybe some snacks or some kind of bar or something. You've just got to do whatever you can to stay hydrated and stay focused.
On earning the win tonight:
Obviously, unreal. A great way to come back from the last game and show we can push them a little bit back. The split was good here and now we've got to keep the momentum.
On going home tied in the series rather than down 0-2:
It makes a big difference. Obviously, you don't want to be down two-nothing if you can avoid it. You take the home ice advantage from them and we've got to keep playing and getting better.
On if he knew what to expect from the team coming into the playoffs:
I don't think we expect to just have an experience, we want to be here for real and play as good as we can. Everyone's talking about how it's been unexpected for us to just make the playoffs but we want to do more. We want to show we can play.
JAKE GARDINER (1 ASSIST, 40:42 TOI)
On Andersen's performance tonight:
He makes it easy, he was by far our best player tonight. When the goalie gets hot like that it makes it easy for us and I think, as a whole, we played well. Good team hockey up and down the ice. We battled through it.
On if it's difficult to stay sharp playing so many minutes:
I don't know – not tonight it wasn't. When you're playing bonus hockey like that it's all fun. You see the crowd getting into it and we're just kind of in our element.
KASPERI KAPANEN (2 GOALS, GAME-WINNING GOAL)
On how it felt to score the game-winner:
I've got a lot of energy for sure. Two big goals and I think our team played really well today. I think we deserved the win. I'm just really happy about the outcome.
On his overtime-winning goal:
All the credit has to go to [Martin] and [Boyle] for working hard in the corner there and I think one of their D-men lost their stick there and I was yelling for it because I had a clear lane. Boyler made an amazing pass so I got to put it in the empty-net.
On earning a split in Washington:
I think winning at least one game in Washington was something we were definitely going for. The first game we played well but didn't come out with the outcome we wanted. I think we've proved to everybody that we can play with these guys. We're the underdogs for sure but the way we've been playing, I think we can play better in certain areas. We're going to give them a run for their money.
On past experience in big games for the young players coming into play now:
For sure. I think all the young guys on this team have played in big games. Obviously, this is our first time in the Stanley Cup playoffs but it's like Morgan said, the atmosphere is insane and everybody is yelling and the cowbells are going. I think everybody enjoys playing these games and I'm really excited to go to Toronto to see how the fans are going to be for our two games. It's going to be wild.
MORGAN RIELLY (1 GOAL, 40:12 TOI)
On tonight's performance:
Great feeling to win. We were happy with the way we played last game but to lose in overtime was tough. We're on the other end of it tonight. Obviously, a huge goal by [Kapanen]. It feels great to go home with a split. As far as the minutes go, we'll be fine, we've got young legs and we've got lots of training staff. We know what we have to do to prepare for the next game so we're going to do everything we can to make sure we're ready.
On Andersen's play tonight:
He was outstanding in game one and obviously, he was no slouch tonight. He's been the backbone of this team all year, he's been outstanding night-in and night-out. Like you said, his calmness is felt by all of his teammates. When we're out there playing and we know he's behind us, it gives us that much more confidence. Him as a person, he's calm, calculated and quiet. I think that just translates to his play and what he's able to do to help this team is huge. The way he plays the puck is a big part of our breakouts and, again, he was outstanding tonight. He has been a big part of our team all year.
On the team playing detail-oriented hockey:
I think over the course of a game that long, it's draining mentally and I think that it's easy to make mistakes at the end of that. I think we did a good job as a team backing each other up and picking each other up when we needed to because when you're playing a game that long you're bound to make mental errors. I think we did a good job of trying to limit those. Like I said after game one, we're going to have meetings and talk about where we can improve because we feel like we have more to give still. It's a good feeling going back with a split.
On the atmosphere in Washington and returning home for the next two games:
Obviously, there are great fans here in Washington. I think they had the cowbells going if I'm not mistaken. Lots of noise. A great atmosphere to play in that provides a lot of energy. Going home to Toronto, we're looking forward to playing in front of our home crowd. We have the best fans in the world and to have the opportunity to play two home games here with a split, you can't ask for anything more.