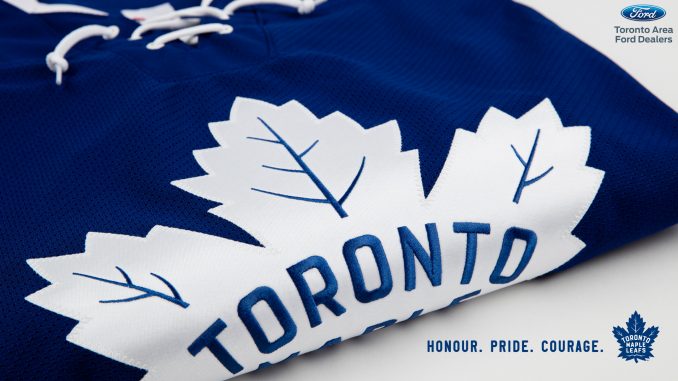 New Jersey Devils score early to beat Toronto Maple Leafs 6-3. Here is the game summary for the game played on Wednesday, October 11, 2017
| | | | | | |
| --- | --- | --- | --- | --- | --- |
| | 1 | 2 | 3 | OT | FINAL |
| NEW JERSEY | 2 | 2 | 2 | 0 | 6 |
| TORONTO | 2 | 0 | 1 | 0 | 3 |
GAME SUMMARY | EVENT SUMMARY | FACEOFF SUMMARY

ON THE SCORESHEET
James van Riemsdyk opened the scoring in tonight's game at 8:33 of the first period. He has goals (2) in two consecutive games after recording the game-tying goal on Oct. 11 vs. Chicago.
Dominic Moore scored Toronto's second goal of the night at 13:33 of the first period. Moore registered a goal in his last game – Oct. 7 vs. New York.
Auston Matthews scored Toronto's third goal at 13:34 of the third period. Matthews has points (3-3-6) in four consecutive games for Toronto.
Mitch Marner picked up the primary assist on van Riemsdyk's first period goal for his third assist of the season.
Morgan Rielly
had the secondary assist on van Riemsdyk's first period goal. Rielly has three power play points to open the season.
Nikita Zaitsev recorded an assist on Moore's first period goal. Zaitsev has assists (3) in three consecutive games.
Ron Hainsey also picked up an assist on Moore's first period goal. Hainsey has an assist in three consecutive games.
William Nylander registered the primary assist on Matthews' power play goal. Nylander has three assists in his last three games.
Patrick Marleau picked up the secondary assist on Matthews' goal. He has four points (2-2-4) in four games to start the season.
Frederik Andersen stopped 25 shots in the loss.
SHOTS FIRED
The Maple Leafs outshot New Jersey by a 50-31 margin in all situations and a 30-17 margin in shots at 5-on-5.
Toronto had a 79-50 lead in shot attempts in all situations and a 49-31 lead in shot attempts at 5-on-5.
James van Riemsdyk led the Maple Leafs with seven shots on goal.
Morgan Rielly and James van Riemsdyk each registered a team-high nine shot attempts.
HITTING THE ROAD
The Maple Leafs are 2-1-0 at home this season.
Toronto's all-time record is 69-40-20-9 in 138 games against the Devils and 45-17-5-4 in games played in Toronto.
Toronto is 1-1-0 against the Eastern Conference this season and 1-1-0 against the Metropolitan Division.
Tonight's attendance was 19,103.
The Maple Leafs return to the road this weekend when they travel to Montreal to take on the Canadiens on Oct. 14 at 7:00 p.m.
MAPLE LEAFS LEADERS
| | |
| --- | --- |
| Faceoff Wins | 12 (Bozak) |
| Faceoff Win Percentage | 78% (Matthews) |
| Hits | 4 (Komarov, Martin) |
| Blocked Shots | 4 (Zaitsev) |
| Takeaways | 2 (Matthews, Rielly) |
| TOI | 22:30 (Rielly) |
| Power Play TOI | 6:32 (Bozak) |
| Shorthanded TOI | 7:12 (Hainsey) |
| Shifts | 32 (Rielly) |
| 5-on-5 Shot Attempt Percentage | 70.8% (Komarov – 17 for, 7 against) |
RECORD WHEN…
The Maple Leafs were 4-for-5 on the penalty kill and 2-for-8 on the power play tonight. Toronto is 2-1-0 when allowing a power play goal and 3-1-0 when scoring a power play goal this season.
Toronto is 2-1-0 when scoring first.
The Maple Leafs are 0-1-0 when tied after one period and 1-1-0 when trailing after two periods.
Toronto has a 2-1-0 record when leading their opponent in shots on goal.
The Maple Leafs are 1-1-0 in Wednesday games.
OF NOTE…
The Maple Leafs have registered a power play goal in their first four games to start the season.
Toronto's 48 shots on goal are a new season-high. (Previous: 43, Oct. 9 vs. CHI).
Prior to tonight, the last time the Maple Leafs registered 50 shots on goal was Dec. 11, 2016 vs. Colorado.
Tyler Bozak was 7-for-11 (64%) on draws in the offensive zone.
Auston Matthews won 100 percent (4 won, 0 lost) of his defensive zone faceoffs.
Morgan Rielly was on the ice for a Maple Leaf high 20 shot attempts for and finished the game with a 5-on-5 shot attempt percentage of 66.7 percent (20 for, 10 against).
UPCOMING GAMES:
Saturday, Oct. 14 at Montreal Canadiens, 7:00 p.m. (Hockey Night in Canada, TSN 1050)
Tuesday, Oct. 17 at Washington Capitals, 7:00 p.m. (TSN, FAN 590)
Wednesday, Oct. 18 vs. Detroit Red Wings, 7:30 p.m. (SN1, TSN 1050)
Saturday, Oct. 21 at Ottawa Senators, 7:00 p.m. (Hockey Night in Canada, FAN 590)
Monday, Oct. 23 vs. Los Angeles, 7:00 p.m. (TSN4, TSN 1050)
POSTGAME QUOTES: HEAD COACH MIKE BABCOCK
On where things broke down after the first goal:
I didn't think we worked. I thought the other team was good. I thought they skated, I thought they skated us into the ground and won all the stick battles right from the get-go. It was 2-2 after one but that flattered us at the time. We never had any time engaged. We talked quite a bit about this game coming up and how it was going to be. That's exactly what I expected, but I expected us to compete and that didn't happen. Hockey is fair, you get what you deserve and that's what we deserved tonight.
On taking a lesson from tonight's game:
Well, obviously. We have an off-day tomorrow so we can enjoy that and then get back and get ready to work. Life is so simple – if you do good things then good things will happen. If you don't, you cheat yourself, you look like that. Obviously, we'll have lots of time tomorrow to look at the game tape and get ourselves ready. We're going to play a hungry Montreal team and we're going to have to be way better than we were tonight. I was disappointed. I can't remember the last time we played with that kind of effort. Their goalie was great and all those things – I'm not taking anything away from their team – but, we didn't have any snap, we didn't have any juice, we didn't win any battles.
On the goal against during a 5-on-3 power play:
I don't know if I've ever seen one… Maybe I have, I don't know.
On the play of Borgman and Rosen:
They fit in good. We weren't very good, guys. We'll take a look at it – it's over with now. Obviously, the message sent wasn't received these last few days. By doing the pre-scout we knew what we were in for, but we didn't do our part. It was disappointing.
FREDERIK ANDERSEN (25 SAVES)
On tonight's disappointment:
We've got to look toward ourselves a little bit. We have to get going from this. We have some mistakes we need to clean up and we should be ready on Saturday.
On where the defensive breakdowns happened:
I think we missed assignments here and there, but I think it's on everyone to look at themselves and improve what we've been doing lately. I think today showed the talent won't always make up for the mistakes we make. Today we ran into a hot goalie and we couldn't score that many goalies. To win we have to defend better.
On the 3-on-5 goal against:
Of course, it's a tough way to score obviously. They worked hard and got the 2-on-1 and that was a tough swing of momentum there.
On bounces not going the team's way:
I think that's how it is, but you've got to make your own bounces and create your own bounces. We've got to work harder at executing and that stuff will start turning our way.
MORGAN RIELLY (1 ASSIST, 9 SHOT ATTEMPTS)
On New Jersey's performance:
I thought Schneider was great and made a lot of really big saves. I think there was a time about halfway into the game where we got a lot of chances and he was making really good saves that helped his team a lot. But, I thought our goalie was outstanding tonight as well.
On if the Devils reminded him of last season's Leafs:
There are a lot of players on a team that are either pretty well established or really good young players that we've all heard of. It's tough to compare. I don't know. That's your guys' job, I don't really compare teams to what we used to be or whatever. It's a good young team with a lot of speed and a lot of skill. In that sense, yeah maybe.
On if this is a game to put in the past:
Absolutely. We've been at it pretty hard here, we have some good video to go over from tonight – things we want to work on, things we can improve and that's what we'll do. We've got a big game – if I'm not mistaken I think it's the first game against a team within our division coming up and we take those games very seriously. We're going to prepare for Montreal and move on from this one.
JAMES van RIEMSDYK (1 GOAL, 9 SHOT ATTEMPTS)
On the Devils effort tonight:
They definitely played fast and they forced us into some miscues. I mean, you saw that on a couple of their goals. (Our) execution wasn't right and they were able to capitalize on a couple of those. They're obviously a good team. They played to their strengths and did some good things.
On the team registering 50 shots and not giving up:
We kept playing right to the end. I think that's been a good thing about our team so far this year, again, we've tried to play consistently and just keep playing no matter what the score is and going from there but obviously you can't chase the game because it eventually catches it up with you.
On New Jersey's 3-on-5 goal:
Yeah, that's a huge one. Obviously, that can be a big momentum swing if we get one on that one but unfortunately it was a weird sort of play that they were able to go down there and score on.
On getting into a rhythm with so many power plays for both teams:
It's obviously an adjustment period. As players, we're figuring out what we can and can't do still and the refs are kind of figuring out the consistent standard of that. As long as there's communication there of what we can and can't do I think we'll figure it out eventually.