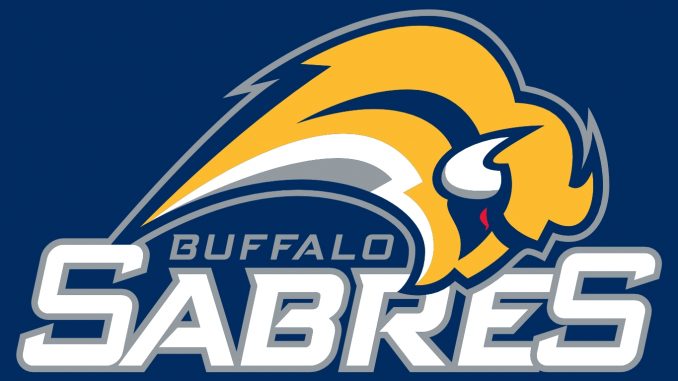 Buffalo Sabres come from behind to beat Toronto Maple Leafs 3-2. Here is the summary of the game played on Monday, March 26, 2018
| | | | | | |
| --- | --- | --- | --- | --- | --- |
| | 1 | 2 | 3 | OT | FINAL |
| BUFFALO | 1 | 0 | 2 | – | 3 |
| TORONTO | 0 | 2 | 0 | – | 2 |
GAME SUMMARY | EVENT SUMMARY | FACEOFF SUMMARY

ON THE SCORESHEET
Nazem Kadri put the Maple Leafs on the board at 17:31 of the second period. Kadri's goal is his 30th of the season, which marks the second time in his career he has reached the 30-goal mark (Previous: 32; 2016-17). He has goals (2) in two consecutive games.
Patrick Marleau had the secondary assist on Kadri's second period goal and scored the second Toronto goal of the night on the power play at 18:42 of the second period. Marleau has assists (2) and points (1-2-3) in two consecutive games. Tonight's game is his seventh multi-point performance of the season.
Mitch Marner
recorded the primary assist on Kadri's second period goal. Marner has assists (9) in eight consecutive games and points (3-9-12) in nine consecutive games. He is the eighth skater in the NHL to have an assist streak of at least eight games this season.
Auston Matthews registered the primary assist on Marleau's second period goal. Matthews has assists (2) in two consecutive games and points (1-2-3) in three consecutive games.
Jake Gardiner had the secondary assist on Marleau's second period goal. Gardiner's assist is his 11th power play assist of the season, which ties his career-high for power play assists in a season (Previous: 11; 2015-16, 2016-17). He joins Mitch Marner and Morgan Rielly as the three Maple Leafs to have recorded 40 assists this season.
Frederik Andersen made 24 saves in the loss.
SHOTS FIRED
The Maple Leafs had a 41-27 lead in shots on goal in all situations and a 34-27 edge in shots on goal at 5-on-5.
Toronto had an 86-41 lead in shot attempts in all situations and a 74-41 lead in shot attempts at 5-on-5.
Tyler Bozak, Zach Hyman, Nazem Kadri and Auston Matthews each recorded a team-high four shots on goal.
Nazem Kadri recorded a team-high 10 shot attempts.
SHOTS ON GOAL
| | | | | | |
| --- | --- | --- | --- | --- | --- |
| | 1st | 2nd | 3rd | OT | TOTAL |
| BUFFALO | 7 | 11 | 9 | – | 27 |
| TORONTO | 14 | 15 | 12 | – | 41 |
SHOT ATTEMPTS
| | | | | | |
| --- | --- | --- | --- | --- | --- |
| | 1st | 2nd | 3rd | OT | TOTAL |
| BUFFALO | 15 | 12 | 14 | – | 41 |
| TORONTO | 31 | 29 | 26 | – | 86 |
NO PLACE LIKE HOME
The Maple Leafs are 26-9-2 at home his season.
Toronto's all-time record is 76-104-18-11 in 209 games against the Sabres and 46-40-12-5 in games played in Toronto.
Toronto is 26-16-5 against the Eastern Conference this season and 14-8-3 against the Atlantic Division.
Tonight's attendance is 19,108.
The Maple Leafs wrap up their three-game homestand on Wednesday, March 28 when they host the Florida Panthers at 7:30 p.m.
MAPLE LEAFS LEADERS
| | |
| --- | --- |
| Faceoff Wins | 6 (Bozak, Kadri, Nylander) |
| Faceoff Win Percentage | 100% (Marleau, Marner) |
| Hits | 5 (Polak) |
| Blocked Shots | 2 (Gardiner, Hainsey, Matthews) |
| Takeaways | 3 (Kapanen, Marner) |
| TOI | 25:08 (Gardiner) |
| Power Play TOI | 0:56 (Rielly) |
| Shorthanded TOI | N/A |
| Shifts | 26 (Hainsey, Rielly) |
| 5-on-5 Shot Attempt Percentage | 79.2% (Kadri – 19 for, 5 against) |
RECORD WHEN…
The Maple Leafs were 1-for-1 on the power play tonight. Toronto is 29-12-5 when not allowing a power play goal this season and 16-8-2 when scoring one power play goal.
Toronto is 9-18-4 when their opponent scores the first goal of the game.
The Maple Leafs are 3-15-1 when trailing after one period and 29-3-2 when leading after two periods.
Toronto has a 13-11-4 record when outshooting their opponent.
The Maple Leafs are 5-5-2 in Monday games.
OF NOTE…
At 7:56 of the third period in tonight's game, Toronto requested a Coach's Challenge to review whether the Sabres interfered with Maple Leafs goaltender Frederik Andersen prior to their goal. After review, the Referee confirmed no goaltender interference infractions occurred. Therefore the original call stands – good goal Buffalo Sabres. Since the Coach's Challenge did not result in the original call being overturned, the Maple Leafs forfeited their time-out.
Toronto's line of Andreas Johnsson, Kasperi Kapanen and Tomas Plekanec started 33.3 percent of their shifts in the offensive zone, which is the lowest percentage among Maple Leafs skaters.
Tyler Bozak won 100 percent (4 won, 0 lost) of his defensive zone faceoffs tonight and was 4-for-5 (80%) on the draw against Buffalo centre Evan Rodrigues.
Travis Dermott and Jake Gardiner were each on the ice for a team-high 28 Toronto shot attempts-for at 5-on-5.
UPCOMING GAMES:
Wednesday, March 28 vs. Florida Panthers, 7:30 p.m. (Sportsnet, FAN 590)
Friday, March 30 at New York Islanders, 7:00 p.m. (TSN4, TSN 1050)
Saturday, March 31 vs. Winnipeg Jets, 7:00 p.m. (Hockey Night in Canada, TSN 1050)
Monday, April 2 vs. Buffalo Sabres, 7:00 p.m. (TSN4, TSN 1050)
Thursday, April 5 at New Jersey Devils, 7:00 p.m. (TSN4, FAN 590)
POSTGAME QUOTES:
HEAD COACH MIKE BABCOCK
On what can be improved from tonight's loss:
Obviously, I thought our turnovers in our own zone in the first period. I thought we were a little bit loose. We've got to hit the net, we had so many opportunities in the offensive zone and we failed to hit the net. We missed the net, just looking right here, it says 26 times we missed the net. So, I mean, that would be part of it too. In the end, we had every opportunity to win, we were a little too loose and we didn't win. Let's get back to work.
On if he liked the team's speed tonight:
I thought we had lots of good things, but then we got carried away with it and gave up some chances. Now, the puck has got to stay out too. The bottom line is we did lots of good things, we didn't win the game. I still think we can be better without it at times. I thought we turned it over a bit too much – too cute – and in the end you go home disappointed.
On close games vs. Buffalo as an indication the Sabres are improving:
For sure. To me, they've played us hard all the time. They've got good players and they're getting more good players. They're just getting better and better and it'll be tougher. Obviously, we carried the play and all that stuff, but in the end, we didn't win.
On the play of the fourth line:
I thought they were good. They end up dash-2, they didn't deserve it one bit. I thought they were really good, I thought two games in a row they dominated and played well, played hard and were effective. That's a good sign for us moving ahead.
On how he fits Johnsson into the lineup when Komarov returns:
Maybe I don't. I can tell you Leo is going in for sure, we need a heavy body and a penalty killer. He's a man. That's just the way it is, but I think Johnny has been real good.
FREDERIK ANDERSEN (24 SAVES)
On the goals against in the third period:
They got a good bounce on the tying goal and then the third goal I didn't read it as well as I would have liked. He got it on net and I thought [Zaitsev] had him tied up pretty good and he made a good effort to get it on net.
On if he thought the second goal would be overturned on the review:
I felt there was contact for sure, but I think the League has been on the hot seat all year with this. Since they changed the rule I think there's going to be a lot more – they'll need a lot more evidence to turn back [goals]. It is what it is. I definitely felt I tried to battle with him for position, so I don't know if he was in the crease or not.
On games being a consistent challenge regardless of the opponent's record:
I think we got a nice warning against Detroit that no matter if the teams are playing for the first draft pick or whatever or they're playing for the playoffs, they're going to bring it every night. I think we came prepared, I think we played well tonight — we could have hit the net a little bit more maybe, but I think we had a lot of good opportunities. Those nights are going to happen and I think we played a good game overall.
NAZEM KADRI (1 GOAL)
On tonight's loss:
They were pretty persistent. I think, to be honest with you, we played a pretty all-around game. We had a lot of offensive opportunities and their goaltender was good tonight. They're a resilient group, they stuck with it and were able to find one late.
On cleaning things up before next game:
Just communication in the defensive zone and executing on breakouts. Those things are going to translate into us having the puck more and earning more possession and playing in the offensive zone more. I think just little sort-outs like that. Honestly, I think it was a pretty solid game, just a couple breakdowns and they find ways.
On Jack Eichel's game tonight:
He's a good player, there's no doubt about that. He's got speed through the neutral zone, big body and is able to protect the puck very well. Seems like he doesn't need much space to get his head up and make a play like most talented players. He was good tonight and obviously a difference maker.
PATRICK MARLEAU (1 GOAL, 1 ASSIST)
On tonight's game:
I think tonight, for the most part, we did a pretty good job. We got lots of shots, lots of chances. They capitalized on their chances that they got and Freddie [Andersen] made some big saves throughout the night too.
On if he was happy with the way the team remained focused against a team out of the playoff picture:
Yeah, I think so. I think, obviously, you want the win so I think there's things we can still clean up from tonight but we definitely had our chances.
On if the team had momentum after their two goals late in the second period:
Yeah, it was good. It took a lot of shifts to get that momentum going that way and we took advantage of it and got the lead.
MITCH MARNER (1 ASSIST)
On a tough Buffalo team:
We're just down the road from these guys so it's always a fun game playing against these guys. They play like a team that's in the postseason. They play a tight game. They're playing pretty well recently and every game we've played them they've played us hard. We had a lot of chances we've just got to make sure we hit the net a little more.
On his line's play tonight:
I thought we moved a lot better, thought we spent more shifts in the [offensive] zone than the [defensive] zone which is obviously important and were getting more touches on the puck. I think we were carrying it up the ice a little more and having a little more confidence with it and going forward that's what we've got to do.
On his line's effort level:
Obviously, we talked and weren't happy with our game on Saturday, we wanted to be better tonight and I think that's what we did. Thought we got the puck in deep, thought we made it hard on their d-man to get it out and were creating chances all over the ice. Obviously, a couple more should have gone in for us but that's how the game goes