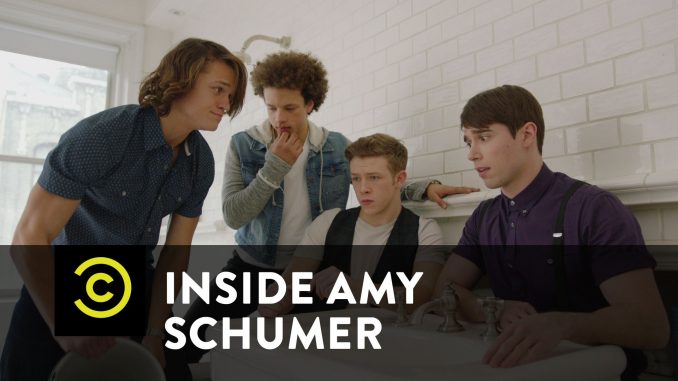 There is only one rule of makeup, which is that there are none. You do you, however and whatever that may be. Foundation diehard? Allow us to direct you to our favorite ones. More the fiercely fresh-faced type? Here's the skin-care routine that will make you glow, with or without makeup. We don't subscribe to the narrative that either one is better, or braver than the other.
That said, we've noticed a recent uptick in celebrities who have been jumping on the no-makeup train — currently led by the patron saint of cosmetics-free complexions, Alicia Keys. But that's not to say all of Hollywood is kicking its eyeshadows to the curb. Plenty of celebs still sport bold beauty looks on occasion, and also have their moments of free-facing it. Not only does it keep us guessing, it also shows us all the ways we can use makeup to enhance or highlight our features.
Ahead, check out some of our favorite celebs with and without makeup. It's not brave, it's not a reason to gossip, it's not revolutionary — it's just makeup.

Christina Aguilera
Nearly as identifiable as her legendary falsetto, Aguilera's red lipstick and winged eyeliner have been a huge part of her signature look for the last 20 years.
So when people got wind of Paper Magazine 's latest cover story — in which Aguilera is bare-faced with her freckles peeking through — we all did a double take. The consensus: beautiful (no matter what they say).

Gal Gadot
Even before landing the fitting role of Revlon global ambassador, Gadot earned a permanent spot as our red lip hero.
Photo: Jon Kopaloff/FilmMagic.
To the surprise of no one, Wonder Woman is just as powerful without her concealer as she is with her lasso.

Leighton Meester
Historically speaking, Meester has never been one to get as glammed up as the characters she plays on TV — but that doesn't mean she doesn't know when to bring the bold.
Photo: Mireya Acierto/Getty Images.
If anyone could convince you to forego the foundation today, it's her. That's what we call a glow.

Nathalie Emmanuel
This Game of Thrones actress is often the focus of our bold lip infatuation — and when she pairs hers with a bold set of eyebrows, she can do no wrong.
Photo: Charles McQuillan/Getty Images.
Getting a glimpse at Emmanuel without a stitch of Westeros makeup is rare, but the sight has triggered the sudden urge to hunt down her dermatologist. Can you blame us?

Tyra Banks
It's safe to say Banks is pretty familiar with makeup — she even has her own cosmetics line, called Tyra Beauty — and has perfected countless looks throughout her career as a model, businesswoman, and TV host.
Photo: Jeffrey Mayer/WireImage.
One thing's for certain: Her signature smize isn't going anywhere, makeup or no makeup. While on vacation in Cape Cod, Banks shared a shot of bare skin, beachy curls, and a smirk.
@tyrabanks

Julianne Hough
The dancer-slash-actress-slash-singer is known for her barefaced selfies almost as much as she is for her glam red carpet looks — and she looks equally flawless in both.
Photo: Jon Kopaloff/FilmMagic.
Hough's recent Honeymoon with husband Brooks Laich isn't the only thing worth swooning over — her sun-kissed skin, DGAF ponytail, and bold brows are #goals, too.
@juleshough

Jennifer Lopez
Over the years, Jenny from the block has perfected the red carpet formula: chiseled cheekbones, smoky eyes, and a polished manicure.
Photo: Taylor Hill/FilmMagic.
But in her most recent Instagram video, J. Lo showed off a dewy, bare complexion with fierce brows — and it's just as good.

Gabrielle Union
With the latest launch of her hair-care line, Gabrielle Union is quickly becoming the beauty guru we've been waiting for.

Yesterday, the star posted a no-makeup selfie and our jaws dropped. Those freckles! Is it just us or have they been hidden on every red carpet? Either way, we love 'em.
Photo: Via @gabunion/Instagram.

Sofia Vergara
The actress is known for going all-out on the red carpet. Barrel curls, bold lips, false lashes — the Modern Family star has done it all.
Photo: Matt Baron/REX/Shutterstock.
But Vergara isn't afraid to show her bare face to the world — even if she's home sick with a fever. The star may have been under the weather when this selfie was taken, but she still looks radiant as ever. Life's just not fair.

Demi Lovato
The singer's everyday look veers more glam than natural, but Lovato has been known to share makeup-free selfies and body-positive 'grams on the reg.
Photo: JIMMY MORRISON/EPA/REX/Shutterstock.
Underneath the veil of coverage the star usually wears to events, she's got the cutest smattering of freckles.

Madonna
Whether or not you grew up watching her "Material Girl" music video, you're probably still well-aware that she is known for her makeup theatrics — both on and offstage.
Photo: James Gourley/REX/Shutterstock.
The braids, the sunlight, and fresh face — all of it has us doing a double take. Is that Mother of Dragons or Madonna? Either way, she looks good.

Heidi Klum
The model, who loves to express herself with makeup, posted a side-by-side selfie yesterday to show her fans her gorgeously bare pre-Grammys face (seriously, how can we get that glow?) versus her red carpet-ready smoky eye and pink flush.
Photo via Instagram/@heidiklum

Adriana Lima
For 17 years (!) we've been amazed by this Victoria's Secret Angel's beauty looks — both on the runway and off — and have a feeling that sentiment will hold true for years to come.
Photo: Laura Cavanaugh/Getty Images.

We've seen Lima boxing sans makeup all the time, but her this snap of her celebrating the holidays back home in Brazil feels extra-low key.
Photo: Via @adrianalima/Instagram.

Kesha
Throughout her singing career, she has made a name for herself as a boundary-pushing beauty icon (especially when it comes to glitter. Kesha loves glitter).
Photo: JB Lacroix/Getty Images.

But underneath all the shimmer, Kesha has the prettiest set of freckles we never knew existed.
Photo: Via @iiswhoiis/Instagram.

Alicia Keys
Keys has worn some glam makeup looks throughout her career — like this one. But this summer, she publicly declared that she was done with makeup. "I don't want to cover up anymore," she said. "Not my face, not my mind, not my soul, not my thoughts, not my dreams, not my struggles, not my emotional growth. Nothing."
Photo: Lars Niki/Corbis/Getty Images.

The singer has stayed true to her word, rocking only a messy topknot and bare (and glowing, we might add) skin since then.
Photo: C Flanigan/FilmMagic.

Gwyneth Paltrow
A Hollywood veteran — with an acting career that spans more than two decades — Paltrow is no stranger to the makeup chair. In her daily life, she usually opts for a natural, bronze-y look.
Photo: Cindy Ord/Getty Images.

In celebration of her 44th birthday, the actress recently uploaded this #nomakeupselfie to Instagram. She told us she's been inspired by the no-makeup movement, saying that she likes the message behind it: This is me. This is what I look like. This is where I am in time, and I embrace it.
Photo: Via @gwynethpaltrow/Instagram.

Kim Kardashian
Ah, the queen of contour. Between the K-clan's line of hair and makeup products and her countless headline-garnering looks, Kardashian has certainly made a name for herself in the beauty biz. Further proof she's a makeup wiz: She recently livestreamed her entire a.m. routine — which included a casual 25 products.
Photo: Michael Stewart/WireImage.

That's why, when Kardashian stepped out for the Balenciaga fashion show in Paris without a stitch of makeup on, the entire internet sort of lost it.
Photo: Bertrand Rindoff Petroff/Getty Images.

Chrissy Teigen
She's our long-standing favorite person to follow on Twitter (although, as of this week, her account is private), and we love the model's unfiltered approach to everything in life — her beauty routine included.
Photo: Angela Weiss/Getty Images.

In quite possibly the cutest picture to ever grace the World Wide Web, Teigen shared this moment with baby Luna — with matching baby-soft, makeup-free skin to boot.
Photo: Via @chrissyteigen/Instagram.

Laverne Cox
When it comes to beauty, Cox is our hero. (And not just because she slays a red carpet like no other.)
Photo: Steve Granitz/WireImage.

In an Instagram post, she wrote: "As an actress and a woman, I love being able to transform, to switch up my look when I want to with wigs, weaves, and bundles aplenty. I love this, too. It's about choices and options." Amen.
Photo: @lavernecox/Instagram.

Zendaya
In the last two years, the singer, actress, and dancer has won over our hearts with her willingness to take beauty risks — including doing her own makeup for red carpet events.
Photo: Sylvain Gaboury/Patrick McMullan.

What's even better, though, is how she strips down from the glam — and claps back at haters who, well, hate. When user @JaeBasstv recently tweeted that he was "hurt" by how different Zendaya looks without makeup, she quickly responded with a flawless makeup-free selfie, saying, "Terrifying honestly…"
Photo: @Zendaya/Twitter.

Amy Schumer
America's favorite funny girl isn't afraid to have real beauty conversations — in her own comedic way. To wit: her brilliant music video "Girl, You Don't Need Makeup."
Photo: George Pimentel/WireImage.

And she doesn't — and neither does anybody else.
Photo: Via @amyschumer/Instagram.

Kylie Jenner
Known for her statement-making beauty looks (like countless hair and lip transformations), Jenner has quickly become the face of glamazon makeup.
Photo: Gilbert Carrasquillo/Getty Images.

In an Instagram post, a fresh-faced Jenner revealed her bare skin — adorable freckles and all — proving that she is just as beautiful sans contour.
Photo: Via @kyliejenner/Instagram.

Beyoncé
In terms of hair and makeup (and, actually, everything else, ever), Queen B can do no wrong. Even other celebrities geek out in her presence, so we'll just leave it at that.
Photo: David Becker/Getty Images.

Okay, okay, technically Bey is wearing some makeup here, but she did ditch all her other products — mascara, eyeliner, shadow — for a super-striking look that lets her gorgeous skin shine. We're calling it the Beyoncé-fied no-makeup selfie. And we are here for it.
Photo: Via @beyonce/Instagram.

Adele
The singer is as known for her signature cat-eye as she is for her gut-wrenching lyrics and a voice that could make angels cry.
Photo: Karwai Tang/WireImage.

But Adele recently ditched the statement eyeliner — and all other makeup — in a series of barefaced snaps posted to Instagram. And we dug it, big time.
Photo: Via @adele/Instagram.

Gwen Stefani
We flip out every time the pop star ditches her classic red lip — and totally lost our shit when she launched a makeup collaboration with Urban Decay — so, yeah, you could say she's a big beauty icon.
Photo: Jeffrey Mayer/WireImage.

She snapped her own #wokeuplikethis moment recently, and now we just have one question: What moisturizer do you use, girl?
Photo: @gwenstefani/Instagram.

If her latest Instagram posts within the past few weeks are any indication, we'd guess that Holmes isn't afraid of a bare-faced selfie. And people are loving it: One user wrote, "More beautiful without makeup – you cannot improve already-genuine beauty."
Photo: Via @katieholmes212/Instagram.
Click HERE to read more from Refinery29


Loading ...